Coming from an entertainment family has no doubt contributed to giving actress Odessa Adlon the massive headstart she's enjoyed in the industry. The daughter of star actress Pamela Adlon, Odessa joined the league of upcoming stars after appearing in the 2012 TV series Nashville. She has made appearances in other successful films such as What About Barb? and Better Things. With hard work and confidence in herself, the young star has made notable contributions in the film industry just like the rest of her family members and has equally outshined her peers in the industry.
Meet The Members of Odessa Adlon's Family Of Entertainers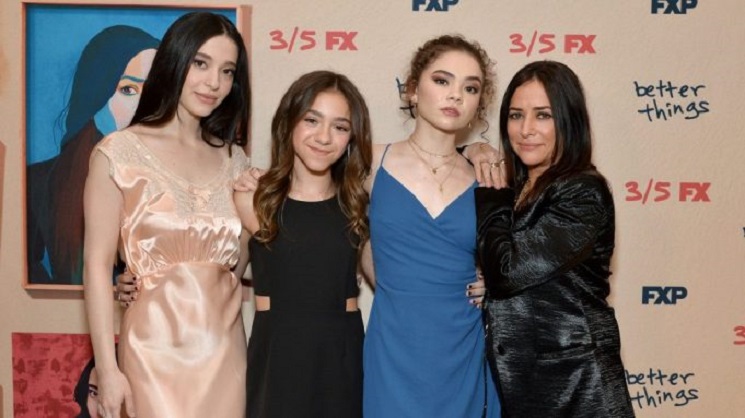 On June 17th, 1999, Odessa Adlon was born into a family of renowned entertainers. Her mother, Pamela Adlon is a notable actress, screenwriter, producer, and director while her father, Felix O. Adlon is also a famed screenwriter, producer, and director.
Odessa is the second of three daughters born to her parents. Her older sister, Gideon, and younger sister, Valentine Rocky are also actresses. Acting runs in their vein as Odessa Adlon's grandparents, Percy and Eleonore Adlon are also famous personalities in Hollywood; they worked as screenwriters, directors, and producers. Below are more details about her family members.
Pamela Adlon – Mother
Odessa Adlon's mother, Pamela Fionna Adlon (née Segall) is an eminent personality in the entertainment fraternity following her diverse roles as an actress, voice actress, screenwriter, producer, and director.
As an actress and voice actress, she is known for her roles in films like FernGully: The Last Rainforest, Princess Mononoke, Brother Bear, I Know That Voice, and I Love You, Daddy, among many others.
In TV series, she has featured in Teen Titans Go!, Lego Star Wars: The Freemaker Adventures, among others. For video game lovers, you would see Pamela in Fallout, Final Fantasy X-2, and Lightning Returns: Final Fantasy XIII.
Better Things is apparently the only film Odessa Adlon's mother has created. Adlon's parents got married in 1996 and divorced in 2010 when she was just two years old, leaving them under the care of their mother.
Felix O. Adlon – Father
Felix Oktavian Adlon was born into the family of filmmakers as his parents are accomplished movie makers. He followed in the footsteps of his parents and became a film director, producer, and screenwriter.
Odessa Adlon's father had his first role in the film industry as a second assistant cameraman in the 1987 comedy-drama film, Bagdad Cafe that was written by his parents and directed by his father, Percy. He also co-wrote the film, Salmonberries along with his father in 1991. The movie went on to win the 1991 Montreal World Film Festival Award.
Felix Adlon's film credits as a writer, producer, and director include Younger and Younger (1993), Eat Your Heart Out (1997), and Mahler on the Couch (2010). Regarding his marriage with Pamela Adlon, they started dating each other from high school and married in 1996. Following their divorce in 2010, he got married to Nina Adlon.
Percy And Eleonore Adlon – Paternal Grandparents
Odessa Adlon's paternal grandparents, Percy and Eleonore Adlon are multi-award winning screenwriters, directors, and producers. Their writing prowess which they showcased in Bagdad Cafe won them the 1988 Bavarian Film Award Best Screenplay. Percy Adlon's terrific directing skills have additionally fetched him numerous awards including Amanda Awards, Association of Polish Filmmakers Critics Awards, César Awards, Danish Film Awards, Guild Film Gold Awards, and French Syndicate of Cinema Critics Awards.
Gideon Adlon – Sister
Odessa's older sister was born on March 30th, 1997 in Los Angeles, California. She made her acting debut portraying the character of Amy in one episode of the 2011 TV series, Louie. She then went on to score the role of Kattie Hammond in the award-winning crime-drama TV series, Criminal Minds in 2017 after appearing in Girl Meets World (2016), Better Things (2016), and When We Rise (2017).
The Columbia College graduate has also lent the voice of Violet in the 2018 video game, The Walking Dead: The Final Season. She had roles in the movies The Craft, and Witch Hunt. Other films and television shows credited to her include Skin in the Game, The Society, and Solar Opposites.
Odessa Adlon – Sister
Odessa Adlon was 12 years of age when she scored her first acting role by appearing as Interview Kid in the 2011 romantic comedy film, Conception. She then made her small screen debut in the next year by portraying the character of Liv in the famous satirical musical comedy-drama TV series, Nashville.
Her next role was in 2016 when she was featured as Defiance in a single episode of her mother, Pamela's comedy-drama series, Better Things. The series which premiered on September 8, 2016, also featured Pamela Adlon, Hannah Alligood, Mikey Madison, and Celia Imrie, as among its main cast.
2019 was a busy year for the rising star, as she featured in four TV series including Wayne, Fam, and Milo Murphy's Law. Odessa Adlon's other credits include SuperCool, Let's Scare Julie, Pools, Hell House, Grand Army, and Mark, Mary & Some Other People.
Valentine Rocky Adlon – Sister
Born on February 11th, 2003, Rocky is the youngest in Odessa Adlon's family. Just like the rest of her family members, she also has an acting credit under her belt. In 2011, she scored the role of Interview Kid in the romantic comedy film, Conception. Rocky, as she is fondly called, is yet to feature in another film. With her unique acting skills, as well as her parent's presence in the film industry, she will surely bag more acting gigs in the future.
The Young Star's Romance With Jaden Smith
Aside from gathering much fame from her acting career, Odessa Adlon is also known for her relationship with Will Smith's son, Jaden Smith. The two celebrity kids dated from early 2017 to 2018. Their relationship went public in September 2017 when they made their red carpet debut at the Better Things TV premiere.
Adlon and Smith were known for their public display of affection. They were often seen together kissing, cuddling, and holding hands in public events like Coachella. Unfortunately, their romantic relationship lasted only for one year.