Novak Djokovic needs no introduction. The Serbian maestro is one of the finest players to ever pick up a tennis racket. Since going pro in the year 2003, Djokovic has won an array of titles including a staggering 17 Grand Slam tournaments. He has also challenged the stranglehold that the duo of Roger Federer and Rafa Nadal have on the men's game and has effectively transformed their big two into a big three. Still relatively young, Djokovic shows no signs of slowing down and as such, many are tipping him to surpass the aforementioned illustrious duo to emerge the GOAT of the tennis game. 
Novak Djokovic's Growing Up In War-Torn Serbia 
Novak Djokovic was born on the 22nd of May 1987 in Belgrade, Serbia, SFR Yugoslavia. He started playing tennis at the age of four and by the age of six, his prodigious talent was spotted by a famous Yugoslav player named Jelena Gencic. Gencic took it upon herself to train Djokovic for the next six years and he blossomed athletically. This convinced her that he was destined to do big things and she started seeking better opportunities for him abroad. 
Their plans, however, hit a snag after Serbia was bombed by NATO between March and June 1999. An embargo was also placed on the country and the then-12-year old Djokovic had to queue up with others to get basic food items such as bread, milk, and water. He also had to hide with his family in the basement to avoid air raids. He, however, did not allow these difficult circumstances to derail him but rather used it as a fuel to propel himself to future glory. 
Moving To Germany And Becoming A Tennis Star
Upon the cessation of hostilities in Serbia, Novak Djokovic moved to Germany in September 1999 and joined a special tennis academy. He spent the next four years playing in the junior ATP circuit and recorded 66 wins out of 83 matches, both singles, and doubles. He also represented his fatherland in the junior Davis Cup. Djokovic officially turned pro in the year 2003 and slowly acquired a reputation for toppling seeded players. He won his first ATP title at the 2006 Dutch Open. He subsequently achieved his first grand slam title two years later at the 2008 Australian Open. Since then, Djokovic has set several records and has become one of the greatest tennis players ever. 
He has won a total of 17 grand slam titles, placing him third on the men's all-time list. He has also won about 34 ATP Masters 1000 titles and 5 ATP finals titles. Novak is the only player to win the first three masters in a year namely, Indian Wells, Miami Open and Monte Carlo. He is also the only player that has won all nine Masters 1000 tournaments to date. Renowned for his aggressive baseline play, Djokovich is the first person from Serbia to reach the world number one ranking and has held onto the rank for 153 weeks to date. He also has an Olympic Bronze medal in his kitty and won this at the 2008 Beijing games.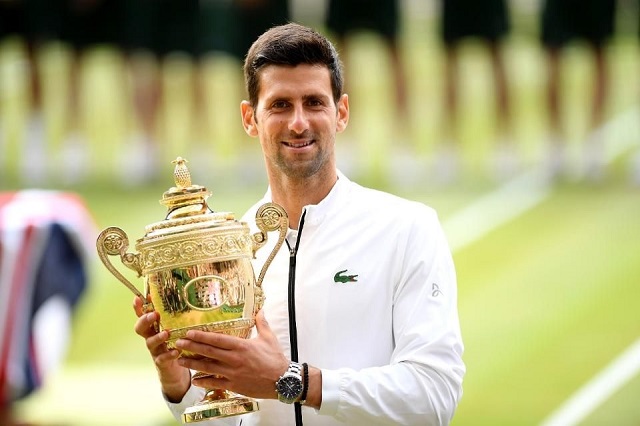 The All-Time Leader In Prize Monies 
Djokovic's prowess on the courts has come with a lot of financial rewards. The boy who once had to queue for milk and bread is now one of the richest and highest-earning athletes in the world. Official statistics show that Djokovic has earned about $143.6 million in prize monies from his winnings on the ATP Tour between 2003 and 2020. This makes him the all-time leader as far as career earnings are concerned on the men's tour. 
A breakdown of Djokovic's tour earnings shows that he made as little as $2,704 in 2003 before making his first million, $3.9 million, in the year 2007. Since then, he has been on an upward trajectory and scored his largest paycheck in 2015 when he earned $21.1 million. This was for a mercurial season where he won about 13 titles including three grand slams (Australian Open, Wimbledon, US Open) as well as the Shanghai Masters, Beijing Masters, ATP finals, Monte Carlo Masters, Indian Wells, and Miami Open, etc. 
Off the courts, Djokovic's mercurial achievements have also led to juicy endorsement deals with some well-known brands. The tennis star earns about $30 million per annum from his sponsorship contracts with the likes of Asics, Head, NetJets, Seiko Watch Corporation, and Ultimate Software Group. Djokovic's biggest endorsement deal, however, remains the five-year contract that he signed with fashion brand, Lacoste, in May 2017. The deal will last up until 2022 and will fetch him about $9.2 million per annum. 
Take A Look At Novak Djokovic's Family Life
The Serbian tennis star is enjoying marital bliss with his high school sweetheart, Jelena Ristic. The couple started dating in 2005 and got engaged in 2013. On July 10, 2014, the couple tied the knot on Sveti Stefan in Montenegro. In October 2014, they welcomed their first child, a son named Stefan. Their daughter, Tara came along in September 2017. The Djokovics reside in their luxurious Monaco home. However, in March 2017, they bought a house in Miami.
The mansion is valued at around $9 million and is located in the Surfside Community in Miami Beach with an excellent ocean view. Djokovic and his wife are not only living the good life but are also dedicated to helping others. The duo has co-founded the Novak Djokovic Foundation which is dedicated to improving education in Serbia. Additionally, following the outbreak of the COVID-19 pandemic in 2020, the couple donated €1 million for the purchase of medical equipment for Serbian hospitals. 
Are There Other Tennis Stars In His Family?
Djokovich hails from a family of five. His father, Srđan, is of Montenegrin origin while his mother, Dijana, is from Croatia. The tennis star also has two younger brothers namely Marko and Djordje. Both have also played tennis but have never been able to reach the Olympian heights of their elder brother. For instance, Marko turned pro in 2007 and has been variously ranked world no. 571 (singles) and world no. 323 (doubles). 
He has won a couple of titles including the clay-court tournament in Belgrade in 2012, doubles clay tournament in Novi Sad (2012), and doubles hardcourt tournament in Heraklion (2013 and 2017). On the other hand, the youngest Djokovic, Djordje, is presently unranked. He secured his only career title thus far at the 2013 Belgrade doubles tournament. He also reached the quarterfinals of the 2015 China Open doubles events.
See Also:  What Is Garbine Muguruza's Career Earnings And Does She Have A Partner?
Quick Facts about Novak Djokovic
Full Name: Novak Djokovic
Profession: Professional tennis player and philanthropist
Height: 1.88 cm
Ethnicity: Serbian, Yugoslavian
Nationality: Serbian
Date of Birth: 22 May 1987
Place of Birth: Belgrade, SFR Yugoslavia
Education: High School graduate from Serbia
Marital Status: Married to Jelena Ristic
Astrological Sign: Taurus