At a cultural level, British people can be said not to have the most diverse cuisine in the world, but it hasn't stopped the island from producing some of the world's most popular food personalities. From Gordon Ramsay to Jamie Oliver, there is not a shortage of popular personalities in the food industry from the island. Another is Nigella Lawson, a food writer and cooking show host, who happens to be one of the best in the world.
Nigella Lawson has been in the business for more than three decades, and in that time, she has faced as much adversity as she has success, in her professional life and especially in her personal life. In this article, we discuss what happened to Nigella, and how she has gotten herself back up. Check it out below.
Short Background of the English Food Writer and TV Host?
Nigella was born on the 6th of January 1960 in Wandsworth, London in England, to a politician, Nigel Lawson and his wife, Vanessa Salmon. By the virtue of her background, she comes from a successful home and it reflected in her education, which was more than nine schools at the basic level and the University of Oxford at the higher level, graduating with a degree in medieval and modern languages.
Despite the financial and social status her background afforded her, Nigella Lawson got her first introduction to the family challenges that would happen later in her life when her parents got divorced when she was 20. Just as Nigella Lawson overcame what happened to her as an adult, she overcame her parents' divorce and went on to forge a successful professional career.
She began her professional life by working in publishing, working in the sector for three years before she began her career as a journalist, writing for The Spectator. It was at The Spectator that Nigella Lawson began to find her voice as a food writer, expanding her portfolio to other publications like The Observer, The Daily Telegraph and Vogue.
She wrote her first cookbook, How to Eat: Pleasures and Principles of Good Food, in 1998, and it was a huge success, selling more than 300,000 copies in the United Kingdom alone. Since then, she has written and published more than 10 cookbooks, as well as other publications like her biography, Nigella Lawson, A Biography.
Nigella Lawson began her career as a cooking show host in 1999, following the success of her cookbooks, starting with the show, Nigella Bites. She has hosted and appeared in more than 15 shows, including an episode of Modern Family.
In the midst of some of controversies that have happened over the course of Nigella Lawson's career, she has been the recipients of highly coveted awards like Author of the Year award from British Book Award, Television Broadcast of the Year from Guild of Food Writers and Bet Food And/Or Drink Television Show from World Food Media Award.
What Happened to Nigella Lawson?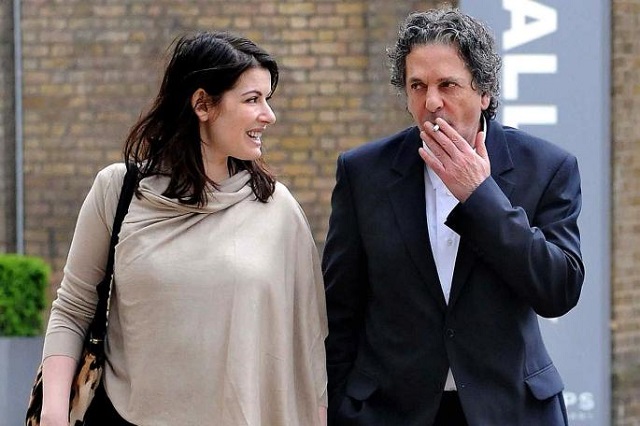 As someone already famous even before recording her first accomplishment, Nigella Lawson was always primed to be at the center of a few controversies, but none of the things that has happened to her is as significant as her divorce from Charles Saatchi.

Nigella got married to Charles, an art collector, in 2003, two years after her divorce from John Diamond. About a decade into their marriage, Lawson admitted she was not always happy for reasons she kept to herself. However, in June 2013, the reason, at least one of them, became apparent when photographs obtained and published by The Sunday People showed her being grabbed around the neck by her husband, during what was a heated argument at a London seafood restaurant.

Following the publication of the pictures, her husband was cautioned for assault and following a swift divorce proceeding, they got divorced in July 2013, ending their marriage after ten years.

See Also: What Is Paula Deen Doing Now After Her Cooking Empire Crumbled?

But that was not to be the end of Nigella Lawson and Charles Saatchi's story. A trial of their assistants, two sisters, Elisabetta and Francesca Grillo for fraud led to accusations that sought to destroy Nigella's reputation, particularly an accusation for an addiction to drugs after she admitted to the use to cocaine and marijuana.

The PR damage that happened to Nigella between November 2013 and March 2014 almost destroyed her career as a wholesome food writer and cooking host, but she weathered the storm and has continued to maintain her place among England's most popular and respected personalities.

Fact Check: We strive for accuracy and fairness. If you see something that needs updating,