There are so many celebrity wives who have chosen to stay away from the glitz and glamour of the limelight. Nicole Tuck, the wife of the renowned American disc jockey, Khaled Mohamed Khaled happens to be one of them.
Popular as DJ Khaled, Tuck's husband has garnered huge fame through his exceptional music style as well as collaborations with top artists. In addition to his notable performances as host of Miami-based WEDR 99 Jamz radio station, Khaled pulled a lot of stunts with the popular hip-hop group, Terror Squad. But while DJ Khaled has become a household name in the American entertainment industry, very little is known of Nicole Tuck who has got quite a lot to her name.
Nicole's Origins and Life Before Meeting DJ Khaled
On seeing Nicole Tuck for the first time, one might find it a little bit difficult to pin down her ethnicity. An American by nationality, Nicole Tuck was born on the 7th day of December 1975 in New Rochelle, New York. She is however, of mixed origins comprising Palestinian, African, and American ancestry. Her zodiac is Sagittarius.
Nicole Tuck was born into an affluent family of Pauline Vitale and Elwood Tuck. She is the eldest of her parents' three children (two daughters and a son). Her father, Elwood is a wealthy and reputable member of the New Rochelle community. Nicole frequently posts photos of her parents and family on social media. Unfortunately, she lost her only brother to a robbery attack shooting in February 2018.
Following her high school graduation, Nicole Tuck attended Marymount Manhattan College from where she obtained a B.A in Fine Arts in 2003. Nicole subsequently furthered her education at Fordham University, earning a master's degree in Business Administration in 2005. On completing her education, Tuck pursued a career in business. Since she has always been someone that loves to keep a low profile, nothing about her surfaced on the media until she hooked up with DJ Khaled.
How and When Did They Meet?
Unlike many celebrities who find their soulmate after hitting the spotlight, DJ Khaled met Nicole Tuck before becoming who we know him for today. The duo reportedly met at an event back in the 1990s when Khaled had nothing of the fame he enjoys at the moment. Although the couple has not revealed the exact year they met, available records suggest they have lived together since the late 2000s.
Alongside sharing a romantic bond, Nicole Tuck and DJ Khaled were business partners. While Nicole helped Khaled manage his budding music career, the latter helped her in her entrepreneurial ventures. He served as the brand ambassador of her clothing line, ABU Apparel which she founded in 2011. Unfortunately, the label which dealt with street wears could not last as it went out of business due to low sales and losses. It only witnessed success for a short while owing to DJ Khaled's popularity.
After shutting down the business, Nicole joined her husband fulltime. She became his manager and representative. Despite carrying out these roles unofficially, Nicole has been doing quite a good job in those capacities.
Read Also: Who is Mor Shapiro (Ben Shapiro's Wife)? Here are Facts You Need To Know
Interesting Details of Tuck and Khaled's Longstanding Relationship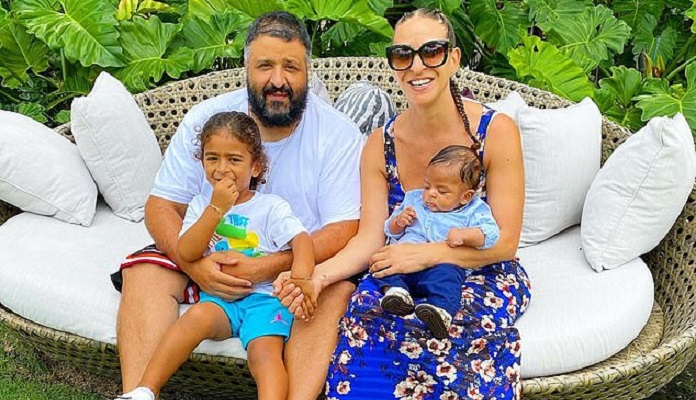 From all indications, Nicole Tuck and DJ Khaled have been enjoying a blissful relationship. Unlike what is commonplace among celebrities, the couple has never recorded any issue that came to media notice. Often referring to Nicole as "My Queen", Khaled so much adores Nicole and appears to be just the right man for her. While Khaled enjoys much social media activity, Nicole on the other hand prefers to keep a low profile, scarcely sharing details of her life on the sites. She never comments nor responds to any of the brouhaha her husband raises on social media time and again, including his dust-raising proposal to Nicki Minaj on MTV back in 2013. This appears to be one of the secrets to their lasting relationship.
After many years of being together without drama, Nicole Tuck welcomed her first child with DJ Khaled. The cute baby boy whom they named Asahd Tuck Khaled arrived on October 23, 2016. A little over three years later, precisely on January 20, 2020, the couple welcomed their second child, a son named Aalam Khaled.
Meanwhile, DJ Khaled is already taking their kids on the path of showbiz/social media fame. Without much ado, the renowned DJ has already incorporated their son in his music business, listing him as an executive producer for his 2017 album, Grateful. Little Asahd also has an Instagram page which boasts massive followership of 1.7 million. Asahd also appears to have made more award ceremonies and shows appearances than Nicole since after his birth! At just one month old, the boy hit the American Music Awards, rocking a tuxedo! At the event, he shared photos with several world-famous music stars including Nicki Minaj, Rick Ross, August Alsina, and Future.
All this while Khaleed and Tuck were not married, he only popped the big question to Nicole Tuck in 2016 following the birth of their son, Asahd. Since after the much-expected event, fans have been eager to hear the wedding bells ringing. However, nothing of that sort has come to pass. Contrary to DJ Khaled's lifestyle of social media openness, he has never mentioned tying the knot with his queen, Nicole. No social media posts, photos or any online report points to the occasion. Many however, believe that the couple must have married in a private/secret ceremony; for reasons best known to them. Otherwise, it means they are yet to achieve that milestone in their relationship. Meanwhile, the lovely family of four lives in their deluxe Mulholland Estates mansion in Los Angeles, California.