What was once considered strange has become commonplace in sports journalism today, and that is the presence of women in the profession. In the past couple of years, several of the major sports networks and media outlets in America have seen a rise in the number of female professionals in the field, and in ESPN, which is one of America's leading sports networks, the name Nicole Briscoe is one of them.
Nicole has been with ESPN since 2008 having spent her early years amassing experience at various local TV channels across the country. She is primarily known for covering NASCAR racing for the network. Learn more about her by reading below.
Who Is Nicole Briscoe Of ESPN?
The ESPN SportsCenter anchor was born on the 2nd of July, 1980 in Wausau, Wisconsin. As far as background information about her goes, not much is known about Nicole but she was raised in Roscoe, Illinois where she attended Hononegah High School, graduating in 1998.
Her commitment to sports began at high school level where she served as a cheerleader for the school's major sports teams. In the same year she graduated, Nicole Briscoe competed in the Miss Teen USA pageant after winning the Miss Illinois Teen USA earlier in the year. Although she finished as a semi-finalist in Miss Teen USA, it was not to be the peak of her personal achievements. With her high school years over, she headed over to Northern Illinois University, where she earned her bachelor's degree.
Before she graduated from university, Nicole Briscoe was already gaining some experience in sports journalism by working for WREX-TV, a local TV channel in Rockford. After graduation from Northern Illinois, Nicole headed over to Fort Wayne, Indiana where she got her first post-graduate job as a general assignment reporter for WANE-TV. After a few months working for WANE-TV, she joined WISH-TV, a TV station based in Indianapolis.
At WISH-TV, Nicole Briscoe came to develop her interest and specialty in Sports Racing. For the station, she reported on the Indianapolis 500 and the United States Grand Prix. She also reported for the Indianapolis Motor Speedway.
Before she left WISH-TV in 2006, Nicole Briscoe also covered non-racing sports like football via the Indianapolis Colts and basketball via the Indiana Pacers. She left WISH to join the Speed Channel and she was with the station between 2006 and 2008 during which she further honed her knowledge and coverage of US Sports Racing by working on shows like The Speed Report as a host.
When she joined ESPN in 2008, she worked primarily in covering NASCAR, and as the host of one of the network's daily news shows, NASCAR Now. After seven years at ESPN, with her focus primarily on Sports Racing, she began to host one of ESPN's biggest shows, SportsCenter in 2015.
She has been serving as an anchor for the show since 2015 and has sometimes worked as a field reporter/correspondent for some of the network's other shows.
Her Husband – Ryan Briscoe And The Kids They Share Together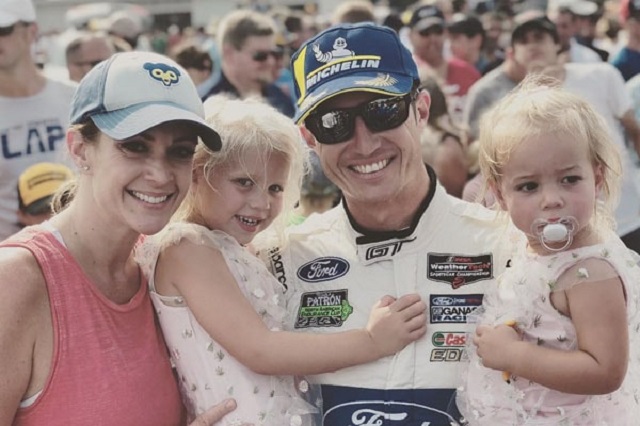 Nicole Briscoe has been involved in sports for a considerable period of her life and her involvement in the sporting world goes beyond her professional career. She is married to Ryan Briscoe, an IndyCar Series driver.
Nicole and Ryan have been married since 2009 in a private and lovely ceremony that was held in Hawaii in front of their family members and friends. Since they got married, the couple has shared many memories together. This includes the birth of their two children, two daughters named Finley Briscoe and Blake James Briscoe.
See Also: Who is Dianna Russini of ESPN?
Height And Body Measurement
Nicole Briscoe has a height of 5 feet 7 inches and has an accompanying bodyweight of 69kg. Known to be a former beauty queen, despite leaving her pageantry years behind her, Nicole has continued to maintain a fit and healthy body, which is defined with curves measured at 39, 27, and 37 inches for her bust, waist and hip sizes respectively. Her other noticeable body features include green colored eyes and auburn hair color.
Other Facts About Nicole Briscoe
Her husband, Ryan Briscoe, who was not born an American became a naturalized American citizen in 2018.
After failing to win Miss Teen USA in 1998, she competed again in the Miss Illinois USA pageant in 2001. She came second.
With over twenty years working as a sports journalist, Nicole Briscoe is believed to have amassed a net worth in the excess of $1 million.