As her status grew, so did the curiosity and fascination about Nicki Minaj's parents, family background and heritage increase. The hip-hop artist first came into the limelight in 2010 with the release of her album Pink Friday. The opinionated, bold, and unapologetic female rapper rode past her life of misery and a few odd jobs before her successful breakout and is now having the time of her life.
Nicki who is considered one of the world's most influential female rappers is known for her fiery temperament and outlandish colorful looks. These facts about Nicki Minaj's parents and family will explain why the rapper always beats fans' expectations with her colorful quirks and pack of alter egos.
Who are Nicki Minaj's Parents and Where is She From?
Around family and friends, the Bang Bang rapper who was born on December 8, 1982, likes to be called by her birth name – Onika Tanya Maraj. The Trinidadian-born, American hip-hop artist is the daughter of Robert and Carol Maraj. While both of Nicki' Minaj's parents have Afro-Trinidad ancestry, she also has paternal African roots.
Nicki Minaj had a traumatic childhood. Her parents moved to the US in search of greener pastures when she was still a toddler. Hence, the rapper was initially raised by her grandmother in her hometown of Saint James until age 5 when she joined the rest of her family in New York.
Interestingly, though Nicki's father earned a living as a financial manager, he put his musical talents to use as a gospel singer just like his wife. Despite his religious inclinations, Robert Maraj let his drug and alcohol addictions get the best of him. Nicki's father was also abusive and growing up, the rapper lived in constant fear that her mom would be killed by her dad. In fact, her father once burned their house to the ground in an attempt to kill her mother.
You may have heard of Nicki Minaj's alter egos such as Cookie, Harajuku Barbie, Roman Zolanski. These different personalities are some of the characters she created in her mind as a child to help her live through the family problems and grow into the strong woman she is today. The rap star who often portrays herself as a Barbie doll is clearly yet to outgrow that her fantasy world. It is therefore unsurprising that Nicki shares a close bond and is very defensive of her mom in the public eye, unlike her dad whom she shies away from talking about.
Who are Nick's Siblings?
Nicki Minaj's parents didn't give birth to her as an only child. She is the third of five children born to her parents. Nicki has two brothers Jelani and Micaiah and two sisters Maya and Ming. Onika Tanya is apparently the most famous and perhaps the most controversial in her family. Whether it is confrontations or regular social media feuds with other celebrities, the doll eyed singer seemingly loves being a controversial headliner.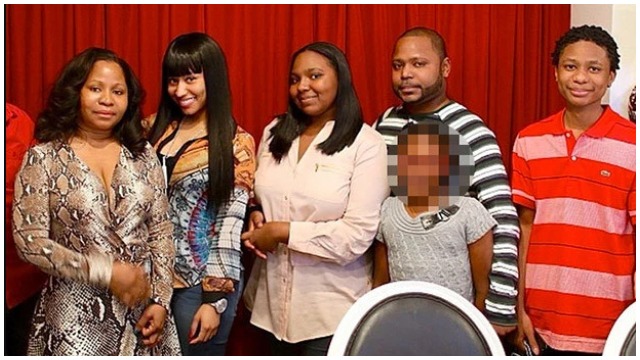 But in 2017, another Maraj made the news for the wrong reasons. Nicki Minaj's older brother Jelani Maraj was found guilty of predatory sexual assault on his 11-year old step-daughter whom he repeatedly raped between April and November 2015 while her mother was away at work.
See Also: CupcakKe – Bio, Net Worth, Wiki, Other Facts About The Rapper
Does Nicki Minaj Have Kids?
As a celebrity, Nicki Minaj mostly lives her life in the public eye and it is unsurprising that there have been bizarre speculations about the hip-hop star since she came into the limelight. For instance, Minaj reportedly touted herself as a bisexual in her early career days but she later clarified her sexuality, admitting the claim was only a publicity stunt.

There have also been claims that Nicki had a daughter as a young girl but gave her up for adoption in a foster home. However, this report remains unconfirmed to date. The speculation may have stemmed from Nicki's public admittance in 2014 when the rapper claimed to have aborted a pregnancy as a teenager because she wasn't ready for motherhood at the time. The decision has haunted her for years.

Even while dating Pennsylvanian rapper Meek Mill, rumors emerged that the former couple was expecting a child together. But that speculation never materialized during the two-year (2015- 2017) romance between the rappers. For now, Minaj is sans kids but may hopefully become a mother in the near future.

Fact Check: We strive for accuracy and fairness. If you see something that needs updating,