Many fans of the Infamous Team 10 would be wondering what exactly is going on in Jake Paul's empire as members of the team take turns to say goodbye. Nick Crompton, the co-founder of the social media squad was the first to announce he's leaving the team and some others, including Chance Sutton, followed suit.
Nick Crompton, an entrepreneur who gained popularity on YouTube, is best known for his song "England Is My City" featuring Jake Paul and Team 10. His successes on social media have earned him all the wealth and fame he needs and to touch lives, he tries his best to enrich other aspiring social media personalities. Crompton's sudden decision to leave his position as Chief Operations in Team 10 has raised many questions about him. While we explore his reason for leaving, we will also look at his private life alongside his sexual orientation. Find out more about YouTuber Nick Crompton.
Who ls Nick Crompton?
Nick is a famous British musician and YouTube star who was the Chief Operating Officer of the popular social media group, Team 10. He was born on February 5, 1995, and raised in Bradford, England along with his younger brother. Crompton started high school at Salt Grammar School but finished at Titus Salt Sixth Form. Nick holds British nationality and his ethnicity is white.
Nick started off as a popular Instagram personality on July 24, 2012, just after completing his  Sixth Form. He made and posted vlogs to his channel and continued until he got better and earned massive followers from audiences who love the way he interacts with them and the way he puts a funny twist to the most mundane of things. Nick at that time was fond of collaborating with other social media personalities like Alissa Violet, Jake Paul, and the Martinez brothers, among many others. His second YouTube channel features Nick Crompton playing the popular Minecraft in its various maps and routes.
His major rise to fame, however, followed his association with 'Team 10', which was initiated by social media celebrity Jake Paul. Nick worked with the team as its Chief Operating Officer (COO). While doing this, he founded the 'Social Chain' which is now one of the largest Social Media and Influencer Marketing agency with offices located in London, New York, Manchester, and Berlin. Among the elite brands that Social Chain is working with are Universal Pictures, British Airways, Microsoft, and Apple, to name a few. In 2016, Nick Crompton launched the Teen Entertainment and Media which among other things, helps clients promote talent, as well as create content. The initiative collaborates with famous social media ventures like TGZ Capitals, Team 10, and Team X.
Why Did He Quit Jake Paul's Infamous Team 10?
With over 40 million followers and billions of views, Team 10 has maintained a great measure of success since its inception but with the current breakout of some of its major members, the infamous empire may soon be no more. Nick announced his departure from Paul's Team 10 squad on May 4, 2018, citing some unacceptable internal changes made in the business as part of his reasons.
In a letter to fans, the U.K. native said claimed that the changes made in the Team 10 house no longer stands in line with his sole aim of "bring positivity into this world" and being part of something that helps and inspires others.
While his reason for leaving team 10 remains vague, it's been assumed that there are deeper reasons for his sudden actions. According to speculations, the former team 10 COO appears to have some personal issues with someone who is at the heart of Team 10's operation, possibly Jake's father Greg Paul.
An unconfirmed report has it that Nick was particularly angered by the way Greg Paul fired a good number of the Team 10 staff working behind-the-scenes, after auditing the company. The report was followed by Nick's tweet alleging that Jake's father verbally abuses the Team 10 staff. He even went further to warn Greg Paul against attacking any member of the team 10 or himself.
Others that resigned after Nick include The Martinez Twins, Tessa Brooks, and Chance Sutton. Paul is yet to comment on Nick's letter but the Team 10 organization commented on Twitter, saying some members of the team don't have the interest of the group at heart.
See Also: Who is Nathan Schwandt- Jeffree Star's Boyfriend, Is He Gay?
Is Nick Crompton Gay?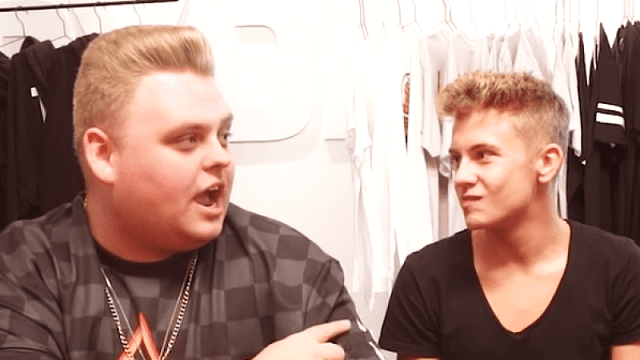 To quell the social noise about his sexuality and relationship status, Nick Crompton had, on November 28, 2017, announced himself as being gay. Nick has, in a video shared by Jake Paul, went further to introduce his boyfriend named Levi to his multitude of fans. He also revealed that he met Levi via Tinder but they knew each other better via Instagram before meeting in person. The two are currently still dating.