Nelson Mandela is a 94 year old former president of South Africa, an anti-apartheid revolutionary and a nobel price winner. Mandela served as the President of the African National Congress (ANC) from 1991 to 1997. Internationally, Mandela was the Secretary General of the Non-Aligned Movement from 1998 to 1999. The life of former president of South Africa is an inspiration to so many people all over the world, he is considered by many as one of the greatest leaders in the world and is widely admired for his efforts. During his time as the President of South Africa, Mandela developed an international reputation as an uncompromising, no-nonsense president.
Mandela has received numerous international acclaim for his anti-colonial and anti-apartheid stance, having received over 250 awards, including the 1993 Nobel Peace Prize, the US Presidential Medal of Freedom and the Soviet Order of Lenin.. Nelson Mandela A.K.A Madiba globally recognised as a man who guided South Africa from the shackles of apartheid to multi-racial democracy and became an international icon of peace and reconciliation, died Thursday at age 95.  But I bet you had no clue how rugged this dude really is, let's take a look
10 Unknown Rugged Nelson Mandela Facts – Unveiling of a Hero
Nelson Mandela Fact 1:
This dude is royalty, unadulterated full blooded royalty, in every aspect –  Through and through
Mandela was born on July 18, 1918 into the South African Thembu family. [Source: ezakwantu.com]
Nelson Mandela Fact 2:
He was the first of his family to attend school. Rugged, Clever AND smart.
Mandela attended Fort Hare University and the University of Witwatersrand, where he studied law, he completed his B.A. at University of South Africa. [Source: static.guim.co.uk]
Nelson Mandela Fact 3:
His middle name is "Rolihlahla" which means Troublemaker.
His birth name was Rolihlahla meaning troublemaker. The name Nelson was given when he went to school. It was customary to have a "Western/European" name as most white people had problems pronouncing the names of black people. [Source: k07.kn3.net]
Nelson Mandela Fact 4:
He led 20 years of nonviolent acts of defiance.
As part of ANC which he joined in 1942, Mandela helped plan 20 years of non violence defiance against the South African apartheid government and its racist policies. He fought long and hard against the discrimination that was going on at that time. It will be recalled that from 1948 until early 1994, apartheid was made law in South Africa. During that time, people in South Africa were segregated into categories of white, black, Coloured, Indian (or Asian) and Blacks were deprived of their citizenship. There were separate schools, buses, shops and hospitals for blacks and coloured people and the services available were well under the standard provided for the minority whites. Even laws were different, these were some of the things Mandela fought against. Learn more [Source: un.org]
5. Madiba was in South African prison for 27 years… More than 50 cent, Lil Wayne, Ja Rule, T.I., Lindsay Lohan and Akon combined.
In 1961, Mandela was arrested and sentenced to 27 years in prison after leading a 3-day national workers strike, first on Robben Island, and later in Pollsmoor Prison and Victor Verster Prison
6. While Mandela was in prison, he earned his Bachelors of Law degree, he also sewed prison clothes in the yard of Robben Island prison, 1966.
That's ALSO better than 50 cent, Lil Wayne, Ja Rule, T.I., Lindsay Lohan and Akon combined, Mandela A.K.A Madiba was able to earn a Bachelor of Law degree via the University of London correspondence program while in prison. [via abc.net]
7. He was elected President of the African National Congress after being released from prison.
One year after his release from prison, he was elected president of the African National Congress. [Source: blackpast.org]
8. Mandela won a Nobel Peace Prize in 1993.
In 1993, Mandela and South African President F.W. de Klerk were awarded the Nobel Peace Prize for their peaceful termination of South Africa's apartheid regime. Nelson Mandela shared the Peace Prize with the man who had released him, President Frederik Willem de Klerk for agreeing on a peaceful transition to majority rule. [Source: rfi.fr]
9. In 2007, he formed his own group of world leaders known as "The Elders," threatening to rival the "Rugged-ity" or "Badass-ness" of the Illuminati.
"With their experience, and their profound commitment to building a better world — let us call them global Elders." – Nelson Mandela
"In July 2007, Nelson Mandela brought together The Elders, independent leaders using their collective experience and influence for peace, justice and human rights worldwide. This video celebrates five years of their work to promote equality for women and girls, amplify the voices of young people, highlight humanitarian crises and support peace-building initiatives around the world." [source]
10. He has a day officially named after him Internationally recognised by the United Nations
Nelson Mandela International Day (or Mandela Day) is an annual international day in honour of Nelson Mandela, it is celebrated every 18 July (on Mandela's birthday). It was officially declared by the United Nations in November 2009, with the first UN Mandela Day held on 18 July 2010. The essence is to inspire individuals to take action to help change the world for the better, and in doing so build a global movement for good. Ultimately it seeks to empower communities everywhere. "Take Action; Inspire Change; Make Every Day a Mandela Day." [Source: arntrnassets.mediaspanonline.com]
10 Best Nelson Mandela Quotes of All Time
---
"We can change the world and make it a better place. It is in your hands to make a difference" – Nelson Mandela
"Once a person is determined to help themselves, there is nothing that can stop them." – Nelson Mandela
"Education is the most powerful weapon which you can use to change the world." – Nelson Mandela
"Man's goodness is a flame that can be hidden but never extinguished" – Nelson
"A good head and good heart are always a formidable combination. But when you add to that a literate tongue or pen, then you have something very special." – Nelson Mandela
"Let there be work, bread, water and salt for all." – Nelson Mandela
"There is no passion to be found playing small – in settling for a life that is less than the one you are capable of living." – Nelson Mandela
"Overcoming poverty is not a task of charity, it is an act of justice. Like Slavery and Apartheid, poverty is not natural. It is man-made and it can be overcome and eradicated by the actions of human beings." – Nelson Mandela
"If they can learn to hate, they can be taught to love" – Nelson Mandela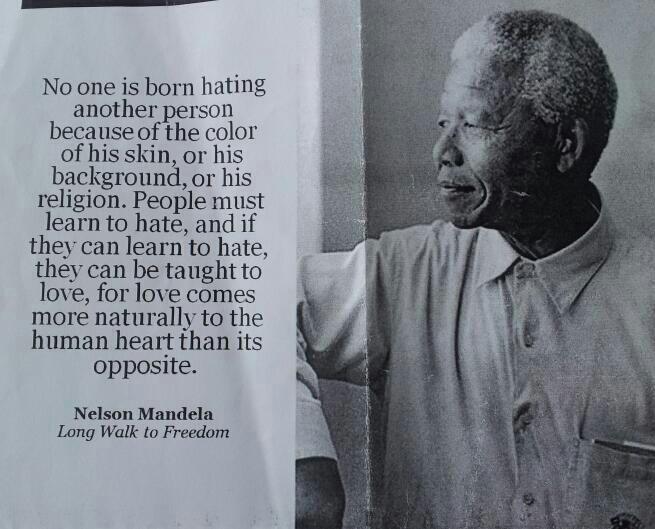 "Forget the Past" – Nelson Mandela