A model and an actress, Necar Zadegan has thrived not only on the screen but on the stage as well, proving herself a versatile actress. Even though she is mostly admired for her works on Television, Necar has played a handful of film roles and has been a theater darling since she was 16. To the best of our knowledge, her romance with theater started with the Edinburgh Fringe Festival and has seen her work with other reputable theaters like the Royal Dramatic Theater of Stockholm and The Mark Taper Forum.
Considering the fact that this actress has remained relevant in the competitive industry, appearing in a good number of some of the popular shows in recent times, it is only natural that her popularity has soared with many people wanting to know more about her. In view of that, we bring you answers to the questions often asked about Necar Zadegan; from her age to her sexuality and much more.
A Brief Look At Necar Zadegan's Background
The actress was born on the 20th of June, 1982. While her heritage has been traced to Iran, she was born in Heidelberg, a university town in south-west Germany. Nonetheless, it was in San Francisco, California that she was raised.
According to various reports, Necar Zadegan schooled at Moreau Catholic High School, a college preparatory school in Hayward, California. She received a performance scholarship thereafter and studied theater and dance at the University of California, Santa Barbara. As you will easily find, Necar graduated with honors, bagging a BA in English literature. That wouldn't be the end of her academic pursuit as she went on to acquire more academic qualifications at the Sorbonne University in Paris.
Necar has shown that she is concerned about improving the welfare of humanity. As an ambassador for BuildOn.org, she has traveled across the globe helping to build schools for children. The actress is a polyglot. Disregarding the fact that she studied languages like Hebrew, Arabic, and Spanish, she can express herself articulately in German, French, Persian, and of course, English.
The Movies And TV Shows That Have Made Her Famous
Based on available records, the TV credit that ushered in Necar Zadegan's professional career came as far back as 2005 on The Bernie Mac Show on Fox, where she portrayed the role of a sales associate, appearing in a single episode. From that time, she appeared in some of the biggest hit projects such as Extant, Girlfriends' Guide To Divorce, and 24. Her long-running NCIS: New Orleans contract began to run in 2018; surprisingly, the Iranian-American actress appeared on the parent series of police procedural, NCIS, for a single episode in 2007.
That same year 2007, Necar also appeared on an episode of the CBS sitcom How I Met Your Mother. Among a couple of other minor roles, she also acted in an episode of the CBS police procedural CSI: Miami in 2010.
However, it was on Fox's action-drama series 24 that Necar Zadegan received what turned out to be her breakthrough role. Acting as the First Lady Dalia Hassan, she made recurring appearances in 20 episodes of the show in 2010, thereby establishing herself as a talent to watch. She was actually voted as the 'Breakout Star of the Season' by the fans of the show.
Between 2010 and 2011, Zadegan showed up in 5 isolated episodes of the NBC series The Event, playing the role of Isabel. Then, in 2012, what stands to be the first starring role in Zadegan's career came; she filled the role of an overbearing cardiothoracic surgeon named 'Gina Bandari' in the CW medical drama series Emily Owens, M.D. for about two years. In 2014, Necar Zadegan landed another starring role as the attorney Scarlett Leon in the FOX production of the comedy-drama series Rake.
All these roles notwithstanding, it appears that many TV-lovers are more likely to associate Zadegan with her portrayal of the divorce attorney Delia Banai in the Bravo comedy-drama Girlfriends' Guide to Divorce. Garnering a vast admiration for herself, Zadegan filled that role in the series for four years (from 2014 to 2018). Between 2014 and 2015, Necar Zadegan also made appearances as the former Lieutenant Colonel Shayna Velez in the CBS science fiction series Extant.
Since 2018, she has also been a lead cast member on NCIS: New Orleans where she plays Special Agent Hannah Khoury. Also in 2018, Necar portrayed Layla Shokrani, appearing in 10 episodes of the HBO drama series Here and Now. She also played Dr. Ko in 2 episodes of The Good Doctor.
You will find this actress also appeared as Gretchen in 2016's The Fosters and Queen of Iran in 2015's Master of Sex. That's not all; in 2014, she was Ana Paulanos in 2 episodes of Legend. The rest of her work on television includes Major Crimes and Harry's Law both in 2012, an appearance as Madeline Fahn in A Gifted Man (2011), Floored and Lifted (2009), The Shield and Lost in 2008, The Unit and Big Shots in 2007, and Nip/Tuck in 2006.
Her film credits include her roles as Kerime in 2007's The Touch and Mira in 2008's In Another Life, both of which short films. In 2010, she was part of two more short films – The Deal and When the Voices Fade. That year also witnessed her play Elena in the independent film Elena Undone and the theatrical film, Unthinkable. In addition to those, Necar Zadegan respectively portrayed Angelina and Maia in 2011's Joshua Tree and Meth Head.
See Also: What Happened To Jason Gedrick, What Is He Doing Now?
Is Necar Zadegan A Lesbian As Rumored?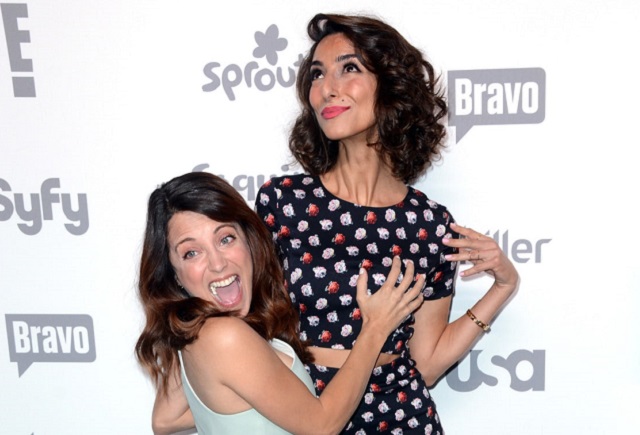 Necar Zadegan's role as Elena in the lesbian film Elena Undone is the major reason many have been curious about her sexuality. She passionately made out with Traci Dinwiddie who played Peyton in the film which Nicole Conn wrote and directed.
Some sources reported that she only played the role in support of the LGBT community. But there are others who speculate that she herself is a lesbian or else she couldn't have played the role that well. Despite the questions surrounding her sexual orientation since her role in Elena Undone, Necar has not divulged anything about her sexuality.
In any case, there have been clear indications that Necar Zadegan has been in a heterosexual relationship with a man – an actor named Gadi Erel. While this cannot provide a conclusive proof that she is not lesbian, it lays to rest the other part of the rumors that claim that the actress has had no boyfriend and, therefore, must have only girlfriends.