The multi-talented fashionista Natalia Barulich has been a force to reckon with in her industry for many years now. The stunning beauty is many things; a model, Disc Jockey, and a vocalist. As a model, she has gotten to work with some of the best brands in the world, including Guess, Nike, Samsung, Bentley, Apple, etc. She has also graced the cover of popular magazines like Esquire, Maxim, and L'Officiel among many others. Natalia's biggest claim to fame, however, is a relationship that began in the steamy confines of an on-screen shower.
How Natalia Barulich Transitioned From Ballerina to Modeling
Natalia Barulich was born on January 13, 1992, in the US state of California where she was raised. Her interest in the performing arts started when she was a little girl after she heard the alluring voice of singer and songwriter Britney Spears. She had watched the singer perform, and just like that, the seed was sown. She nurtured her interest to become a singer as she grew older and added dancing to the equation.
Thankfully, Natalia had plenty of practice in both singing and dancing during her time in the choir and musical theatre while growing up. She was able to mostly concentrate on this without the distraction of going to school as she was homeschooled.
Later on in life, Natalia Barulich would have a career as a professional ballerina before leaving it to go into modeling. She in the meantime became a part of the musical duo known as Atmsphre, with fellow DJ and classical violinist, Esther Anaya.
The Making of the Natalia Barulich We Know Today
Natalia started her modeling career in 2012 at the Miss California USA pageant. While she didn't win, her performance at the event got her noticed by the clothing brand Guess, and she gradually worked her way up from there.
Barulich had garnered a fair amount of exposure through her modeling career. She was, however, further plunged into the limelight when famous musician Maluma introduced her to the world as his girlfriend. Evidently, she has been wise enough to embrace the opportunities the spotlight affords those it shines on.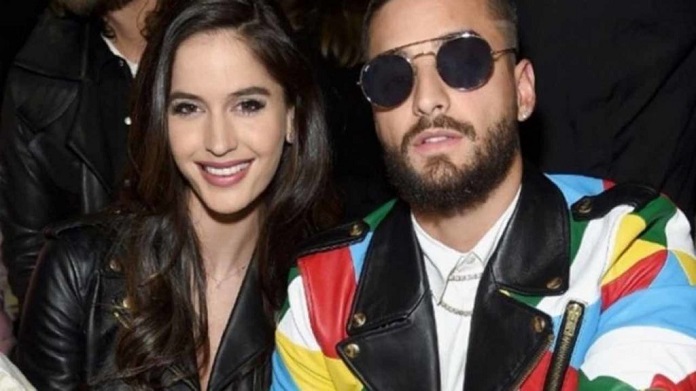 With a musical side that has sustained for a long time, Natalia joined forces with her best friend Esther Anaya to start the musical group, Atmsphre. The two first met in a musical event where Natalia was invited as a ballerina while Esther came as a violinist.
Managed by the famous Randy Jackson, the duo sometimes perform as Natalia and Esther, and they have released a song titled Don't Give Up, featuring Ben Carrillo.
Natalia is Doing Well For Herself
Natalia Barulich is reportedly worth about $600,000. With several big-name companies like Bentley, Nike, Samsung, and many more in her portfolio, the model's considerable net worth does not come as a shock. As a professional model, she makes her money from promotional campaigns and shoots for the multiple internationally recognized brands she is affiliated with.
A substantial part of her total wealth also comes from her DJ business and other music endeavors, including her appearances in music videos as a vixen. Noteworthy among her music video credits is her appearance in the Work Bitch music video by her childhood idol, Britney Spears.
A Look Into Her Family Heritage
There is practically no information available about Natalia Barulich's parents and family as she often prefers to keep mum on the subject. There are reports, however, that her mother is from Cuba while her father, who is said to be a very wealthy businessman, is from Zagreb, Croatia.
While her father's identity remains unknown, we know what the model's mom looks like. This is because Natalia is closer to her mother than her dad, as she sometimes shares pictures of the former on her social media.
On one of the rare occasions on which Natalia talked about her family, she made it known that she is not the only Barulich with an affinity for music. Unfortunately, beyond stating that she comes from a musical family, she did not go into further details like siblings or family size. It, therefore, remains unknown if her parents have other kids or she is an only child.
See Also: Is Tim Tebow Married To A Wife Or Does He Have A Fiancé Or Girlfriend?
Natalia Has Dated a Few High Profile Men
Natalia Barulich has been a pretty big deal in the fashion world for a while. However, as stated above, her popularity increased when she started going out with Grammy award-winning musician, Maluma – whose real name is Juan Luis.
The pair met on the set of the video shoot of Maluma's 2017 hit single, "Felices Los 4". In the video, Natalia was the model that Maluma had a steamy shower session with. After the video shoot, according to Maluma, nothing happened between the two of them and they both went their separate ways. Fate would, however, bring them across each other's path again, and a relationship blossomed from there. The couple officially announced their relationship to the public via their social media handles in 2017, and the two seemed completely smitten by each other.
Sadly, their steamy romance came to an abrupt end in late 2019 when the two decided they needed to take time apart for their careers and themselves.
The duo never got back together as rumors began floating around that the model was dating Brazilian football star Neymar. The gossip was further fueled by Natalia's Instagram post on the footballer's birthday. She all but confirmed their relationship when she ended her very heartwarming caption with "bebe" and love emojis. Unless one of them comes out to state their status, the two may just as well be friends.