Nash Grier made a name for himself when Vine took over the internet with its 6-second looped video format. Well-liked for the spontaneity of his videos, Grier confessed that some of his content had to be taken several times before they were deemed worthy of posting. He also spent hours and hours on end editing a video before he saw it good enough to share with his followers. Capitalizing on his success from Vine, Grier's career has been faced with ups and downs, like the challenges he's had with fellow internet celeb Cameron Dallas and the several rumors that have followed him regarding his past relationships.
Here's What We Know About Nash Grier
The Vine star was born Hamilton Nash Grier on December 28, 1997. He was born in North Carolina, where he was also raised by parents Chad Grier (who also manages him) and Elizabeth Floyd. The second in a family of four kids, his siblings are brother Will and Hayes, and sister Skylynn. Elder brother Will is a quarterback for the NFL team, the Carolina Panthers. Meanwhile, younger brother Hayes is an internet personality who also gained his popularity through Vine.
Nash Grier attended Davidson Day School, a private school in Davidson, North Carolina, and was in his freshman year when Vine was released. The app, which allowed users post 6-second looping videos, came out in early 2013; at which point Grier began to make comedy videos to share among his friends before his gained popularity and thousands of followers.
With the rise in popularity, Nash joined the group Magcon, which stands for Meet and Greet Convention, in October 2013. Along with him in the group were other Vine celebs Cameron Dallas, Jack Johnson and Jack Gilinsky (also known as the pop-rap duo, Jack & Jack), Matthew Espinosa, Shawn Mendes, Taylor Caniff, Mahogany Lox, and Carter Reynolds. The group disbanded in April 2014 after disagreements between managers.
Is the Internet Personality Dating Anyone?
So many fans would like to be the lucky one getting Nash Grier hooked, but as it stands the internet celeb is already hooked. What's more, he's even a dad! Though he chose to deny it at first, Grier is in a relationship with Taylor Giavasis. Their relationship began in April 2015, though it wasn't confirmed until a year later by the star himself. 2016 was full of pictures of Grier and Taylor together, and fans just went wild that the internet celeb had finally found love. By late 2017, the couple had decided to move in together, taking the next big step in their relationship.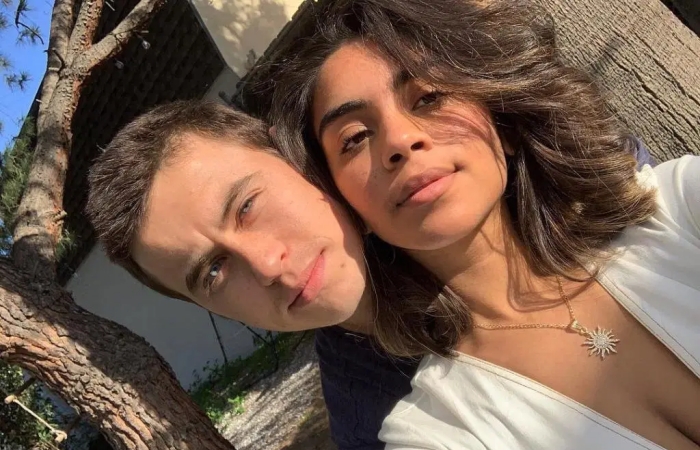 Another big step came in their relationship in 2019 when Grier proposed to Taylor. Nash asked his girlfriend to marry him in March 2019 and she said yes. You'd think the big surprises would stop there for a time, but just the following month the couple announced to fans that they were expecting their first child together. By May 2019, the couple had a gender reveal party where—surrounded by friends and family—they found out they were going to have a boy. Their baby boy, whom they named Malakai Giavasis-Grier, was born on September 25, 2019.
Before Nash Grier began dating Taylor Giavasis, there was much speculation that he had been in a relationship with Anastasia Karanikolaou in 2014. This was fueled by the several emoji comments Nash constantly made on her Instagram posts as well as the pictures they appeared together in. Sources close to the two say they had what ended up being a brief relationship.
Speculation surrounded Nash Grier's love life when it was rumored, he was dating Vine star, Lauren Giraldo. Also known as Princess Lauren, Giraldo had 3 million followers before Vine shut down. She's still a well-known internet celeb, with over 960k subscribers on her YouTube channel and over 820k followers on Instagram. Though Grier denied that the two were ever a thing, confessions from Lauren led fans to believe that the two dated sometime in early 2013, though the relationship didn't go far.
Last but not least, Nash Grier has also been linked with reality TV star and sister of the Kardashians, Kylie Jenner. Though she and Anastasia were good friends, fans still believe Grier and Kylie may have had a thing thanks to the flirty tweets the duo exchanged on Valentine's Day in 2013.
Unraveling Nash Grier's Friendship With Cameron Dallas
Nash Grier and Cameron Dallas made a name for themselves thanks to the video-sharing app, Vine. As the two began to collaborate, their friendship also bloomed. After moving to Los Angeles to focus more on their career, the duo decided that having an apartment together would help them stay close while they pursued an acting career. The duo was also part of Magcon, alongside Jack & Jack, Shawn Mendes, and others. After Magcon's eventual disbandment, Grier and Dallas were together for nine months in Los Angeles before they were evicted.
Paired together as the very best of friends, things began to take a sour turn in 2015 after a fight ensued due to Dallas wanting to resurrect Magcon. Most of the past members, however, were against the idea. Ex-Magcon member Matthew Espinosa called Dallas selfish for the move, saying the only reason Dallas wanted the group back together was that he owned the rights to the group's name, and so wanted to cash out on it. Though he didn't directly comment on things as they were unfolding, Grier dropped a cryptic text stating that some things were better left in the past.
Some things are just meant to stay in the past. But our past defines our future which holds much brighter things

— Nash Grier (@Nashgrier) June 2, 2015
From that point on, it seemed that the best friends began to drift apart. Ex-Magcon member Taylor Caniff shared some insight on how things began to degrade. According to him, Dallas began to keep his distance from Nash after the former joined a new management agency. Before the move, the duo had been managed by Grier's father. Tensions also increased after Grier signed up with DigiTour Media to participate in DigiFest, rather than bring back Magcon.
Caniff also pointed out that Grier and Dallas' lifestyles were not exactly the same, as Nash was a constant marijuana smoker. Nash Grier has never shied away from sharing pictures of himself smoking and this increased the divide between him and Cameron. Unlike Nash, Cameron is a non-smoker. Caniff shared his belief in a YouNow stream, saying that because of their opposing lifestyles there was no way that Nash and Cameron would be able to stay together as best friends.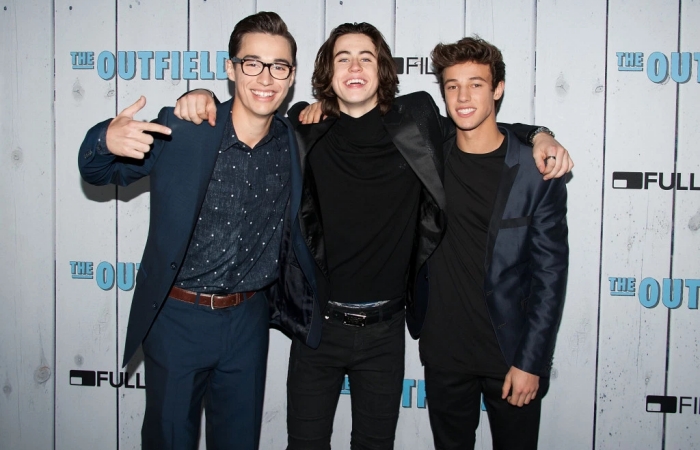 Despite not being the best of friends anymore, it doesn't look like their friendship deteriorated completely. When it came time for the release of The Outfield, in which both Nash and Cameron star, the two were spotted together at the premiere to promote the movie.