In the history of the United States politics, there are a few women who have achieved great feat either through serving in elected or appointed positions. Nancy Pelosi is one of the most prominent female political icons in the United States. Renowned for being the 52nd Speaker of the US House of Representatives, this politician of high repute made her first entry into the Congress in the year 1987.
With a political career that has spanned over three decades and counting, Nancy has succeeded in writing her name in the sands of US political history as the only woman to have led the Congress. A Democrat, she currently represents California's 12th congressional district.
Beyond politics, Nancy is also a happily married woman and a doting mother and grandmother. She married Paul Pelosi in 1963 and together, they have five children and a lot of grandchildren. Read on, to discover more interesting facts about the Speaker of the US House of Representatives below.
Who is Nancy Pelosi and How Old is She?
Born Nancy Patricia D'Alesandro on the 26th day of March in the year 1940, the smart politician is a native of Baltimore, Maryland in the United States. Born into an Italian-American family, Nancy holds American nationality. She spent her formative years in Baltimore along with her parents and five siblings.
Growing up in a family well-grounded in politics, Nancy developed a keen interest in politics right from a very young age. She completed her basic education at all-girls Catholic High School – Institute of Notre Dame. Upon graduation, she enrolled in Trinity Washington College where she acquired a B.A. in Political Science in 1962.
Career Achievements
After she left college, Nancy Pelosi first interned for US Senator Daniel Brewster for a few years, before relocating to San Francisco. Upon her arrival in San Francisco, she got acquainted with Philip Burton, San Francisco's 5th District Congressman. Not long after, she started making active participation in Democratic politics. In light of this, she was elected as California's Democratic National Committee Member in 1976; a position she held for two decades, ending in 1996.
In 1977, she led Northern California's Democratic Party and after four years, Nancy was installed as the leader of the Democratic Party in the whole of California. After she left the position in 1983, she was instituted as the head of San Francisco's National Convention Committee in 1984.
Following the death of Congressman Philip Burton in 1983, he was succeeded by his wife Sala who also died four years later in 1987. As a result, Nancy contested for the position which she won after defeating Harry Britt and Harriet Ross. Since, assuming office in 1987, Nancy Pelosi has represented the 5th California district, 1987 – 1993, the 8th district, 1993 – 2013 and the 12th district from 2013 to present.
Over the course of her career at the US House of Representatives, Nancy has served on several committees. Notably, she served as the House minority whip from 2003 to 2019, before her current stint as the 52nd Speaker of the United States House of Representatives.
In addition to being a voice for the American women, Nancy Pelosi has been instrumental to the passage of several Landmark bills including American Recovery and Reinvestment Act, Don't Ask, Don't Tell Repeal Act, Tax Relief Act, Affordable Care Act, and the Dodd-Frank Wall Street Reform and Consumer Protection Act, among others.
Family Details: Father, Husband, and Children
As we earlier inferred, the female political icon is the daughter of American politicians – Annunciata D'Alesandro (née Lombardi) and her husband, Thomas D'Alesandro Jr. Her dad was the 39th Mayor of Baltimore, Maryland, as well as the US Representative for Maryland's 3rd Congressional District. Her mom, on the other hand, was actively involved in organizing Democratic women.
Nancy is the only daughter in her family; she has five other siblings, brothers – Franklin, Joseph, Nicholas, Hector, and Thomas L. J. D'Alesandro III. Interestingly, she is not the only person in her family to have followed in the footsteps of her parents. Her brother Thomas L. J. D'Alesandro III previously served as the Mayor of Baltimore from 1967 to 1971.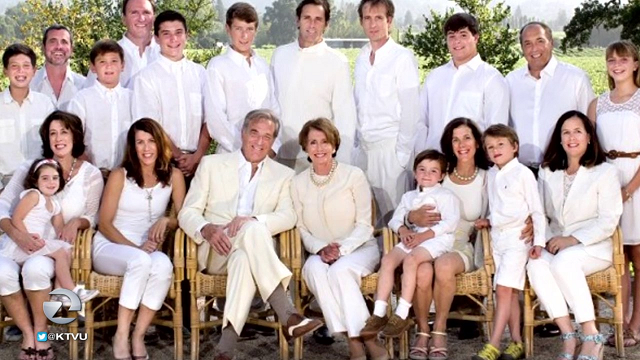 While she has become incredibly successful in her political career, Nancy Pelosi is equally successful in her love life. She is happily married to her college sweetheart and love of her life, Paul Pelosi. Paul is a renowned business mogul who owns and operates Financial Leasing Services, Inc. The consulting firm, based in San Francisco is into real estate and venture capital investments. In addition, he also owns large stakes in notable companies like Apple, Facebook, and Walt Disney Co., among many others.
The couple met each other while attending Trinity Washington College. Not long after their graduation, they walked down the aisle in 1963. Their wedding took place at the Cathedral of Mary Our Queen in Baltimore. Together, they have five children – Christine, Paul, Alexandra, Corinne, and Jacqueline. In addition to this, Nancy and her husband also have 9 grandchildren.
Check Out: Who is Patrice Failor – James Comey's Wife? Her Age, Height and Family Facts
Nancy Pelosi's Net Worth
Undoubtedly, Nancy Pelosi has become one of the unstoppable forces in the US Congress and has become a model for aspiring female politicians in the United States. Since the inception of her career, Nancy has made huge wealth for herself and is currently living her best life. As of 2019, the US House of Reps. Speaker and her husband were said to have accumulated a net worth of $120 million. She made her wealth not only from her political career but also from her husband's various stints in real estate and other business endeavours.

Fact Check: We strive for accuracy and fairness. If you see something that needs updating,