There is no doubt at all that toys are a good and essential part of children's upbringing. Growing up, kids are often gifted with toys because these toys help to develop their physical, mental, and cognitive abilities, while also keeping them wonderfully entertained and engaged. For most people, buying toys means spending a couple of bucks on something that would bring them or their children some measure of joy.
However, it will surprise you to know, that when it comes to toys, there are some creations with price tags that will knock the smile off your face, especially if you're not in the league of Jeff Bezos, Bill Gates, and co, and make you think long and hard about your financial situation.
Here is a list of 10 most valuable and expensive toys in the world.
Most Valuable and Expensive Toys In The World
10. Diamond Barbie or Stefano Canturi Barbie ($302,500)
The Barbie doll is arguably one of the most popular toys in the world, but there are levels to the doll. While most kids are content to play with the regular, mass-produced Barbies that only set their parents back a couple of bucks, there are some children whose parents can afford to go a lot higher. The Diamond Barbie was created and designed by Stefano Canturi, a renowned jewelry designer from Australia, and it blows other Barbies out of the water.
Special as she is, this Barbie wears a black strapless evening dress that screams sophisticated, paired with a choker necklace featuring a square cut one-carat diamond. On its own, the necklace is worth a whopping $300,000. The Diamond Barbie sold for $302,500 in 2010, and the money was thereafter donated for breast cancer research. Prior to that, the most expensive Barbie on record sold for $17,091 in 2006.
9. Gold Rocking Horse ($600,000)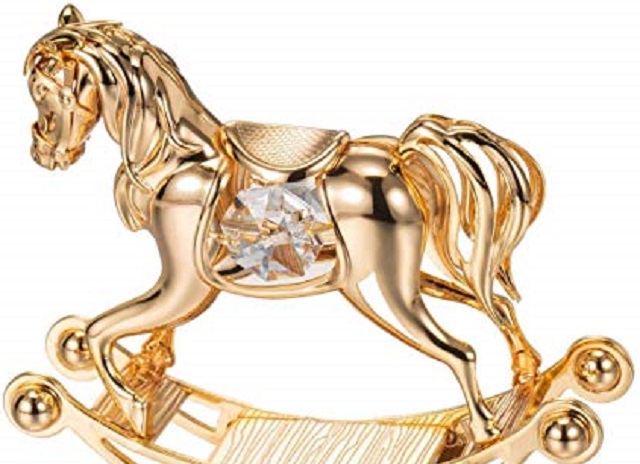 Japanese jewelry designer, Ginza Tanaka took things a step further by creating one of the most valuable and expensive toys in the world. He designed a rocking horse made of 24-carat gold. The wildly expensive toy was created to honor and celebrate the birth of Prince Hisahito of Japan in 2016. When weighed, the Gold Rocking Horse tips the scale at around 26 kg (80 pounds).
Obviously, very few people can afford to shell out $600,000 just so their child can play with a simple toy, but Jay Z and Beyonce are in a league of their own. The power couple acquired the rocking horse for their daughter Blue Ivy, and we can guess that made her richer than most, if not all, her peers.
8. The Masterpiece Cube Rubik's Cube ($1.5 million)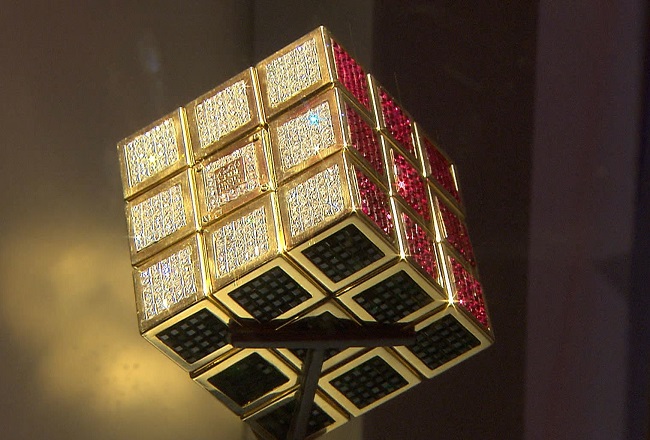 A Rubik's cube is a toy that helps train and improves a person's analytic and problem-solving skill. However, if you're working with The Masterpiece Cube then it goes from being just another item to play around with to one of the most valuable and expensive toys anyone can own. The cube has all kinds of precious gems (emeralds, amethyst, and rubies) totaling 180 carats embedded in it. As if that's not mindblowing enough, it is fully functional like a regular Rubik's cube.
This excellent work of art was created by the expert diamond cutter, Fred Cuellar in honor of the 15th anniversary of the Rubik Cube in 1995. If you're a huge fan of this game with enough money to throw around, you might want to consider investing in this masterpiece. The toy is made of 18-carat gold and embellished with 34 carats of emeralds, 34 carats of rubies, and 22.5 carats of amethysts on each side.
7. Golden Monopoly ($2 million)
There are many variations of the popular board game Monopoly, but the Golden Monopoly set is certainly the costliest. The reason it commands such an astronomical price tag is that it is comprised of 18-carat gold with other jewels embedded in it. This came from the mind of Sidney Mobell, the San Francisco jeweler who designed it in 1988. Apparently, the game took an entire year to make.
The dice set in the game are made with 42 full-cut diamonds and are worth around $10,000. The properties in the board game are also set in gemstones totaling 165. In addition, the house chimneys are topped with rubies and the hotels with sapphires. In 2003, Sidney Mobell donated his fantastic brainchild to the Smithsonian Museum.
6. Steiff Louis Vuitton Teddy Bear ($2.1 million)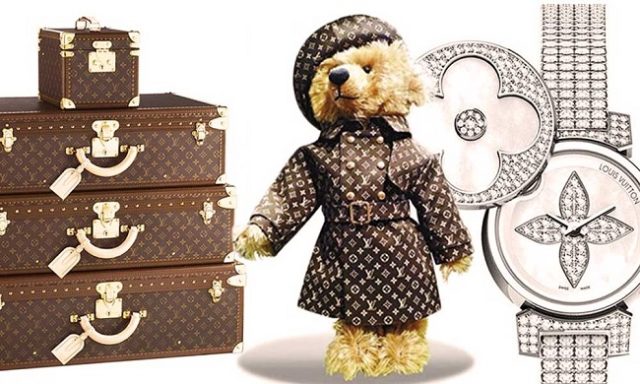 It's hard to find anyone who doesn't like teddy bears, be they children or adults. They are some of the most cherished toys ever made. With a price tag of $2.1 million, the Steiff Louis Vuitton Teddy Bear has rightfully earned its place on our list of most valuable and expensive toys. This teddy bear is the creation of Steiff, the German toymaker, and it won its incredulous price tag after it was purchased at an auction in Monaco in 2001 by Jessie Kim.
What makes this teddy bear so special is that it has been outfitted with pricy custom-made luggage and travel gear by Louis Vuitton. It is also made with real gold and fur, with eyes fashioned out of sapphires and diamonds. Steiff has been in business since 1880 and it has built a reputation for being makers of pricey teddy bears and other stuffed toys, mostly because their toys are handcrafted with high-quality materials. This toy is on display at the Teddy Bear Museum in Jeju, South Korea.
5. Shimanksy Soccer Ball ($2.59 million)
This soccer ball has never been used in a World Cup, the Olympics, or any major sporting event, yet it will set you back over $2 million. In fact, the ball has never been kicked before and probably never will, thanks to its 4.8-pound weight. This dazzlingly beautiful toy is encrusted with 3500 carats of South African diamonds, comprising 2640 black diamonds and 6620 white diamonds. Created by Shimansky, a leading South African jewelry brand in honor of the 2010 World Cup, this ball is one of the most valuable and expensive toys you can find.
It took three months to design and manufacture this work of art. Another reason for the creation of this ball was to attract wealthy tourists and sports lovers to patronize the brand.
4. Lamborghini Aventador Model Car ($4.6 million)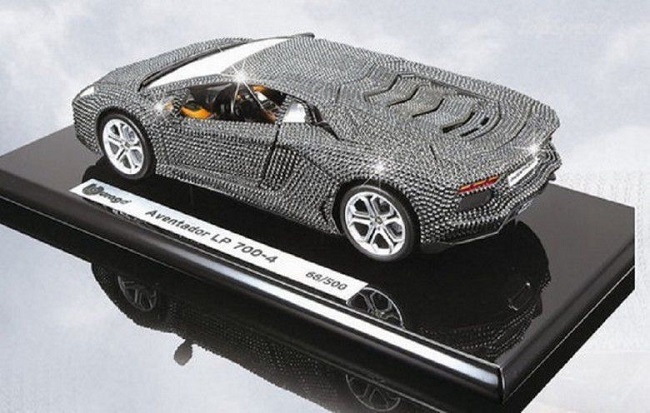 Here's where things start to get a little crazy. An actual Lamborghini can be bought for about $380,000, but this toy replica will slice $4.6 million out of your bank account. This model car was created by Robert Gulpen, a German engineer. Unlike a real Lamborghini, this toy version has diamonds, gold, and platinum rims in its steering wheel, seats, and headlights. It took 400 hours of precious time to make this astounding toy. Coupled with the jewels that went into creating it, you can see why a toy replica is 10 times more expensive than the actual car.
3. Madame Alexander Eloise ($5 million)
Here's a list of things that $5 million can buy: cars, a house, your own company, a private jet, or one of the most valuable and expensive toys in the world. Madame Alexander Eloise is no ordinary doll. She is adorned with 9 carats of diamonds and a host of costly accessories including Swarovski crystals, Christian Dior clothes, and accessories by Katherine Baumann, among others
The chubby-faced doll also sports blond hair and has an equally stylish dog companion by her side. This toy was created by Madame Alexander and she only made five of them, so it's a very limited edition and rare to find.
2. L'Oiseleur – The Bird Trainer ($6.25 million)
The Bird Trainer, or L'Oiseleur as it is called in French, is a doll that is 4 feet tall. This marvelous invention was designed by Christian Bailly, a French automata expert and it took over 15,000 hours to finish. Interestingly, this doll does not require batteries or motors to operate but is it able to move thanks to spring-driven cogs and gears. It took 2,340 polished steel parts to give The Bird Trainer its lifelike capabilities and movement.
The doll is dressed in renaissance-style clothing made of silk, satin, and velvet, embellished with pearls and gold. L'Oiseleur accessories include a sword, flute, and a pair of singing birds. His skin is painted porcelain, while his eyes are made of glass. The doll with its jade and mother-of-pearl pedestal weighs about 122 pounds. Also, if you wind the golden key, L'Oiseleur will raise the flute to his mouth and begin playing Marche des Rois by George's Bizet. His fingers will work the flute, his eyes will dart forward and backward, his birds will turn their heads, flap their wings, and open and shut their beaks. Now, that's a toy that's worth every penny.
See Also: 7 Most Luxurious and Expensive Hotels In Dubai
1. Astolat Dollhouse Castle ($8.5 million)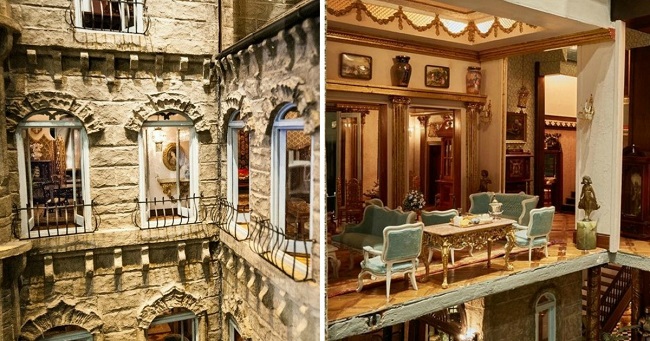 And here comes the greatest of them all. The most valuable and most expensive toy on our list is the Astat Dollhouse Castle. It also the costliest toy of its kind. If you're wondering why it boasts such a steep price, it's because it blends the finest architecture, sculpture, engineering, and creativity. The dollhouse has 29 rooms, seven floors, a gym, pool, kitchen, basement, armory, wine cellar, stairways, and hallways. It also has a library, music room, formal rooms, a grand ballroom, and a bar with tiny but real liquor bottles. At its uppermost level, it sits a majestic wizard tower.
Creating this masterpiece required painstaking and delicate craftsmanship, and it took 13 years to finish the project. The dollhouse weighs between 815 to 890 pounds and it costs more than posh apartments in cities like London and New York.