When it comes to fashion accessories, watches are among the accessories that define luxury and class, and while there are a lot of watch brands that offer this, none of them compare in name recognition or long term value like Rolex watches, which is why they are some of the most expensive timepieces in the world.
The quality of Rolex watches lies in its durability and design which has made them one of the most valuable things a person could buy. Thus, in this article, we looked at the 12 most expensive Rolex watches and how much a person has ever paid to own them. Read on…
Most Expensive Rolex Watches  
1. Paul Newman's Rolex Daytona – $17.8 Million
If you ever imagined how much the most expensive watch in the world would cost, what would it look like? We bet you are probably thinking of something with diamonds, futuristic technology and ultra-rare in terms of the number of units in existence. Well, you would be wrong on every single one, except for the last one. There is only one of this particular Rolex in existence because it is the only one with its history.
When Joanne Woodward bought this watch for Paul Newman as a gift when he was filming, Winning, we doubt neither she nor Paul Newman imagined it would become a must-have for Rolex collectors in the world.
As a Rolex Daytona, the watch itself is no special than any Rolex that was made before or after it, but a combination of its enduring quality and the reputation of its user catapulted the value of this watch, eventually acquired by a wealthy collector for a whopping $17.8 million.
2. 1971 Rolex Daytona Reference 626 Unicorn – $5.9 Million
When you think of Rolex watches, especially if you are not a collector or a watch enthusiast, you probably don't imagine the most expensive among them cost as much as the price of owning a mansion, but such is the expensive nature of the world's number one watch brand.
The Reference 626 Unicorn earned its name as the only watch in the Daytona series to be made out of 18-karat white gold, compared to the stainless steel that was the rest of the series. Of course, such rarity, particularly for a Rolex comes with high value and plenty of interest, which is why it did not come as a surprise when the watch sold for $5.9 million in an auction in 2018.
3. Rolex Bao Dai – $5.1 Million
We mentioned earlier that Rolexes have been a part of global history and there is arguably no model of Rolex that encapsulates that in both price and historical significance than the Rolex Boa Dai.
The Boa Dai might look like another Rolex watch but there is only three of this particular model, and even among the three, it was unique for its bezel design. Combined with its unique design was its historical connection to the Nguyen dynasty, which further made this watch a must-have for collectors.
It changed hands for the first time in 2002 for $235,000 before changing hands a second time in 2017 for $5.1 million to become the third Rolex watch on the all-time expensive list.
4. Antimagnetique Reference 4113 – $2.5 Million
One of the reasons your average Rolex watch costs more than any other luxury watch brand is because of the longevity of its watches. Rolex watches are so durable, enough to make the brand's watches longterm investments on the part of the buyer, and no watch epitomizes this quality than this antimagnetique reference 4113 watch.
It was designed and released in 1942 and whilst Rolex watches certainly cost way more than the average luxury brand, this watch cost significantly less when it originally came out. However, being a Rolex, it only appreciated in value with time and in 2016, it was sold for a remarkable $2.5 million. Before this watch sold in 2016, one of the unique twelve had previously fetched $1.16 million at an auction.
Some of the unique facts about the watch include being the largest case ever built by Rolex and there are only 12 of them in existence today. Its history as a limited edition built to celebrate a racing team further adds to its mystery and rarity.
5. Eric Clapton's Rolex 'Oyster Albino' Cosmograph Daytona – $1.4 Million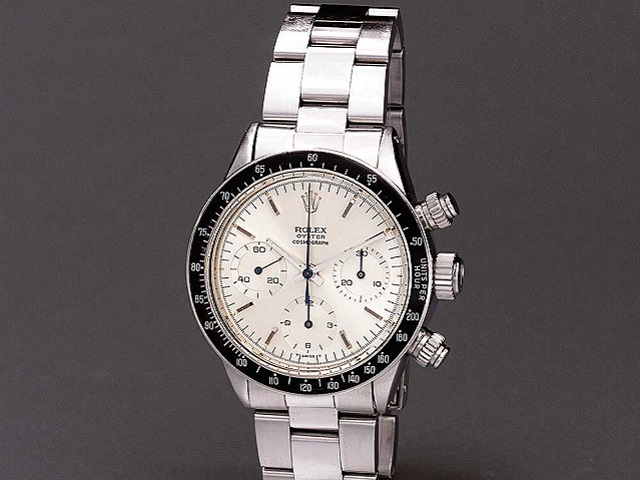 Among Rolex watches, there isn't a lot of reasons why the Cosmograph Daytona stands out other than the fact that it used to be worn by Eric Clapton. It also features a single color face, which is different from the two-color design that defines the Daytona series.
While that might not seem like much to the average watch enthusiast, it was more than enough for a Rolex collector to fork out $1.4 million in order to own this rare piece in May 2015. Previously, it was sold for $505,000 when it first came up for auction in 2003, proving that Rolex watches are not just status symbols, but legitimate investment assets.
6. Rolex GMT Master II Ice – $485,350
Luxury watches are known to often include diamonds as part of their designs and among luxury brands, it can be a challenge to stand out when it comes to the use of diamonds but Rolex hasn't had that problem yet. Defined by the Rolex GMT Master II Ice, the entire watch is covered in diamond and white gold while its dial also has a beautiful wave pattern of diamonds and gold.
It is also waterproof for up to 100 meters (for context, most luxury watches are water-resistant for 30 meters). The dial itself also features a classic GMT second hand that sets a second-time zone. It achieved its status as one of the most expensive Rolex watches in the world in 2014 when it sold for $485,350.
7. James Bond's 1972 Rolex Submariner – $365,000
Do you know the best way to confirm that the Rolex brand is one of the strongest brands in the world? Well, it's when a model of it that no longer functions still commands hundreds of thousands of dollars. This Rolex, the James Bond 1972 Rolex Submariner was specially designed for Sir Roger Moore for his role in the Bond film, Live and Let Die.
Aside from the uniqueness of the wearer, this model was designed to function underwater and perform a classic Bond function, unzip the dress of Bond girl, Miss Caruso in the film. Simply put, a combination of the Rolex brand and the strength of the historical significance of the Bond franchise made this watch a must-buy for collectors, which is why someone was willing to pay $365,000 for it. As compensation for the lack of function for the watch, the back of the watch was signed by Sir Roger Moore.
8. Rolex Platinum Diamond Pearlmaster – $277,850
Just as there are different successful and accomplished personalities across various spheres of life, Rolex makes sure you create a range of watches that cater to their interest and desires. This particular watch, the Platinum Diamond Pearlmaster was designed for those who prefer an ultra-ostentatious look and it stuck the landing.
As for the watch itself, it shares the design of the Rolex Day-Date collection but it has an additional 42 diamonds on the bezel that were cut out of meteorite diamond. Because of the very rare materials from which this version was made, there was only a few of them that were made and one of them sold for $277,850 in 2011.
9. Steve McQueen's 1967 Rolex Submariner – $234,000
This Submariner may now be at lowly ninth place among the most expensive Rolex watches out there. But before it got dethroned by several timepieces on this list, it held the crown as the most expensive Rolex watch in 2009. While it may no longer command that title, it still has the uniqueness and prestige that gave it the title in the first place.
Like most of the pieces on this list, it is a limited edition watch and this particular one was worn by The King of Cool, Steve McQueen, which further justifies its substantial price.
10. Rolex Pearlmaster Collection – $87,000
For modern Rolex enthusiasts, owning one of the modern Rolex collection will set you back $87,000. If you are looking to buy different looks of the Pearlmaster, it comes in various material colors from white gold to platinum.
The Pearlmaster is a version of the Rolex Datejust series, with high-end customizations that include diamonds on the bezel and across the bracelets. Other features you will enjoy by owning The Rolex Pearlmaster is its waterproof feature and a power reserve of 48 hours.
11. Rolex Day-Date: $34,500
If you are wondering what global leaders and wealthy people are wearing on their wrist today, then the answer is likely to be the Rolex Day-Date. The Day-Date series began in 1956 and has continued to remain a part of the luxury brand's lineup. The current collection features a lot of the traits that make the Day-Date a popular choice among men of status, such as its waterproof and self-winding chronometer feature. It also has a calendar and a date display.
The modern version comes with additional features such as the caliber 3255 movement and has a dial with a size of 36mm and 40mm, perfect enough to be worn on any kind of attire. It comes in various material colors from platinum to white gold, and at $34,500 for its basic configuration, it is one of the most expensive Rolex watches in the market.
See Also: Most Expensive Sneakers On Earth Comes Heavy With Diamonds And A $4 Million Price Tag
12. Rolex Datejust – $17,000
If any of the above-listed Rolex watches are well above your price range, then the Rolex Datejust might just be what you are looking for. At the price of $17,000, it does not rank highly among the costliest Rolex watches out there, but it still possesses the same prestige and respect that every other Rolex watch on this list have.
The model has been in existence since 1945 and just like the Rolex brand itself, has remained one of its most popular and valued models, particularly among business personalities, both male and female. If you are wondering what you will be getting by shelling out $17,000 on the Datejust, some of its characteristics include a different range in size to give you the perfect fit, it also comes in different materials like white, yellow and rose gold and stainless steel.
Of course, as your configuration for the Datejust changes, the price is likely to increase, but at $17,000 you will get the base configuration.