Since 1905, Rolex has been designing, manufacturing and distributing some of the best watches in the world. Although it began in London, England, the company later moved to Geneva, Switzerland. It has, through the years, come up with different pieces including gold and diamond watches most of which today stand at the top of the watch market with some of the most expensive Rolex diamond watches stretching into millions of dollars.
As far as diamond wristwatches are concerned, Rolex is still one of the very few, if not the only manufacturer that still hand cuts their stones as all the rest do not deliver as much as Rolex.
Most Expensive Rolex Diamond Watches
10. Rolex Oyster Perpetual Lady-Datejust Pearlmaster White Gold Watch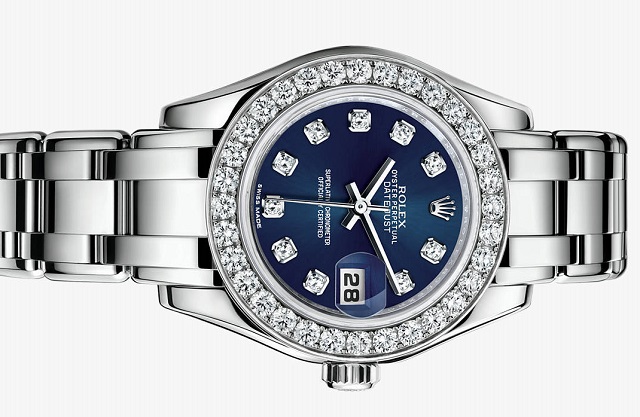 Price: $70,000
Like all others on the list, this is also an impressive watch that is dazzling and unique in the design. It comes with a case that is made of 18K white gold together with the band. Also, the bezel features 32 diamond and it has the Pearlmaster bracelet.
At 3 o'clock, you have the Date calendar while the crown logo of Rolex sits at 12 o'clock – where it always sits. This maintains a water resistance of 330 feet which is more than enough to ensure that
9. Rolex Watches Day Date Special Edition Platinum Masterpiece – 18946 DKMD
Price: $78,988
This is a very special collectible that comes with a dark mother of pearl dial. The Rolex Perpetual also features a 39 millimeters platinum case (in diameter) and also Oyster 20 mm bracelet. It comes with diamond bezel encrusted with 40 diamonds as well as diamond hour markers that have 2 baguette and 8 well-cut diamonds.
8. Rolex Sky-Dweller 18k Rose Gold 34ct Diamond Automatic Men's Watch
Price: $84,999.99
The sight of this piece is simply breathtaking. It comes with 18K rose gold as well as white round diamonds. It also has champagne brushed steel as well as Rose gold Arabic numerals.
Of course, known for its highly expensive and great wristwatches, Rolex has also designed most of its high-end pieces to be water-resistant. With the Sky-Dweller, it has a waterproof feature that holds to 100 meters which is close to 330 feet.
7. Rolex Watches Day Date President Platinum DIA Bezel President 118366 Glarp
Price: $93,521
This is not one of those loud wristwatches one would get. However, even in its simplistic design, the Oyster is still one great collectible. It comes with a platinum case as well as a bezel set that features 24 baguette diamonds. More so, it has a lacier blue dial, Roman numerals, as well as President Bracelet.
Let's add that this Rolex piece also has a shining silver dial which has 8 round and 2 baguette diamond hour markers. It displays a digital date at 3 O'clock. It has a solid case back and also a scratch-resistant sapphire crystal.
It has is water-resistant to 100 meters.
6. Rolex Watches- Daytona White Gold-Diamond Bezel- 116599TBR
Price: $103,084
This is an Oyster Perpetual Cosmograph Daytona Watch. Also in a class of its own, this piece has a design that is very easy to please without trying too hard. It comes with an 18K white gold case of 40 millimeters in diameter.
48 diamonds encrust its end-pieces while the bezel has 36 baguette diamonds. Other things you get with this are paved diamond dial and enamel Arabic numerals while it is finished with a black strap and white gold clasp.
5. Rolex GMT Master II 18k Yellow Gold Mens Watch with diamonds 116759SA pave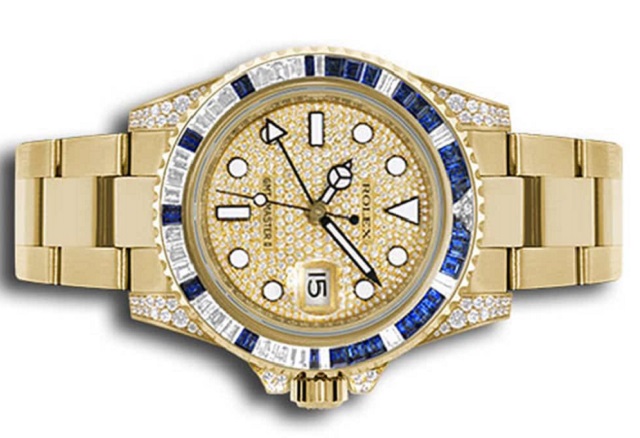 Price: $110,000
This GMT Master – II wristwatch may not necessarily look as beautiful as others on the list, but it is still a piece of great value. It is designed with a 40mm 18K yellow gold case that features 76 diamond.
In addition to that, it also has an 18K yellow gold bezel set which is encrusted with 29 diamonds as well as 30 sapphires. While the date is at 3 o'clock, the logo is located at 12 o'clock and it comes with an 18K yellow gold Oyster Fliplock bracelet. There is also a 12 hour hand and a 24-hour hand.
4. Rolex Platinum Pearimaster 18956 
Price: $276,000
The Rolex Pearimaster is among the highest retailing watches created by the Rolex market. While there is a model that does not come with diamond, this is designed with it. The diamonds are we; cut with flawless clarity making them some of the finest stones you will find on a wristwatch.
This is one of the most sought after and rarest timepieces the watch market has ever seen. The bezel features diamonds that are connected together. The face is made of meteorite, which is a piece of asteroid that falls to the earth.
Each link of the diamond costs almost $15,000 if one needs to add any link to it. That said, it is a collectability watch, hence any collector would sink in almost any amount to have it.
3. Rolex GMT 116769TBR
Price: $485,350
This is a special watch that is designed with diamonds on the band, case, bezel, and dial. Coming directly from Rolex itself, this is the most expensive Rolex Diamond watch one will find.
What makes this piece even more interesting is that the bracelet also comes features white gold that weighs 18 carats while the sides also feature diamonds. With three time zones, the wristwatch is an excellent piece for aviators and instead of just a watch, it is more of jewelry.
Who will go swimming with this piece? It is designed with water resistance features that will keep your phone safe even when you go down 100 meters in water.
2. The Rolex Bao Dai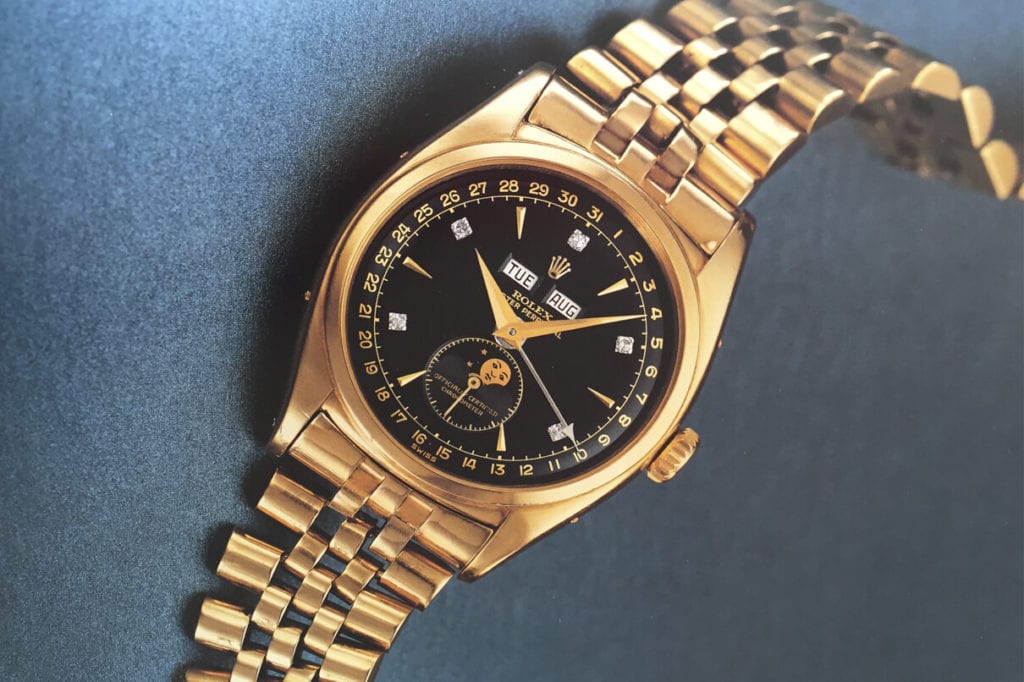 Price: $5.1 million
The reference 6062 Bao Dai used to belong to the last emperor of Vietnam, His Majesty Bao Dai who took the throne when he was only 12 in 1925. In bidding in 2017, the Watch went for more than 5 million after more than 10 minutes of auctioning. There are only 3 black-dial models, and this is one of them, crafted in 18 karats yellow gold. Of the three, it is the only one that is designed with diamond markers at the even hours which is one of the things that stands it entirely out.
Described by collectors as the holy grail of watches, it is designed with the Rolex crown logo brought down a little lower so as to have the diamond marker placed at the 12:00 position. Another thing that is brought down is the "Rolex Oyster Perpetual" words.
When the watch first made it to the auctions in 2002 it was sold for a massive 370,000 Swiss Francs which at the time, was a record-breaking sale.
1. The 1971 Rolex Daytona Reference 6265 Unicorn
Price: $5.9 million
The most expensive Rolex Diamond watch – the Unicorn Rolex – is the most expensive watch ever sold only after the Paul Newman' Rolex Daytona which sold for a massive $17.8 million at auction although it is not a diamond accessory.
The Unicorn is a rare watch that was manufactured in 1970 and in 1971, it was delivered to a German retailer for an exclusive client. The only manually produced Daytona, it was in the possession of the famous collector John Goldberger.
See Also: These are the 10 Most Expensive Celebrity Gifts Ever
What Makes Rolex Diamond Watches Expensive?
Apart from being diamond watches that are very expensive, Rolex watches have remained special among those who are looking for luxury items as well as those who are looking for priceless collectibles. Of course, there are those that would go for Panerai just as there are those prefer Patek Philippe or something else. However, the most popular still remains roles which is popular and special for many reasons including the following:
1. Details: Rolex is all about those tiny details. From the crown guard to the dials, bezels, and other features, you will never catch Rolex napping. This is something that collectors take very serious because these tiny details are what can boost the value of a piece.
2. They continue to appreciate in value: Looking at vintage Rolexes, they have continued to appreciate in value and their conditions do not fail. Selling at amazing prices, collectors have learned to count on the value of these wearables to keep growing and so they are given special treatment. Of course, it is not every Rolex that appreciates in value but when you have a diamond piece, it is sure to climb.
3. They are beast tough: If anything can be taken from Rolexes, it is not in the department of toughness. The watches are designed to withstand any change in temperature and so they always pull through. For example, an Oyster Perpetual chronometer that went with Sir Edmund Hillary and Sherpa Tenzing Norgay to Mount Everest in 1953 is still in a good condition today.
4. They are purpose-built: Rolex has come to be known as a manufacturer that doesn't just design for the purpose of decoration. Behind everything, there is a functional purpose. This is what has made classic Rolex watches to still hold their places.
For example, there are watches that are designed for the use of pilots, divers, and navigators. There are also others designed with others in mind.
5. It is Rolex: For any accessory, Rolex stands in its own place and the most expensive Rolex diamond watches are special because on one hand, they are diamond and on another, they are Rolex.