Because of their extremely high cost of purchase and maintenance, private jets have become a status symbol for the super-wealthy of our society. Yet, all private jets are not equal. Actually, there are very wide differences in price among these luxury planes. So in this post, we have examined the 10 most expensive private jets in the world today, counting from the least priced to the most expensive of them all.
It might interest you to note that although private jet prices are unlike car prices for the fact that certain business jets have only one of their kinds on the planet and just one owner. So, quite often, the billionaire owners spend a fortune to customize them to their tastes which adds significantly to their cost prices.
Most Expensive Private Jets in the World 
10. Donald Trump's Boeing 757-200
Price – $100 million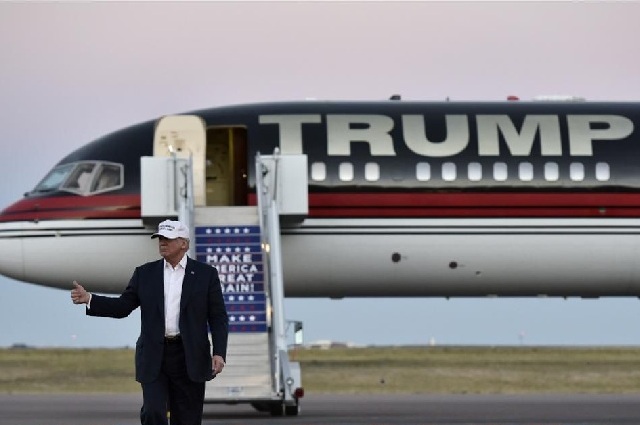 This aircraft is well known for being the principal member of the US President Donald Trump's personal business fleet (outside of his role as the President of the US). After purchasing the narrow-body twin-engine aircraft from Microsoft co-founder Paul Allen in 2011, Donald Trump custom-made it with 24-carat gold-plating, marble and premium wood interiors, and business/family logos. It has an exquisite living area, an uber-luxe master bathroom drenched in golden decor, state-of-the-art salons, and three bedrooms. Although the plane was originally of a size that can hold 134 passengers, all these custom-built features reduced its passenger capacity to just 24.
9. Tyler Perry's Gulfstream III
Price – $125 million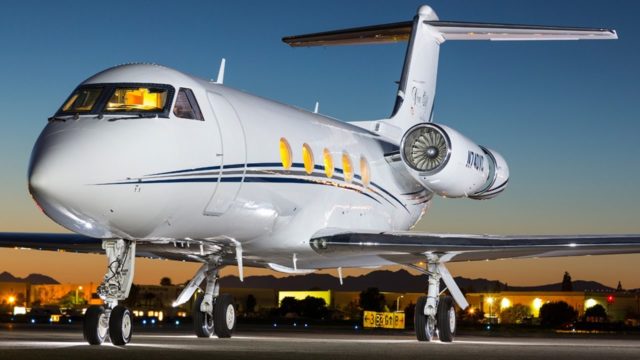 Although the unit cost for this business jet made by Gulfstream Aerospace is listed as $37 million, Tyler Perry ended up spending $125 million to redesign it to his taste – which is why we have listed it among the most expensive private jets in the world right now. This aircraft is unique for employing NASA's supercritical technology in its airfoil sections and winglets. Its cockpit is made for a maximum of three crew members; its maximum speed is 576 mph, and its cruise speed 508 mph and it can reach a maximum service ceiling of 45,000 feet. Tyler Perry's custom-made version has additional features such as electronically controlled window shades, theater lighting and satellite TV among others.
8. Roman Abramovich's Boeing 767-33A (ER)
Price – $170 million
This is a business jet remaking of the Boeing 767 airliner. Like its airliner parent, the 33A (ER) has a twin-engine and a wide body. It has an anti-missile system and chestnut and gold interior. One famous person that owns this jet is Roman Abramovich, the Russian-Israeli billionaire who is well-known as the owner of Chelsea FC and the principal owner of the investment firm Millhouse LLC. With a net worth of $112.9 billion, Abramovich is currently the richest Israeli national, the 11th richest Russian and the 140th richest person on Earth.
7. Sultan Hassanal's Boeing 747-430 
Price – $233 million
This uniquely customized Boeing 747-400 series is owned by the Sultan of Brunei Haji Hassanal as a part of his fleet. Just like other 747-400s, the 747-430 is a wide-body jet with four engines and has a cockpit made for two crew members. Also, its cockpit features CRT displays as well as an Engine Indication and Crew Alerting System (EICAS). But as an improvement on the earlier 747-400 series, it has carbon breaks rather than steel as well as a flight management computer (FMC) which enables pilots to calculate altitudes and routes. Then, its interior is uniquely remade with features like bath-tubs and toilet fittings made of solid gold to meet Sultan Hassanal's taste for luxury. It also has two spacious executive suites and a dining hall to match.
6. Alisher Usmanov's Airbus A340-300
Price – $265.1 million
The A340-300 aircraft is fixed with a 4 X CFM International CFM56 engine that enables it to reach 896 km/hr maximum cruise speed and a service ceiling of 39,000 feet. Its overall length is 63.69 meters while its cabin measures 50.35 meters in length and 5.28 meters in width. One of its many unique features is fly-by-wire flight controls, carbon fiber for advanced weight-saving, and fuel-saving aerodynamics capability. As one of the most expensive private jets you can find, this aircraft is owned by Alisher Usmanov, the largest shareholder in the Russian iron-ore conglomerate Metalloinvest who is currently Forbe's 106th Richest Person on Earth with a net worth of $12.3 billion. The airliner form of the aircraft is also used by Lufthansa, South African Airways, Mahan Air, and Iberia.
5. Prince Al-Waleed's Boeing 747-400 
Price – $234 million – $266 million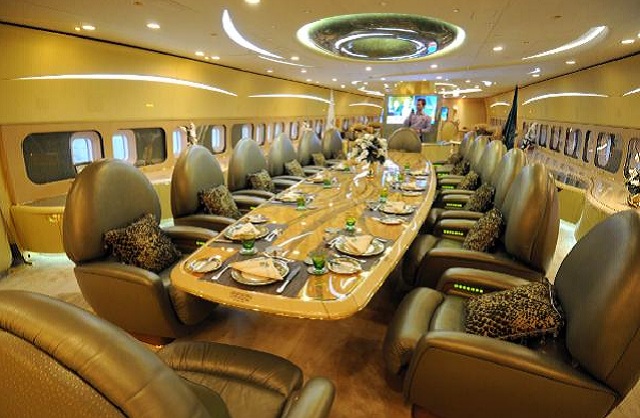 This aircraft entered service in 2002 as one along the line of development of the 747-400 which was launched in 1985 as an improvement on the 747-300 version. Generally, the 747-400 series are made to have an improved fuel efficiency with its 1.8m wingtip and winglet extensions. Apart from a glass cockpit which is designed to accommodate a 2-member crew (as opposed to 3 in the earlier 747-300s), it also has an improved electronic arsenal which made it have 365 dials as opposed to 971 in the 747-300 version.
Depending on the particular specs, there is a price range for the 747-400ER. But the highest price found is $220 million which is for the custom-made 747-400ER for the Saudi Prince Al-Waheed Bin Talal – qualifying it as one of the most expensive private jets on the planet right now. The customization included stripping and remaking the entire interior, converting it to luxury rooms (Note: the interior was earlier made for conveying 400 passengers).
4. Boeing 787 BBJ
Price – $248.3 million – $338.4 million
This aircraft version is a part of the 787 Dreamliner series which are generally long-haul twin-engine. As one of the most expensive private jets in the market, some of the distinguishing features of the 787 BBJ includes airframes made of composite materials, an electrical flight system, and sound-proofed engine nacelles. The series was first unveiled in 2007 and finally entered service two years later and its first order was delivered in late 2011. The most recent price tag we found for the 787-10 is $383.4 million. We also found the 787-9 and 787-8 models at $292.5 million and $248.3 million respectively.
3. Boeing 747-8I BBJ
Price – $367 million – $403 million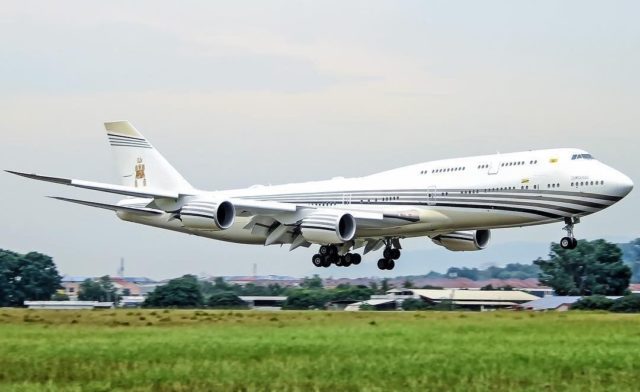 The Boeing 747-8 VIP is the longest airliner in the market and the second largest after Airbus A380 while the 747-8 BBJ is a private jet form of it made as a part of the Boeing Business Jet (BBJ) line-up. The interior of the jet has been remade by the Washington-DC-based prestigious aircraft interior design company Greenpoint Technologies. It has a massive stateroom with its own adjoining lounge. Apart from two other spacious lounges that are separate from each other, the aircraft also has a massive well-equipped office space and a conference room. The stately aircraft also has a very exquisite dining hall. Units of 787 BBJ can be found among the VIP fleets of Qatar Amiri Flight, Brunei Flight, and the Republic of Turkey.
See Also: These Are The Most Expensive Things In The World Right Now
2. Prince Al-Waleed's Airbus A380 – $500 million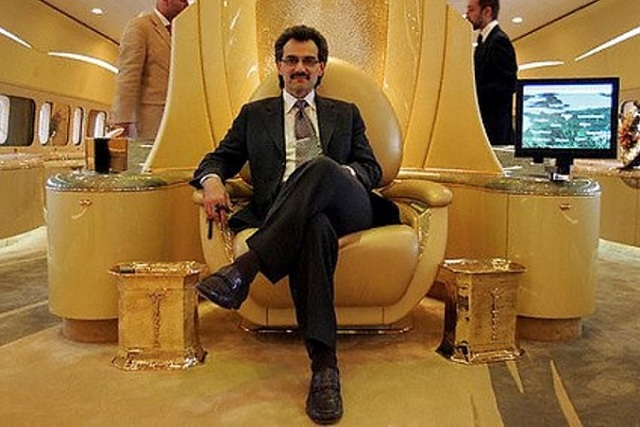 Yes, the Airbus A380 is the largest passenger airliner on the Planet (with a capacity for 800 passengers) as we all know and provides the most exquisite flight experience that money can buy. But, right now, we are not talking about the passenger airline but rather about another private jet form of the airliner custom-made for the luxury-loving Saudi Prince Al-Waleed bin Talal al-Saud. Just like the airliner, the A380 private jet is also the largest private jet you can find. It has 3 floors connected by spiral staircases and a lift, 4 VIP suites, and a prayer room with an electronic mat on its floor that automatically turns towards Mecca once it is prayer time. Dubbed "The Flying Palace", the aircraft also has a courtroom with a majestic golden throne located strategically on its expansive floor. The aircraft has a fully-equipped concert hall and a spacious garage that houses the Prince's Rolls Royce.
1. Air Force One's Boeing VC-25B
Price – $2.6 billion
The VC-25B is to replace the VC-25A as the principal aircraft in the Air Force One fleet (that is the fleet of the US President). Although the VC-25B is still under construction, we include it among the world's most expensive private jets because its price is already in the public domain. It has been on the annual budgets of the US Airforce since late 2016.
The actual price projections were placed at $3.9 billion for two units, although the US Government Accountability Office earlier had a $3.2 billion estimate. The $3.9 billion quote is the amount that Boeing will receive at the end of the day to deliver the aircraft (hopefully in 2024). However, there are other costs being projected in relation to the delivery (such as the construction of the hangar, added communication and security fittings, software/hardware engineering and more) which has the cost capped at $5.2 billion. This means that the cost to American taxpayers at the end of the day is going to be $2.6 billion per unit of the aircraft.
The VC-25B aircraft is actually a remaking of Boeing 747-8 Intercontinentals. As a measure to reduce the cost, the US Air Force had to reach a deal with Boeing to purchase two 747-8 Intercontinentals that were made for the Russian airline Transaero but were yet undelivered before the airline was declared bankrupt.