Letting your hair down and driving on the open road is a practice that has been in existence for decades. Several years ago, they were done with horses but today, the steed of choice is motorbikes. As a result, some of the best and most expensive motorbikes in the world today have been designed to fulfill this purpose in the most stylish and efficient way and there have been quite a few options over the years.
Other than the need to get on the open road and relax, motorbikes also offer a means of attaining adrenaline high and they look cool in movies. There are a few reasons to own a motorbike, and here's a top ten list of the most expensive ones you can own today. Check them out below.
Most Expensive Motorbikes in the World
1. Neiman Marcus Limited Edition Fighter – $11 million
If you are not familiar with motorbikes, you must have heard of brand names like Yamaha, Harley Davidson, and Ducati, all of which have achieved ubiquitous popularity as motorbike brands, and it would be fair to expect one of them to own the most expensive motorbike in the world, but you would be wrong.
That title belongs to Neiman Marcus, a brand that doesn't sound like a motorbike brand (because it is not, it is a luxury department store brand) and it holds pole position with the Neiman Marcus Limited Edition Fighter. When we say limited, we mean limited because only 45 of these bad boys exist in the world and one would set you back $11 million, well above the cost of a majority of the most expensive luxury cars in the world. So, if you do spend that $11 million, what would you be getting?
Well, for one, it has a clockwork design that is beautiful and extraordinary, to say the least, and it tops it off with engineering brilliance such as the use of one single piece of metal for its chassis. And if you happen to be wondering if you would be able to take this $11 million motorbikes out for a spin, the answer is yes. The motorbike has a top speed of 190 mph with a 120ci 45-degree air-cooled V-Twin engine all in a body that comprises of aluminum, carbon fiber and titanium parts.
2. 1949 E90 AJS Porcupine – $7 million
If the Neiman Marcus is way too steep for you, then you might settle for the 1949 E90 AJS Porcupine which costs a more modest $7 million. Not only is it cheaper, but it also has a less elaborate design, if you are looking to own a bike that doesn't draw attention.
The 1949 E90 AJS Porcupine is a historical bike that was made when the brand, AJS could only produce four Porcupine bikes because it faced bankruptcy. However, the brand witnessed a turn-around when Les Graham won the 1949 World Championship with it and making it a piece of history.
Some of the technical details of the bike include DOHC twin engine with horizontal cylinders with Jam pot shocks and Teledraulic race forks. Before this bike made its way into the hand of a very wealthy collector, it spent time at the Coventry National Motorcycle Museum.
3. Ecosse ES1 Spirit – $3.6 million
If you are looking to own a bike that looks more like that of a motorsport racer, then the Ecosse ES1 Spirit would be the high-end bike for you, just be prepared to spend $3.6 million to own one. At that price, it is the third most expensive motorbike in the world and its futuristic compact design makes you see why.
Aside from its physical look, which is a work of art, it packs an engine power so powerful that its manufacturer requires would-be owners to take a two-week training before driving away with one, including professional motorbike drivers.
So, what is in the Ecosse ES1 Spirit box? Well, you are looking at a bike with no chassis framework, no rear suspension and a Swingarm attached to the gearbox. It does have a front suspension with twin A-arms, a bespoke transverse inline-Four engine. The bike is designed to mimic the performance of an F1 car and if that doesn't frighten you as well as make you excited, we don't know what will.
4. Hildebrand & Wolfmuller – $3.5 million
The fourth most expensive motorbike in the world is the Hildebrand & Wolfmuller. If you look beyond its design like a bicycle out of a 17th-century Italian film, you will realize this is a bike designed to give you a piece of history. Unlike the other bikes on this list, it is not meant to be driven, but to be admired in a well lit and clean garage, and resold for a profit in a few years.
The collector's item was first made in 1894 by Heinrich and Wilhelm Hildebrand who teamed up with Alois Wolfmuller. The bike operates on an internal combustion engine and does not have a clutch nor a pedal, further proving why it is not meant for an open road.
5. BMS Nehmesis – $3 million
To be worth the huge price tags that place them among the most expensive motorbikes in the world, designers, and brands have to incorporate something unique into their product and the BMS Nehmesis achieves this by creating a bike made out of 24-karat gold with no side stand. While the 24-karat gold is an ostentatious display meant to entice those who appreciate such overt expressions of wealth, the no side stand is an engineering achievement that makes the bike look like its lying on its belly when it is parked.
And while you might think a bike like this wouldn't be functional, the BMS Nehmesis is, although we doubt you would be willing to put such an investment on the road to attract attention. If you can afford a mansion in a gated community though, then you might just be able to take this $3 million bike for a spin the evenings.
6.  Harley Davidson Cosmic Starship – $1.5 million
It took a while, but we finally got to a motorbike made by one of the most popular motorbike brands in the world, Harley Davidson. And their first entry on the list is the Cosmic Starship worth $1.5 million. While other bikes on this list have an engineering feat and uniqueness as the selling point of their huge price, the Cosmic Starship has its artful design to thank.
A partnership between Harley Davidson and iconic comic existentialist artist, Jack Armstrong, produced this yellow and red design spread all over the Harley V-rod. It is a rare combination of high art and engineering and it sold for $1.5 million. There have been rumors it has been resold twice at $3.5 million and $12 million but so far, its $1.5 million original price remains its official price.
7. Dodge Tomahawk V10 Superbike – $550,000
What would a bike made by a traditional American car company look like? If you imagined something heavyweight like the Dodge Tomahawk V10 Superbike, then you are not that far off. As far as bike designs go, this is one of the strangest looking bikes a person could own, and to own it would mean a significant amount of money because this thing cost $550,000.
This beast was made out of blocks of aluminum and it has a V10 four-stroke Dodge Viper engine, strong enough to power a car. it also has 500 supercharged ponies that make this bike the best fit for anyone willing to go to extreme lengths to prove their masculinity. It came into existence in 2003 and it is believed to be capable of reaching 60 mph in 2.5 seconds with a top speed of 400 mph, although no one has ever been recorded to try so.
8. Legendary British Vintage Black – $400,000
Just behind the Dodge Tomahawk V10 Superbike in this list of most expensive motorbikes in the world is the British Vintage Black, which cost $400,000. It is a limited-edition bike that was first released in 1948, and only 33 of them has ever been made. The bike is the creation of a UK company and has a deep black color that would make anyone look cool.
At the time of release, the bike was considered the fastest production bike in the world, although it has fallen behind in ranking since then. Nevertheless, owning this bad boy is a collector's dream, not just for style but also performance. The bike has a 250cc performance and would cost you at least $400,000 if you ever find someone willing to sell to you.
9. Ecosse FE Ti XX Titanium Series – $300,000
This is only brand to feature on this list twice, and its second offering is the FE Ti XX Titanium Series that comes in at number nine for the most expensive motorbike in the world for $300,000. After its launch in 2007, its price tag was considered way too much for a bike and it underwent a lot of scrutinies.
Under investigation, its price held up because this bike has a 2,409cc billet aluminum engine that releases 228PS of power to its rear wheel. More so, Ecosse made use of carbon fiber, keeping its weight on the low-end. As for its aesthetics, its leather is the work of iconic Italian leather craftsman, Berluti and its grade 9 titanium exhaust pipes boasts of a ceramic media finish that would wow any bike enthusiast. If you don't own one already, you might have trouble finding one because only 13 of them were produced.
See Also: 10 Most Expensive Cars That Could Make You Go Crazy
10. Ducati Desmosedici D16RR NCR M16 – $232,500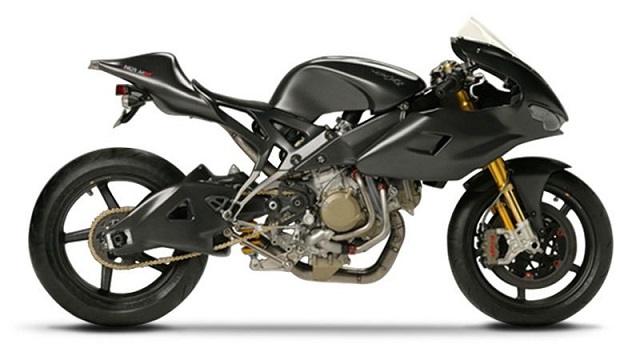 At $232,500, we have come a long way from the first motorbike on our list, but the 10th most expensive motorbike in the world still commands a huge price to a potential collector. The Desmosedici D16RR NCR M16 is the only bike from the popular motorbike brand, Ducati to make this list and it does with an impressive product.
The Desmosedici is completely made out of carbon fiber, making it the lightest Desmosedici in the brand's product catalog and it comes with mechanical parts made out of titanium or avionic-grade aluminum. This motorbike has a 989cc V-four Ducati motor and releases 200 horsepower to its back wheel. If you are a MotoGP racer, this is a luxury bike that you would be proud to drive around as your regular mode of transport.