When it comes to luxurious mansions, too many times, our imagination is often limited to homes of millionaires like Rihanna, George Clooney, and many others. Those whose real estate investments rank within single to double-digit millions. While their homes are certainly worthy of envy by the common man, the most expensive, and often, most luxurious mansions in the world, by their prices, are the playground of billionaires and the one percent of the richest one percent.
Unlike mid-tier luxury mansions, the most expensive mansions in the world are usually custom-built, designed with a specific owner in mind and here in the list below, you can see some of the fascinating additions the uber-wealthy have made to their custom palaces. Check it out below.
Most Expensive Mansions with Prices and Owners
1. Antilla, Mumbai, India – $1 Billion
Owned By: Mukesh Ambani
Technically, the most expensive mansion in the world is the Buckingham Palace, which is worth an estimated $2.9 billion and its owner is Queen Elizabeth II. But it is also technically, public property and that is why it won't be a part of this list.
With the Buckingham Palace out of the way, it leaves room for Antilla to pick the crown as the most expensive mansion in the world. It is owned by Mukesh Ambani, who is the head of Reliance Industries Limited. Antilla is a 27-story building that is located in the middle of Mumbai, India. It also has an additional six stories underground. This 400,000 square foot steel and glass property took seven years to bring to reality. Although the building is currently valued at a billion, it cost just $70 million to build.
Some of the fascinating features of this vertical palace include nine high-speed elevators, two-story health centers, an indoor swimming pool, an indoor ice room designed to artificially simulate snowstorm and ice skating. The house also features an entire floor dedicated to Ambani's collection of cars. It is literally luxury at the highest level.
2. Villa la Leopolda,

Villefranche-sur-Mer, France

– $750 Million
Owned By: Lily Safra
The second most expensive mansion along with its price and owner is the Villa la Leopolda, worth $750 million and owned by Lily Safra, a Brazilian billionaire who has an estimated net worth of $1.2 billion.
The Villa la Leopolda was built in the 1920s on top of King Leopold II's villa as a gift to his mistress. It is a magnificent piece of architecture with its own historical significance. It once served as a military hospital during World War I and has been in a couple of historical films like To Catch a Thief by Alfred Hitchcock and The Red Shoes.
The ultra-expensive mansion has several amazing features including 11 bedrooms, 14-bathrooms, a commercial greenhouse, outdoor kitchen, a pool, and a helipad. Among its range of luxurious offerings are eight luxurious suites and eight staff bedrooms.
3. Tour Odeon Penthouse,

Monaco

– $400 Million
Owned By: Groupe Marzocco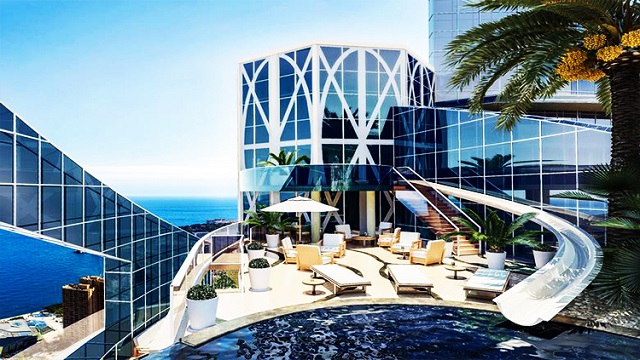 If you are familiar with the world, you already know Monaco is the home for the wealthiest of the wealthiest and it would be a surprise if it didn't have one of the most expensive mansions in the world.
Well, Monaco doesn't disappoint and its offering is the Tour Odeon Penthouse, which is worth an estimated $400 million. It currently doesn't have a live-in owner but it was built by the Groupe Marzocco.
It is a five-story luxury penthouse at the top of a 56-story skyscraper. In size, it is certainly one of the largest penthouses in the world with 10,000 feet in living space and floor to ceiling windows that gives a 360-degree view of the city. As expected of any luxurious home like this, its features include multiple swimming pools, a private staff that includes a caterer and a chauffeur. Imagine that, a house that comes with its own servants. Truly worthy of its place on this list.
4. Four Fairfield Pond, Sagaponack, N.Y, USA – $248.5 Million
Owned By: Ira Rennert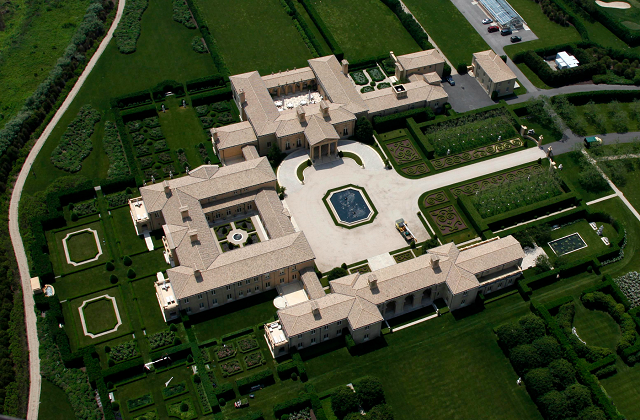 We already mentioned earlier that a list of the most expensive mansions with their prices and owners is filled with billionaires, the one percent of the one percent. And that is not just down to the cost of owning these mansions which fall into nine digits, but its maintenance runs into several million dollars per year.
That is why this mansion at Sagaponack, New York belongs to another billionaire, Ira Rennert of Renco Group. The house is located in the Hamptons and sits on a sprawling 63 acres. Some of the features spread across this massive space include a 10,000 square foot playhouse that has a basketball court, a billiards room, two tennis courts, a bowling alley, and two squash courts.
Its living space contains an estimated 21 to 29 bedrooms and 18 to 39 bathrooms, along with a 91-foot-long dining room and 12 chimneys. It also has its own power planet, a synagogue, three swimming pools, and a 164-seat home theater. The house was built in the 1990s for $110 million but additional features and inflation has placed it at a current value of $248.5 million to be the fourth most expensive mansion in the world.
5. Chartwell Estate, Beverly Hills, California, USA – $245 Million
Owned By: Jerry Perenchio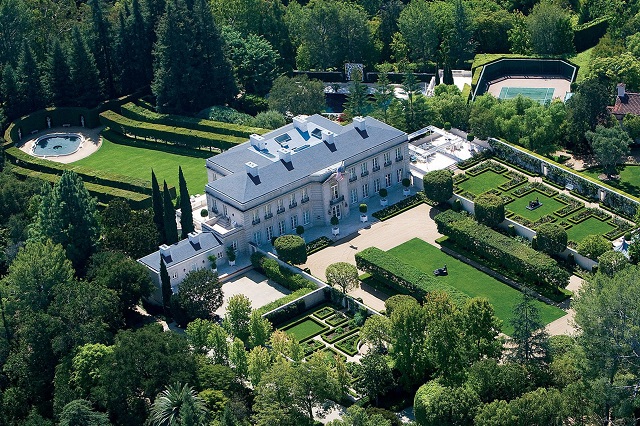 This beauty is located in Beverly Hills, California and owned by Jerry Perenchio. While its price is worthy of awe, it is its design that makes it one of the most distinguished mansions in Los Angeles, a difficult thing to achieve in a city full of them.
Originally built in the 1930s, the house was designed with a limestone exterior in a French Neoclassical style. It has improved its original design with a modern refresh in the 1980s, adding modern features like a 75-foot pool and a spacious pool house. It also has a five-bedroom guest house, a car gallery that parks 40 vehicles and a wine cellar large enough to hold 12,000 bottles as well as perfectly manicured gardens that would transport you out of the busy environment of Los Angeles to the serenity of a French chateau.
6. 18-19 Kensington Palace Gardens, London, U.K – $222 Million
Owned By: Lakshmi Mittal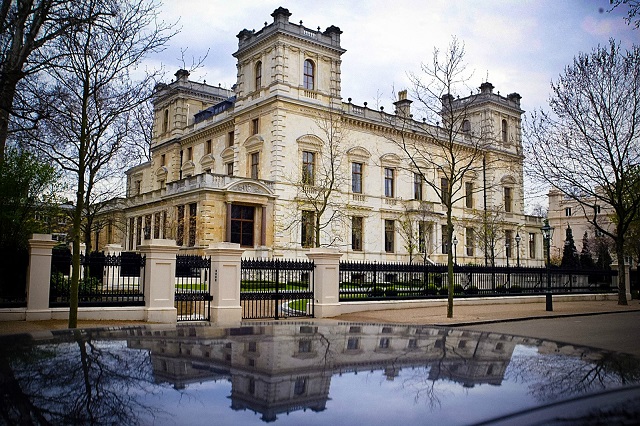 Although England couldn't top the most expensive mansions with prices and owners list with the Buckingham Palace, it has a top-ten replacement in the form of 18-19 Kensington Palace Gardens.
Owned by one of the richest men in India, Lakshmi Mittal who owns the world's largest steel manufacturing company, it is worth an estimated $222 million and located in London's Billionaire Row, which includes properties owned by other billionaires like Roman Abramovich, Leonard Blavatnik and other affluent people like Prince William and Duchess Kate.
It has 55,000 square feet of space which contains 12 bedrooms, a Turkish bath, a picture gallery, a ballroom, and a swimming pool. Before Lakshmi Mittal, it had been previously owned by Bernie Ecclestone, Baron de Reuter, and John Leech.
7. Hearst Castle, San Simeon, California, USA – $191 Million
Owned By: Hearst Family
It is located in San Simeon, California and owned by the Hearst family as part of the portfolio of the money formerly owned by William Randolph Hearst before his passing. The seventh most expensive mansion in the world is spread across 250,000 acres and has 165 rooms.
Aside from its extremely large number of rooms, with its largest building having 38 bedrooms, it also has a 345,000-gallon Neptune Pool. Currently, no one lives in it and it serves as a museum and tourist attraction.
8. Villa Firenze, Beverly Park, California, USA – $165 Million
Owned By: Steven Udvar Hazy
You are most likely to find the most expensive mansions in the world with owners who are not bothered by prices in a gated community. At least it is where this mansion owned by Steven Udvar Hazy is, in the Beverly Park gated community.
The 28,600 square foot mansion was custom built for the billionaire and it contains a two-story guest house, a cabana, a full-size tennis court, a swimming pool, and a sports courts with other sports offerings, all in addition to a very large main house. The entire property is spread across 12.5 acres.
9. Spelling Manor, Los Angeles, California, USA – $150 Million
Owned By: Petra Ecclestone
It was originally owned by Aaron Spelling, the famous TV producer who made his money from shows like Beverly Hills, 90210, and The Love Boat. After he passed, the house was bought by Petra Ecclestone in 2011.
The entire mansion lies on 57,000 square feet and has 123 rooms, broken down into 14 bedrooms, 27 bathrooms and a gift-wrapping room that has achieved its notoriety. Additional features include a bowling alley, a tennis court, a gymnasium, a pool and a car space for 100 cars.
10. The 8th Wonder of the World, Bel Air, California, USA – $150 Million
Owned By: Bruce Makowsky
This mansion in Bel Air, California is owned by the famous real estate developer, Bruce Makowsky. The house is one of the most modern-looking mansions on this list and its wonder is spread all across 38,000 square feet. It has 12 bedrooms which include two master suites, 10 oversized VIP guest suites, 21 luxurious bathrooms, three gourmet kitchens, a massage and wellness spa, a fitness center, and a glass tile infinity swimming pool.
With many more luxurious additions, all of which exist as part of its reputation as the most advanced home tech system in the world, it also has a prime location with a 270-degree unobstructed view of the mountains, the ocean, and the LA skyline.
11. Palazzo di Amore, Beverly Hills, California, USA – $129 Million
Owned By: Jeff Greene
Another mansion owned by a real estate developer is the Palazzo di Amore, which is owned by Jeff Greene. It is located in Beverly Hills, California and features several luxurious amenities that the uninitiated might consider over the top.
The mansion's name, Palazzo di Amore translates to Palace of Love and it is hard not to fall in love with this 11th entry in this list of the most expensive mansions with prices and owners. It has an entertainment complex that consists of a revolving dance floor, state of the art DJ booth, a home theatre system that sits 50 people, a bowling alley and a parking space for 150 cars. What is not to love?
See Also: From Dubai To London: Here Are 10 Most Expensive Royal Weddings In History
12. Xanadu 2.0, Medina, Washington, USA – $125.5 Million
Owned By: Bill and Melinda Gates
Considered one of the most high-tech buildings in the world, the 12th and final entry in our list belongs to one of the richest men in the world, Bill Gates and his wife, Melinda. Xanadu 2.0 was specially designed by Bill himself and being a tech billionaire, it is no surprise that his mansion has a lot of unique tech-related features, including an electronic pin worn by residents and visitors that triggers their personal preferences in every room.
The mansion is sprawled across 66,000 square feet in Medina, Washington. It took seven years to build this mansion and its features include a 60-foot pool housed with its own building with an underwater music system, six kitchens, a 2,300 square foot reception hall, an underground garage and several other states of the art amenities.
With such futuristic features, it is no wonder it is valued at $125.5 million to place among the most expensive mansions in the world.