Money may not buy you happiness, but it sure will book you a nice time at some of the world's most luxurious hotels. Even for the most avid of travelers, the exquisite comfort and blissful leisure on offer will blow your mind. From villas overlooking breathtaking landscapes to imposing penthouse suites, bulletproof glass windows, priceless paintings hanging from walls, gravity-defying terrace pools, private beaches, and an endless array of amenities, the most prestigious hotels in the world seem to have all you can dream of. Whether you can afford them or not, kick back and check out the 12 most expensive hotels the world has to offer.
Most Expensive Hotels In The World 
12. HOTEL DE PARIS (MONACO)
Price: $37,000 per night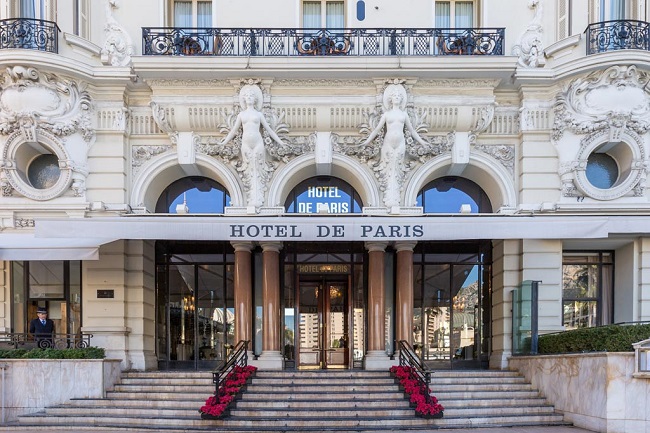 Housed in a building dating back to 1864 in Monte Carlo, each of its rooms is uniquely designed to reflect the traditional aristocratic splendor of the principality infused with the contemporary aesthetics of modern Europe. The rooms contain furniture from a particular time in history. Guests at Hotel de Paris also have access to the Thermes Marins Monte-Carlo spa, a private beach, and other world-class amenities. For food and drink, the hotel features two restaurants overlooking the famous Place du Casino, as well as an American-style piano bar. With all the luxuries that this palatial hotel offers, it is easy to see why it is one of the most expensive hotels in the world.
11. THE PLAZA HOTEL (NEW YORK)
Price: $40,000 per night
When it comes to places where you can live your best life, free from worry and stress, it doesn't get a lot better than The Plaza Hotel. The iconic Renaissance-style building dots the Manhattan skyline next to Fifth Avenue and Central Park. Each of the luxurious rooms is fitted with exquisite Louis XV-style furniture, gold-plated bathroom faucets, and separate rain showers.
The most expensive room at Plaza Hotel is the Royal Suite which comes with top of the line amenities, a spacious living room with a grand piano, a 12-seater dining room, a fitness room, a separate dressing room, and a library. The hotel also houses internationally renowned restaurants and bars such as The Palm Court, Rose Club, Champagne Bar, and Plaza Food Hall. If you're in a shopping spirit, there are a range of exclusive boutiques and other fine stores to choose from, as well as spas, a gym, and a salon. All world-class, of course.
10. HOTEL CALA DI VOLPE (PORTE CERVO, ITALY)
Price: $41,177 per night
A stay at the Penthouse Suite in the MAJESTIC Cala di Volpe will set you back tens of thousands of dollars, but every cent is guaranteed to be worth it. The suite features a rooftop terrace with a swimming pool and dining room offering a delightful view of a coastal town. The suite also comes with three bedrooms, solarium, fitness area, jacuzzis and bathtubs, large shower stalls clad in hand-painted walls and Sardinian marble, and a private wine cellar.
Should you ever decide to leave your room, there are other wonderful amenities to keep you busy and relaxed such as a gorgeous private beach with powdery-white sand, tennis courts, a massive pool, 24-hours fitness center with trained professionals, a wellness center, and award-winning restaurants.
9. THE ROYAL MANSOUR (MARRAKECH, MOROCCO)
Price: $43,480 per night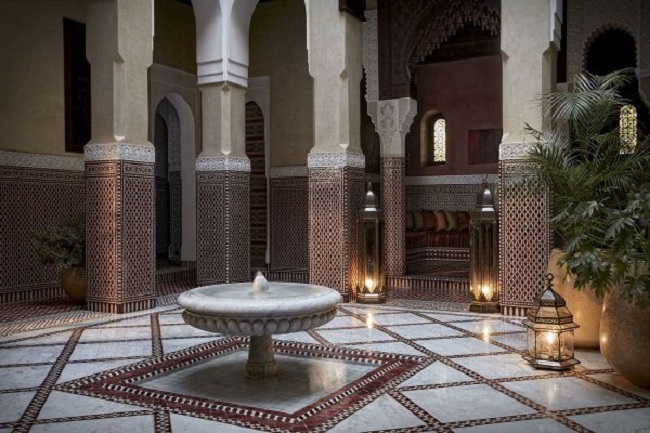 Ever dreamt of experiencing life like an Arab royal? The Royal Mansour hotel is the perfect place to start. Their most exotic suite is called The Grand Riad and it is just as luxurious and lavish as it sounds. The ornately designed space comes with its own personal gym, bar, spa room, and home cinema. It also gives you one of the best views of the dreamy city of Marrakech.
Other rooms at the hotel are less grand, but they are still breathtaking. Each bathroom comes with a bathtub and shower stall. Guests can also choose and treat themselves to any of the three bars and four restaurants available. A wellness center and spa are also available, and the hotel is just a short distance away from several major tourist sites like the Bahia Palace, Majorelle Gardens, Djemaa El Fna square, and the Koutoubia Mosque tower.
8. THE HILLTOP VILLA (LAUCALA ISLAND, FIJI)
Price: $45,000 per night
This tropical Villa sits on four acres of land stretched across a hilltop on the fairytale island of Laucala. There is nothing traditional about the way this Villa is designed. It offers seemingly endless views of the island and is split into three different villas. The Delana villa is what makes Hilltop one of the most expensive hotels in the world. It features a master suite equipped with a living room, a private pool with waterfall and a hot tub; a library, and a spacious master bedroom with a bathtub made of solid wood, and a walk-in closet.
The Dua is a cozy villa designed for two with sliding doors that demarcate the sleeping area from the bathroom. Up next is The Rua, a medium-size guest villa featuring a large pool and separate living area that can accommodate up to eight people.
7. THE RAJ PALACE (JAIPUR, INDIA)
Price: $45,000 per night
Situated in the capital city of Jaipur, the magnificent Raj Palace is one of the most expensive hotels you can find. The hotel has won over a dozen awards and recognition for being a place where luxury meets heritage and culture. The Raj Palace offers an immersive experience of India's cultural heritage and influences through its designs, fixtures, and decorations. This hotel is the perfect place to live like a queen or king for as long as your pocket can afford.
6. FAENA HOTEL (MIAMI BEACH)
Price: $50,000 per night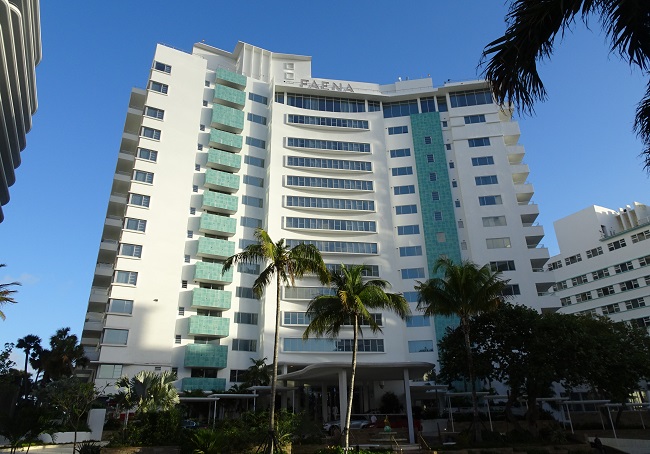 Owned by the famous fashion designer Alan Faena, this hotel is one of two luxury hotels under the holdings of the Faena Group. The sister hotel is located in Buenos Aires, Argentina, the home country of its owner. The Miami Beach Faena Hotel was built to restore the old Saxony Hotel. It has a signature suite called the Saxony Suite to celebrate that fact.
The most expensive suite at Faena is called Penthouse Suite and it was designed by the prominent film director Baz Luhrmann and his set designer wife, Catherine Martin. The suite features floor-to-ceiling windows offering panoramic views of the Miami landscape, two large living rooms, five bedrooms with private balconies, and dining rooms.
5. FOUR SEASONS HOTEL (NEW YORK)
Price: $50,000 per night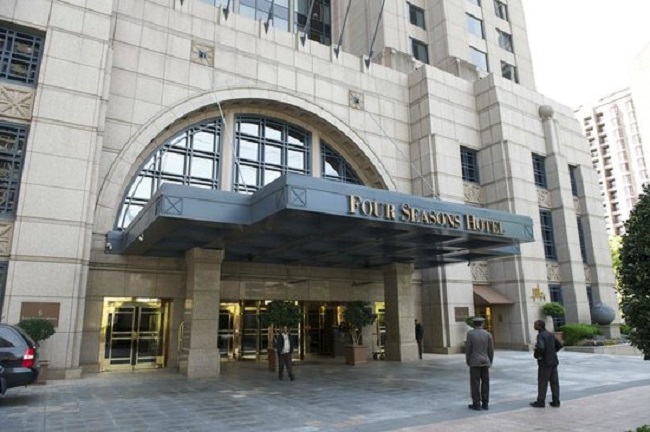 When it comes to expensive hotels, you can always count on Four Seasons to bring their A-game. Their Ty Warner Penthouse Suite will cost you upwards of $50,000 a night with its 360-view of New York City, however, they also have smaller rooms with prices starting from $800 for one night's stay. The suite comes with four glass balconies set in the four cardinal directions and it is situated on the 52nd floor of the Four Seasons. The one-bedroom luxury apartment is equipped with a private spa and a massive master bathroom clad with rock crystals. A stay in this suite also gives you access to a chauffeured Rolls Royce, a personal butler, and all the massage you want.
4. HOTEL MARTINEZ (CANNES, FRANCE)
Price: $53,200 per night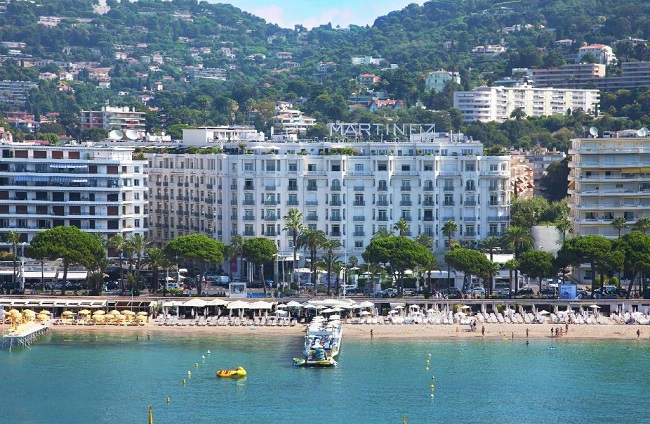 You will experience more than a taste of luxury at this prestigious hotel situated on La Croisette Boulevard in Cannes, home of one of the most famous film festivals in the world. Hotel Martinez is a 5-star institution with a private beach and spacious rooms decorated in contemporary Art-Deco style, and Penthouse Suite that cost upwards of $53,000 dollars, earning the Martinez its status as one of the most expensive hotels in the world.
With its stunning view of the French Riviera, world-class restaurants and bar, top of the line fitness center and spa, Hotel Martinez is guaranteed to make you feel like a celebrity.
3. THE MARK HOTEL (NEW YORK)
Price: $75,000 per night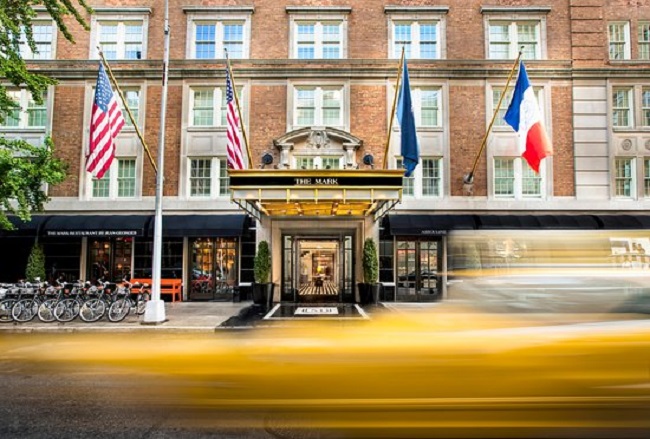 New York is the home of many luxurious and expensive hotels, including The Mark, which is located at 25 East 77th Street along Madison Avenue, on the Upper East Side. The building has been standing since 1927, but it was bought and renovated in 2006 by the French designer Jacques Grange. Some of the priciest suites in the world are housed in the penthouse at Mark Hotel including the largest penthouse suite in the United States. If you want to feel on top of the world while in the jungle of New York, The Mark Hotel is where you do it.
2. PRESIDENT WILSON (GENEVA, SWITZERLAND)
Price: $80,000 per night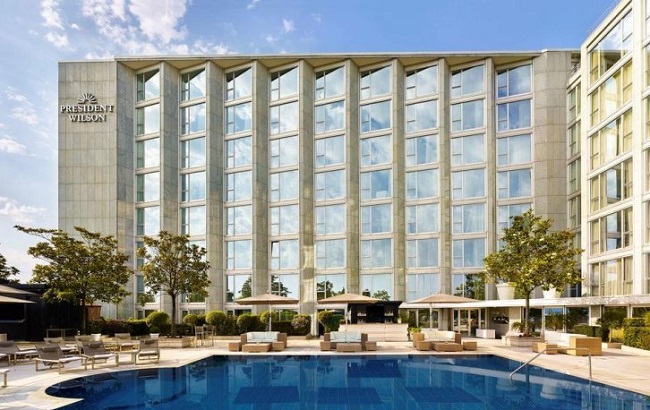 Up until recently, the royal penthouse suite made Hotel President Wilson the most expensive hotel in the world. The suite occupies the hotel's entire eighth floor and is equipped with the finest fixtures such as a grand piano, a rare book collection, a jacuzzi with unhindered views of Lake Geneva, billiards, and a state-of-the-art bathroom. The suite is the largest in Europe and it has entertained guests like Rihanna, Michael Jackson, and Bill Gates.
See Also: Meet The 10 Highest Paid CEOs In The World Right Now
1. LOVER'S DEEP LUXURY SUBMARINE HOTEL
Price: $292,000 per night
Isn't it interesting that the most expensive hotel on earth is found underwater? No matter how long you have enjoyed luxury accommodation, everything about this hotel will blow your mind. For a little over a quarter of a million dollars, you will be treated to a romantic haven beneath the ocean waves of the Caribbean Island of St. Lucia.
Perfect for love birds, your package will come with free rose petal scattering service and champagne breakfast in bed with a personal chef and butler to attend to your needs.