In today's world, cell phones are one of the most important possessions that anyone can own. It holds practically everything in a person's life from the contact information of people dearest to them, to business transactions and a lot more. As a result, it's no wonder that people have formed an attachment to their phones. The prices for these devices differ, depending on the specifications that come with the gadget. While certain ranges of iPhones, Samsungs, and Pixels command a high price in the general market, they are nothing compared to the costs of some other phones that are out there. Here is a list of 10 most expensive cell phones in the world that will cost you an arm, a leg and a couple of organs.
These Are The Most Expensive Cell Phones Ever Made
1. Falcon Supernova iPhone 6 Pink Diamond ($48.5 Million)
At the moment, the title of the most expensive cell phone in the world belongs to the Falcon Supernova iPhone 6 Pink Diamond, which will set you back $48.5 million. So what makes this device so costly? First of all, the phone is made out of solid 24-carat gold, and it comes with a huge 18 carat single-cut pink diamond embedded in its back.
In addition, the phone features platinum coating and a state-of-the-art encryption system that gives it immunity against hacking. It also runs on an iOS 8 operating system along with an Apple A8 processor. The Falcon Supernova is owned by Nita Ambani, the wife of an Indian businessman and one of the richest men in the world, Mukesh Ambani. It was released in 2014 and is only available through special order.
2. Black Diamond iPhone 5 ($15.3 Million)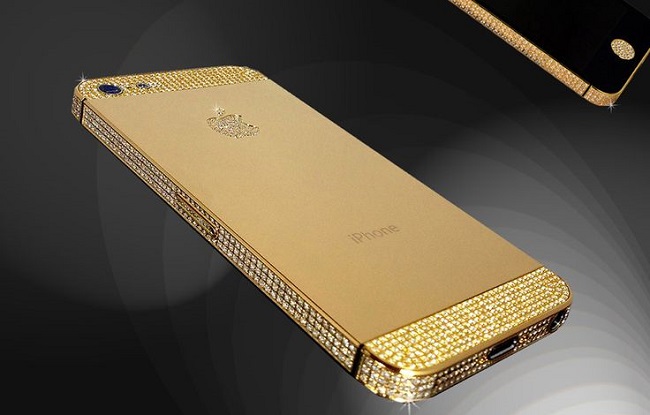 This iPhone 5 variant which was released in 2013, is priced at $15.3 million presently. The Black Diamond is the creation of the elite British designer, Stuart Hughes, and it took 9 weeks to complete since it was assembled by hand. The phone's rear casing is made of 24-carat gold, while the rims and logo are encrusted with 600 white diamonds.
An alluring 26-carat diamond makes up the home button on this high-end device, which also runs on an impressive iOS 6.1.4 operating system alongside an Apple A6 processor. Currently, this luxe gadget is owned by a Chinese billionaire who is only identified as Joe.
3. Elite Gold iPhone 4S ($9.4 Million)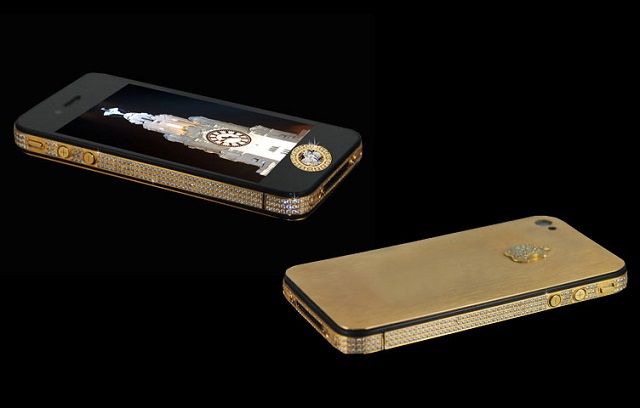 Stuart Hughes is well known all over the world for his exquisite taste for expensive and luxury goods. He has even built a mega-successful company specifically for the purpose of designing luxury items. Simply put, the man is always looking for ways to turn ordinary objects into costly works of art. Some time ago, he even attempted to make an entire house exclusively out of gold. Although he didn't succeed on that front, he did manage to make the Elite Gold iPhone 4S, the third most expensive cell phone in the world.
The gorgeous device comes with handmade bezels set with 500 individual diamonds, totaling over a hundred carats. A single-cut 8.6-carat diamond makes up the home button, and an extra 7.4-carat diamond so the owner can interchange the button. The phone's back panel is a bar of solid 24-carat gold, while the Apple logo is decked out with 53 diamonds. As if that isn't enough, the phone is delivered in a platinum box made up of rare gemstones like rutile quartz, opal, charoite, and star sunstone, with pieces of actual bones from a dinosaur.
4. Diamond Rose iPhone 4 ($8 Million)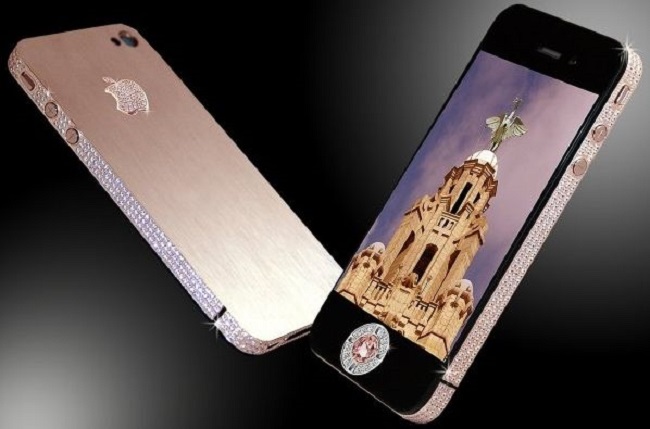 Not a lot of people can afford to cough up $8 million for a single item, especially a phone, but for those who can, Stuart Hughes has designed this luxury gadget to meet their needs. The back of this deluxe device is made up of solid rose gold, while the Apple logo is decorated with 53 diamonds. The sides of this one-of-a-kind iPhone are studded with 500 dazzling diamonds of 100 carats.
The front panel is made of platinum, with a cluster of 8-carat alluring diamonds surrounding the start button, and a single-cut 7.4-carat pink diamond that serves as the home button. The glam doesn't stop there. When you buy a Diamond Rose iPhone 4, it comes in a magnificent box made out of granite and weighing 7 kilograms. It's also noteworthy that this expensive cell phone runs on iOS 4 operating system which can be upgraded to iOS 7.1.2 along with an Apple A4 (45 nm) chipset.
5. Supreme iPhone 3GS ($3.2 Million)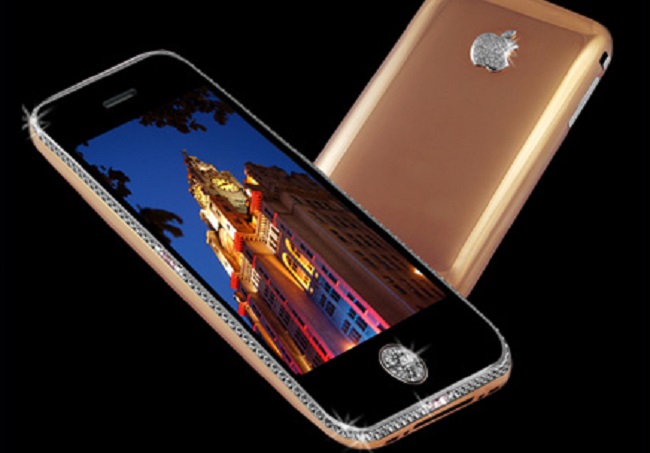 This gold-plated iPhone designed by Stuart Hughes is one of the most expensive cellphones in the world at the moment. The device is fully decorated with all sorts of rare and precious jewels including 271 grams of 22-carat gold, rare Kashmir gold, 136 diamonds lining the front cover, 53 diamonds encrusted in the rear logo, and a rare 7.1-carat diamond that serves as the home button.
This variant of the iPhone doesn't just stop being awesome at this point, Stuart actually ramps the design up by fashioning a chest for the device out of a single block of granite, with top-grain nubuck animal skin leather lining the interior, and a final touch of Kashmir gold. When you spend $3.2 million on this phone, you're not just buying a mobile device, you're getting prized jewels too. Think of it as an investment; whether you actually use it as a regular phone or leave it stored in its chest, it will still be worth a lot of money whenever you decide to part with it.
6. iPhone 3G King's Button ($2.5 Million)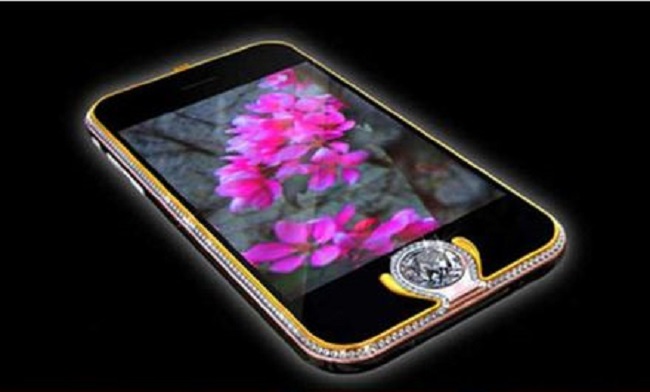 One of Peter Aloisson's marvelous creations, iPhone 3G King's Button which was released in 2009 is way costlier than your average iPhone. The device owes its $2.5 million price tag to the 18-carat yellow gold, rose gold, and white gold it is plated with, as well the 138 impeccably cut diamonds, arranged and placed by hand.
The beauty and price of this phone are further accentuated by a twinkling 6.6-carat white diamond that makes up the home screen button. Additionally, it runs on a default operating system iOS 2.0 that can be upgraded to iOS 4.2.1. Forget about your iPhone 11 or iPhone X, if you really want to make a statement, then this costly gadget is the way to go.
7. Diamond Crypto Smartphone ($1.3 Million)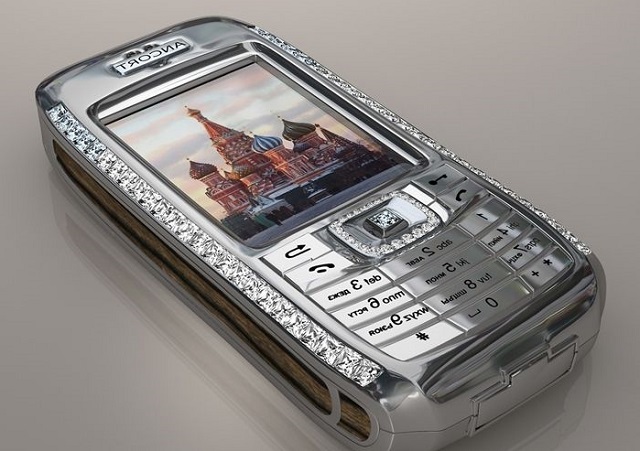 This uber-expensive cell phone runs on an operating system called Windows CE and was created by Peter Aloisson, a popular Australian luxury accessory designer in collaboration with JSC Ancort. The phone comes packed with a precious range of gemstones. The Diamond Crypto Smartphone is made up of solid platinum, with its logo and navigation keys fashioned out of 18 carats rose gold. A total of 28 cut diamonds adorn the edges of the navigation keys, and another 25.5 cut diamonds are draped around the sides of the phone.
But that's not all; an additional 8 diamonds are embedded in this gorgeous device, while the wood on both sides is made from hand-polished Macassar ebony. The phone also comes fully equipped with a state-of-the-art encryption system that securely protects whatever information is stored on it. Have information to protect and have the bank account to back it up? This device was made for you.
8. Goldvish Le Million ($1.13 Million)
To own one of Emmanuel Gueit's stunningly beautiful Goldvish Le Million phones, you would have to be willing to shell out over a million dollars. The phone was released in 2006, in Switzerland, and was later sold in September at the Millionaire Fair in Cannes, France, where a Russian businessman paid €1 Million for it.
The designer only made 100 pieces of this luxurious device and you have to put in a special request in order to be able to purchase one. This device is made with 120 carat VVS-1 graded diamonds and 18-carat white gold. At the time it was made, the GoldVish Le Million held the Guinness World Record for the most expensive mobile phone in the world, but it has since been displaced by more expensive devices.
9. Gresso Luxor Las Vegas Jackpot ($1 Million)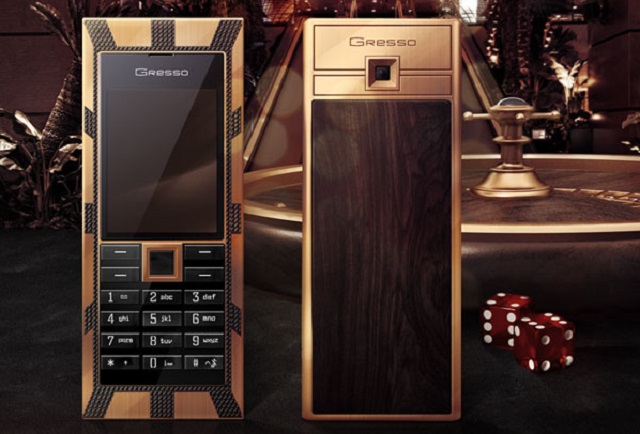 Sitting pretty at the ninth spot is the Gresso Luxor Las Vegas Jackpot with its whopping $1 million price tag. Designed by the internationally renowned accessory designer, Gresso, this cell phone is made with some of the most expensive wood in the world. The panel at the back was created from wood cut out of an African tree that has been around for over 200 years.
To top it all up, the keypads are encrusted with hand-polished sapphires, while the rest of its frame is covered in 180 grams of gold and several black diamonds. Although the phone was designed in 2005, it is still one of the most expensive cell phones in the market
See Also: 10 Most Valuable and Most Expensive Toys In The World In 2019
10. Goldvish Revolution ($488,000)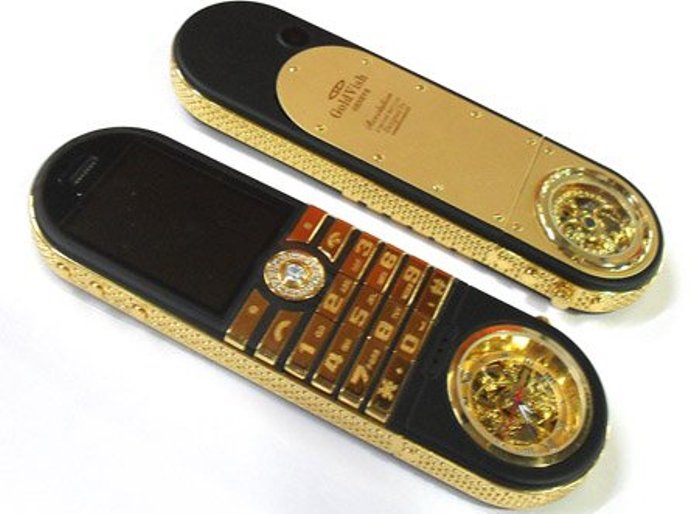 Goldvish, a Swiss company that made the world's expensive phone, Goldvish Le Million, in 2006 released another luxury cell phone called Goldvish Revolution in 2009. As of 2020, this unique and attention-drawing device commands a high price of $488,000. It was unveiled in Baselworld 2009 alongside several fascinating luxury phones like Ulysee Nardin's Chairman.
Unlike Chairman, Goldvish Revolution is a glittering Candybar cell phone which resembles Motorola Aura, but with more glitz. Its body is overlaid with 29-carat VVS-1 diamonds and covered with 18-carat pink and white gold. However, the most captivating feature of this classy cell phone is the beautiful and removable Frederic Jouvenot Chronograph Evolution analog watch that is inserted on it. Interestingly, the Goldvish Revolution which screams wealth has a limited edition of only 9.