Alcohol as a beverage started right from the beginning of time and has advanced over thousand decades to have lots of varieties in recent time – Wine, Beer, Brandy, Vodka, Spirits, Cognac, name them.
With controversies surrounding its consumption as vast as its brands, alcohol remains as the one of if not the most popular and widely consumed drink in the world, continually seeing its producers smile to the bank.
With such popularity, its economic importance and value isn't overlooked. However,  like few consumable items, alcoholic beverage brands come in classes, the good thing is to every class you belong is a drink. For the super-rich who aren't hesitant to lavish on luxuries and identify themselves with the latest, I must say they do it well. So, lets cut to the chase.
Launched by  Russian car dealer magnate Russo Baltique, the most expensive drink in the world is a Russo-Baltique Vodka, selling for a mind-blowing $1.3 million a bottle….Yea you read that right an astonishing $1.3 million, an amount most average folks don't earn throughout their lifetime, so if you got such mullah, I just added to your options, you can choose to get yourself that dream ride, acquire those stakes, or purchase the Russo-Baltique Vodka, feel cool and cachinnate with friends.
See also: 25 Most Expensive Celebrity Engagement Rings
The drink, produced in Russia, a country eminent for its production of the best quality vodka was apparently made to charm the elites and hell yea, it did, mission accomplished – at  its 2014 premiere held in Monaco at  the Top Marques  during the Grimaldi Forum, one of the richest royals in the world, Prince Albert of Monaco was officially presented the virgin bottle.
See Also: Top 15 Richest Royals In The World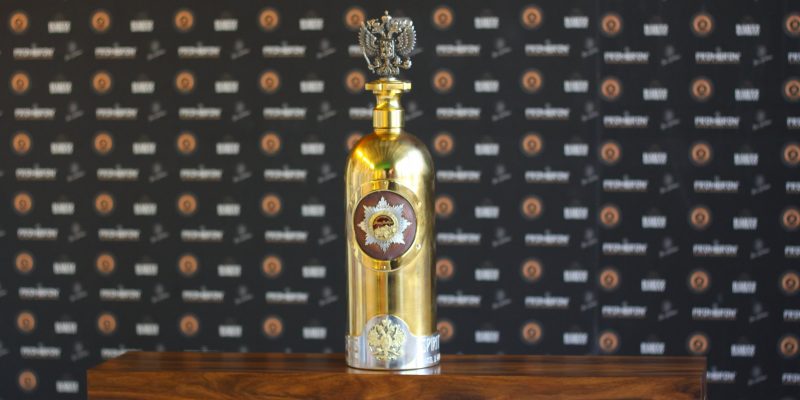 One might wonder, what wow factor this vodka has to warrant it such whopping price tag. Ok, here, let me satisfy your curiosity, first is its exclusively exceptional container design, unlike your average drinks that come just in bottles, The Russo-Baltique Vodka couldn't afford that so it went for a 'flask' instead, made from gold coins, cast between 1908 and 1912, talk about vintage, it is a facsimile of the car maker's radiator guard he used for his debut manufactured vehicles, secondly the 'flask-top' is practically a crown, made from white and yellow gold and beaming with diamonds encrusted on a look-alike of the Russian Imperial Eagle, and did I forget to mention, the bottle is bulletproof, how wowed are you? I'm sure your curiosity is well satisfied. The company reports the vodka was made to mark its 100th anniversary.

The $1.3 million alcoholic beverage is also a celebrity and has made its debut in the third season of famous Hollywood TV series 'House of Cards', in the episode, the drink was presented as gift from Russian President Victor Petrov to America's President Frank Underwood, during a courtesy visit, as an effort to show the American man the Russian drinking custom.

Fact Check: We strive for accuracy and fairness. If you see something that needs updating,