No matter what else Monica Lewinsky achieves in life, it is almost certain that she will always be known as the lady at the heart of a scandal that nearly toppled an American presidency. Once a fresh-eyed beauty from San Francisco, Lewinsky had headed to the White House to work as an intern in the summer of 1995. What was supposed to be a few months' work, however, became a permanent position and snowballed to an affair that would become one of the most controversial periods in American history. The whole scandal is now decades old but it continues to fascinate the public just as Lewinsky doggedly attempts to put that part of her life behind her.
Monica Samille Lewinsky was born on July 23, 1973, in San Francisco, California to Bernard Lewinsky and Marcia Kay Vilensky. She is of American Nationality and White ethnicity. She had her elementary school education at John Thomas Dye School. Upon completion of her elementary school education, Lewinsky attended Beverly Hills High School. She later transferred to Bel-Air Prep, during her senior year, and finally graduated in 1991. After graduating from high school, the young lady attended a community college for two years before enrolling at Lewis and Clark College in Portland, Oregon. At Portland, she studied Psychology and bagged her bachelor's degree in 1995.
How It All Began – Gaining White House Internship
By virtue of coming from a well-connected family, Monica Lewinsky got the chance to practice as an unpaid summer intern in the office of the then Chief Of Staff, Leon Panetta. Delighted at the prospect of working in the White House, she moved to Washington D. C. and commenced operation at her duty post in July 1995. During the course of her internship, she was known to exhibit a high level of diligence, competence, and obedience. This endeared her to her supervisors as well as co-interns. It also helped her to land a paid job at the White House Office of Legislative Affairs in December 1995.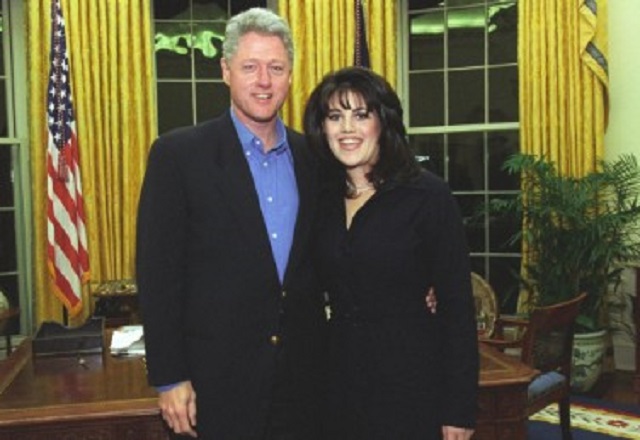 Details of the Presidential Affair and Subsequent Impeachment 
Monica Lewinsky first crossed paths with then-President Bill Clinton during her work as an unpaid intern. They continued to get acquainted with each other and by the time she landed a permanent position, they had developed a high level of affinity. This fact troubled her superiors and they had her transferred to the Pentagon in April 1996. It was, however, too late as Lewinsky and Clinton had already commenced a sexual relationship back in November 1995. This relationship persisted despite her transfer and lasted until March 1997.
During this period, Lewinsky shared details of her trysts with her co-worker and supposed friend, Linda Tripp. Tripp advised her to save gifts from the President, as well as a particular blue dress stained with his semen, as a sort of insurance (as she planned to nail the President with the evidence). Meanwhile, unbeknownst to Lewinsky, Tripp also made several recordings of her discussing her escapades.
While all this was going on, President Clinton and his associates were under investigation for some questionable real estate deals that they had gotten into during his time as the Governor of Arkansas (1979-1981, 1983-1992). Additionally, he was also embroiled in a civil lawsuit in which a former female employee from Arkansas accused him of sexual assault. The prosecution team in the case rounded up some of his past female employees to testify to nail him.
One of those called upon was Lewinsky and she denied having any physical relationship with the man. She also tried to get her friend, Linda Tripp, to lie on oath but Tripp refused and instead handed over the taped recordings to Kenneth Starr, the independent counsel investigating Clinton's real estate deals. Starr was permitted to diversify his investigation in that direction and the story broke in January 1998.
All hell let loose as the media swooped down on the unfolding scandal. Lewinsky denied having had an affair with Clinton while he famously uttered the words "I have never had sexual relations with that woman''. Both of them stuck to their guns all throughout this period but by the time several pieces of evidence emerged, they knew that the game was up. Lewinsky admitted that they had been involved in several sexual acts but maintained that they never had full intercourse.
Bill Clinton, on his part, only conceded to having inappropriate intimate physical contact with her. The grand jury convened by Starr indicted Clinton and the House of Representatives issued articles of impeachment against him. They succeeded in impeaching him but he survived a 21-day trial in the Senate for obstruction of justice and lying under oath. This ensured that he remained in office and concluded his presidency.
How Monica Lewinsky Coped with the Effects of her Infamy 
While President Bill Clinton seemed to emerge relatively unscathed from the whole scandal, the case was widely different for Monica Lewinsky as she became the ultimate scapegoat. The media and the paparazzi hounded her and many public discussions on the issue demonized her. The situation became unbearable and the lady sought refuge in her mother's home in Foggy Bottom, Washington D.C. She kept a low profile for much of 1998 and slowly began to re-emerge in 1999.
Lewinsky had realized that her infamy would not go away anytime soon and as such, she decided to utilize it to raise money to offset her significant legal fees. She started by penning an autobiography which earned her half a million dollars. She also gave a nationwide interview which fetched her an additional $1 million. Also, Lewinsky established her handbag line and hosted a dating TV show known as Mr. Personality in 2003.
See Also:  30 Rare Photos Of Hillary Clinton You Have Never Seen Before
In recent times, Monica Lewinsky has emerged as a foremost advocate against cyberbullying. The San Francisco native has carefully weighed the enormity of what happened to her and has realized that she was one of the very first victims of public shaming and cyberbullying. She is therefore now dedicating her life to combating online harassment and ensuring a compassionate internet. Lewinsky kicked off her advocacy by penning an essay, titled Shame and Survival, for Vanity Fair in 2014. She subsequently went on to deliver a well-received TED talk, The Price of Shame, in 2015.
Where Is Monica Lewinsky Now, Is She Married With Family?
The San Francisco native now works with many anti-bullying organizations including Bystander Revolution, Diana's Award Anti-Bullying Program, Ditch The Label, Heartmob, The Amanda Todd Legacy and The Tyler Clementi Foundation. She has also spoken at several fora on the issue of public shaming.
Ever since her public re-emergence, Monica Lewinsky has featured on several magazines and TV shows where she expressed her distaste for how wrongfully she was portrayed by the press. She has also detailed the traumatic experiences she had endured during and after the trials. The former White House intern has however not been this forthcoming about her personal life. One question Lewinsky has been most unwilling to talk about is that of her marital status as well as motherhood.
Nevertheless, during an interview with People Magazine in 2015, Lewinsky revealed that she had been in several relationships in the past but refused to say anything as regards her current relationship status. Furthermore, she revealed that she doesn't have a child of her own. She, however, stressed that she is not opposed to the idea of marriage. According to her, she promised Barbara Walters a dance on her wedding day and she intends to keep it.