Molly Mcnearney is the wife of Jimmy Kimmel, a well-known American actor but it is not just this that makes her worthy of attention. She is also an esteemed writer and author. As a matter of fact, Molly rose to prominence as a co-writer of her husband's TV show, Jimmy Kimmel Live and continues to excel. In 2018, she added acting to her already admirable resume with the movie Dumplings in which she played the character of Delia Shephard. Here are more facts about the multi-talented woman that won Jimmy Kimmel's heart in 2013.
Who is Molly Mcnearney and How Old is She?
Known as the second wife of Jimmy Kimmel, Molly Mcnearney was born Molly O'Brien McNearney on 13 March 1978 in St Louis, Missouri, USA. Her ethnicity is white and she is of American nationality. As the middle child of her parents, the scriptwriter grew up with two siblings named Kelly Mcnearney and Michael Jr. Mcnearney. Her parents are Michael Mcnearney and Michelle Mcnearney.
She had her early education at St. Clare of Assisi Elementary School and afterwards proceeded to St. Joseph High School, an all-girls high school where she excelled as one of the most talented creative writers. In 2003, she obtained a degree in advertising from the University of Kansas William Allen White School of Journalism and Mass Communications.
Before marrying her sweetheart, Jimmel Kimmel, Mcnearney worked for ABC as an adverts salesperson. With her writing skills, she was soon promoted as the personal assistant to the executive producer on the TV show Jimmy Kimmel Live in 2013. The intensely ambitious star continued to deliver nothing less than a masterpiece. In 2014, just a year later, Molly Mcnearney nabbed another promotion, rising to the assistant writer of the show. Her outstanding funny sketches paved more way for her than ever and soon she was named the lead writer of the show. This position gained her instant celebrity status as one of the most talented TV show writers. It also brought more jobs such as writing for big celebrity events, some of which include writing jokes for the White House Correspondent dinner as well as some plots for the Oscars. She is also the writer of Murder Mystery and Big Night of Stars.
Since her ascent to fame, Molly Mcnearney continues to rise and has been acclaimed as one of the most talented Hollywood scriptwriters. Among her awards are five primetime Emmy Award nominations and two Writer's Guild of America Award.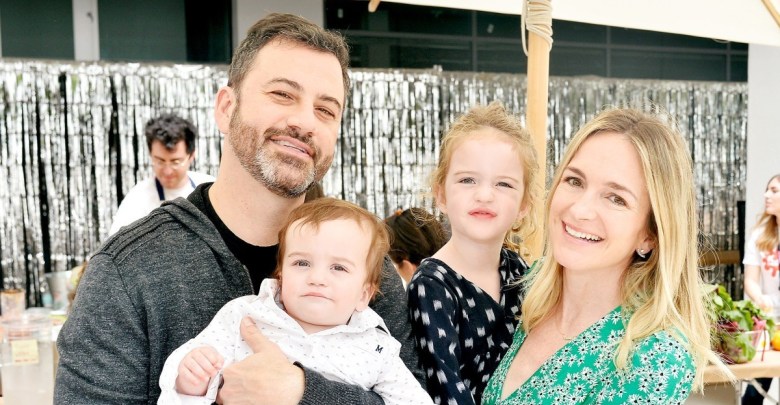 Her Married Life
Molly has been married to Jimmy Kimmel since 2013. As you may have guessed, their love started when Molly worked as a co-writer for the actor's show. The duo dated for three years and stayed engaged for 10 months before finally tying the knot at the Ojai Valley Inn in 2013. They're two have kept things together and no rumours of divorce have sprung up since their marriage.
Jimmy is a Hollywood big wig known for his show Jimmy Kimmel Live. In addition, he has earned a reputation as a comedian, TV host, writer, and producer.
Molly Mcnearney is Jimmy's Second Wife
She is not the first wife of Jimmy Kimmel. The TV personality was formerly married to Gina Maddy. He was also in a long relationship with Sarah Silverman.
Who are their Children?
The union of Molly Mcnearney and Jimmy Kimmel has produced two children named Jane Kimmel, born on 10 July 2014 and William John Billy Kimmel, born in April of 2017.
The star had to go through some tough time when she gave birth to William who was born with a heart condition that required him to go through three open-cardiac surgeries at a minimum in his life. One of the surgeries was carried out hours after his entrance into the earth when the diagnosis was made. Fortunately, the child is doing great now.
Apart from her two children, Molly is also a stepmother to Katie Kimmel and Kevin Kimmel both from Jimmy Kimmel's previous relationship with Gina Kimmel.
Read Also: Matt Damon Wife, Kids, Family, Divorce, Wiki, Career Earnings, Jimmy Kimmel
She is an Adorable Sister-in Law
Molly is a sister-in-law to Jimmy Kimmel's younger siblings named Jonathan Kimmel (a producer, actor, writer, composer, and director) and Jill Kimmel.
Molly Mcnearney's Siblings 
She spent her childhood with two amazing siblings: an older brother named Michael McNearney, Jr. (born 1976) and younger sister Kelly McNearney (born 1981), who is the former Digital Account Executive at ESPN now Senior Account Executive with Google.
What is Molly's Net Worth?
As a gifted actress, producer and writer, Molly has earned not only popularity from her work but also wealth. Her net worth is estimated at $5 million. However, this is nothing compared to her husband's net worth which is estimated at $35 million.
Her Height and Body Features
Molly is stunningly slender and quite tall. She is 5 feet 9 inches tall – slightly shorter than her husband who is 6 feet 1 inch tall. Her brown eyes and blond hair also accentuate her overall beauty.