Molly Line is an American journalist who currently works as a news correspondent for Fox News Channel (FNC). She has been with the television news channel for more than a decade and has hosted and appeared on popular shows, including The Five, Fox & Friends, Fox Report, America Live, The O'Reilly Factor, Huckabee, among others.
In view of the above, it is only natural that a lot of people are interested in knowing several things about her. Below are answers to some of the questions often asked about this Molly.
Molly Line's Age and Brief Bio
Molly was born on the 31st of January 1977, in West Virginia, the United States of America. She attended Tucker County High School, Hambleton, West Virginia and graduated in 1995 before moving on to Virginia Polytechnic Institute and State University where she studied Mass Communication and Political Science, graduating in 1999.
Prior to her graduation from university, the beautiful lady competed and won Miss Greater Bluefield Area Pageant, and this paved way for her to compete in the Miss West Virginia Pageant in 1997. She again took part in the competition for the title in 2000.
Her Career
Sequel to the completion of her university studies, Molly Line began her career in journalism as a photographer and reporter in the CBS-affiliated television station, WDTV-TV (CBS 5) in Bridgeport, West Virginia. She worked there from 1999 to 2000 before moving over to WXXA- Fox 23, Albany, New York Area, where she also worked as an anchor/reporter from  – 
In December 2002, Molly joined WFXT, virtual channel 25, a Fox-affiliated TV station licensed to Boston, Massachusetts, continuing her job as an anchor/reporter. At WFXT, Molly Line covered the sentencing of the British terrorist Richard Reid aka the shoe bomber, as well as the Station nightclub fire which happened on February 20, 2003, in West Warwick, Rhode Island, resulting in the death of 100 people and injuring 230.
In January 2006, the outstanding journalist started working in America's biggest news channel, Fox News Channel, as a correspondent based in Boston. Among prominent stories she has covered are the 2007 Boston bomb threat and the arrest and extradition of Neil Entwistle, an English man who was convicted of murdering his wife, an American woman named Rachel and their nine-month-old daughter, Lillian, on the 20th of January 2006 in Hopkinton, Massachusetts.
Molly also reported on the Sandy Hook Elementary School shooting that happened in Newtown, Connecticut, United States, on December 14, 2012, leading to the death of 20 children and 6 adults. In addition to that, she reported from the scene while news of the Boston Marathon terror attack on April 15, 2013, unfolded and covered the 2007 Cartoon Network Aqua Teen Hunger Force scandal.
Who is Molly Line's Husband?
The Fox correspondent is married to Matt Petrus. Matt, who was born into a middle-class home, studied at Hunterdon Central Regional High school before moving on to Virginia Polytechnic Institute and State University where he met his future wife. They were introduced to each other by a mutual friend and with time, what started off as a normal friendship developed into a romantic relationship.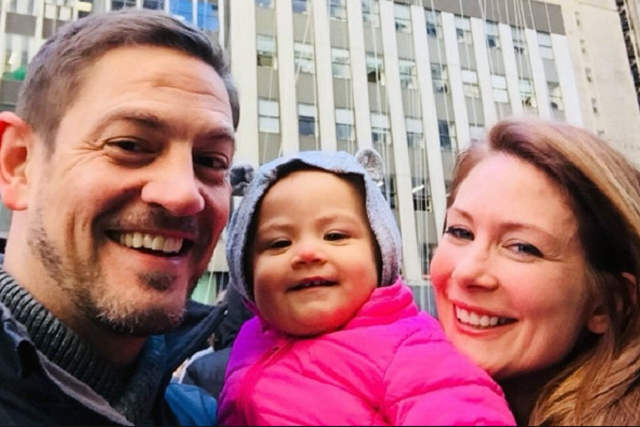 According to Molly's Facebook page, Matt got her engaged on Thursday, June 9, 2011, and on the 21st of July 2012, the couple tied the knot at Jackson Community Church, Jackson, New Hampshire. Their union has produced a daughter named Maryn, who was born on August 9, 2016.
Matt Petrus works as a Sales Representative at Barnes Distribution Group and he lives with his family in Boston, Massachusetts.
Molly Line's Height and Other Body Measurements
Beautiful Molly Line stands at 5 feet 8 inches (1.72 m) and weighs 132 lb (60 kg). She has a well-shaped slim body and like most women in her line of work, she never disappoints when it comes to her dressing style. She often wears well-fitted corporate dresses that show off her straight legs and her hair and makeup are always flawless. Molly's bust measures 36 inches, her waist 26 inches, and her hips 37 inches.
See Also: Danielle Cohn – Bio, Age, Height, Boyfriend, Sister, Mom, Wiki, Parents
Fun Facts About Molly Line
1. Molly is known to be very discreet with personal information and this explains why nothing is known about her childhood, parents, and siblings (if any) among others.
2. Although there is nothing to prove whether it is true or not, a certain report claimed that the journalist had a net worth of about $2 million as of 2017.
3. Due to the nature of her job, Molly Line has a very active social media life. On Facebook, she has more than 15k followers while her Twitter page @MollyLineFNC boasts of 28.4k followers as of this writing.