Social media modeling, especially on Instagram is a growing niche that is fetching several millions of dollars for models. So also, is YouTube, a growing community of creatives who are banking several millions of dollars in advertising revenue and sponsorship for their videos and influence. However, it is not often you find these two worlds colliding as it has in the life of Molly Eskam, a model and a notable YouTuber.
At a very young age, Molly has become one of the most popular personalities on the internet and has been able to fashion out a great amount of wealth that would make several adults wet with jealousy. In this article, we will take a look at the journey of Molly Eskam from a regular girl to being one of the internet's most recognizable names. Read on.
Who is Molly Eskam?
Molly Eskam, the model/YouTuber was born on the 29th of November, 1996 in Scottsbluff, Nebraska to parents Kent Eskam and Laurie Eskam. The model was born as the last of three children to her parents, with older brothers – Chace and Chance.
Much of the details of her background is unknown, including details about her education. Regardless, Molly Eskam began her journey to the limelight on the 12th of May, 2010 when she signed up and launched her eponymously named YouTube channel, Molly Eskam on YouTube.
Since then, Molly Eskam has risen to become a part of a slew of famous internet personalities, doing so via several popular videos like How To Get Free Starbucks, Pool Day With My Dogs, Gold Digger Prank, which featured another popular YouTube personality, Faze Rug. All three videos have accumulated over 3 million views at an average of 1 million views each.
Molly is also not one to do it all by herself. She has worked in collaboration with other YouTubers like RiceGum, who is a notable YouTuber in his own right.
On Instagram, Molly Eskam has also been able to grow her popularity. With both platforms feeding each other. She posts on Instagram via the handle @mollyeskam. The media personality is also not found wanting on Twitter with @mollyeskam1 which has been able to grow considerably.
Her bubbling modeling career has seen her featured in several modeling events and posing for a number of brands; a lot of which are swimwear and lingerie brands. She has also walked the runway in events like the Courtney Allegra Runway Show.
Like every successful person, Molly Eskam's popularity hasn't come without its own share of criticism and attacks. Particularly about her looks, which many have suggested were doctored via plastic surgery. Despite the fact that Molly Eskam has come out in denial of these, they still continue to persist and so thus her successful internet career.
What Is Her Net Worth?
As non-traditional as Instagram modeling is or YouTube blogging is, so also is the income. Her popularity on both platforms, which has her with over 1.2 million followers on Instagram and over 500,000 subscribers on YouTube has helped Molly Eskam to a cool net worth of $150,000. With her YouTube subscribers, she has seen over 30 million views of her videos, which puts her ad revenue at an average of $12.7k to $90k per year. Her exact net worth is still under review.
Her boyfriend on the other hand, who plies his trade in a more lucrative genre of YouTube has been able to build net worth in the region of $2 million.
Her Personal Life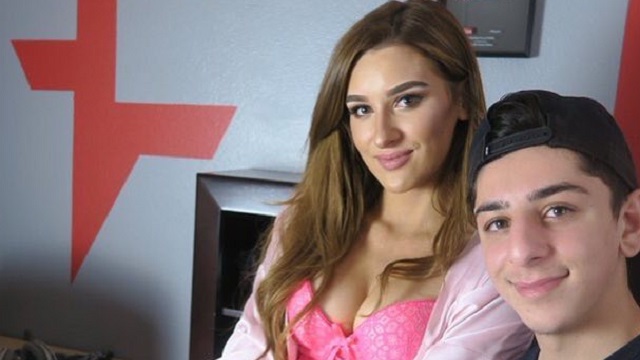 When entertainers in Hollywood become famous, a growing interest in their personal life occurs and that story remains the same with internet personalities. For the curious, Molly Eskam is dating fellow YouTube star, Faze Rug whose real name is Brian Awadis.
While Molly Eskam exists in the vlogging side of YouTube, her boyfriend is a gamer with over 11 million subscribers to his channel. Although the exact period the relationship began is unknown, the relationship is believed to have started in 2015 and they have been together ever since. The couple is known to often feature in each other's YouTube videos.
Other Facts About Molly Eskam
As a model, a good look is one of the primary necessities in a successful career and as her Instagram followers count suggests, she has plenty of it.
The beautiful model has a body height of 5 feet 8 inches which weighs 57 kg.
Her accompanying body measurement is 35-26-35 inches, being her bust, waist, and hip sizes respectively.
She has hazel colored eyes with dark brown hair.
Her boyfriend, Faze Rug is the son of Iraqi immigrants.