Molly Ephraim is a multi-talented American television and film actress, best known for her brilliant role as Mandy Baxter in the ABC television sitcom titled the Last Man Standing. Following her exceptional acting prowess, Molly has made several Broadway appearances as well as television series and movies. She has also been an active figure in the American movie industry since 2002.
Before her acting career, Molly excelled as a choreographer and has worked with several theatre companies. She was also a member of Princeton University's theatre troupe called the Triangle Club. Learn more about her including all the new and exciting projects she has been up to since we last saw her on Last Man Standing.
From Princeton to Broadway
The star actress was born on May 22, 1986, to William Ephraim and his wife, Nina Zebooker, in Philadelphia, Pennsylvania in the United States. At a very young age, Molly started performing at the Bucks County Playhouse situated in Philadelphia and later on; she featured at the Arden Theatre Company as well as Prince Music Theatre as a teenage choreographer. Molly subsequently went on to enroll at Princeton University where she obtained her bachelor of art degree in Religious Studies. While at Princeton, she participated in several choreography shows and theatre productions organized by the school's theatre troupe known as the Triangle Club.
Upon graduation, Molly Ephraim made her Broadway debut in 2002, appearing in the revival of the musical drama titled In the Woods. She gave an impressive performance in the drama and received a Drama League Award nomination. She subsequently went on to land the part of Bielke in the Broadway production of Fiddler on the Roof in 2004. Later on, Molly Ephraim starred in a production titled The 25th Annual Putnam County Spelling Bee in 2008. The next year, she featured as Rachel Stein in another theatrical production titled End Days. The Philadelphia native also portrayed Anne Frank in the 2010 Westport Country Playhouse drama titled The Diary of Anne Frank and in 2015; she played the role of Daphna in Bad Jews.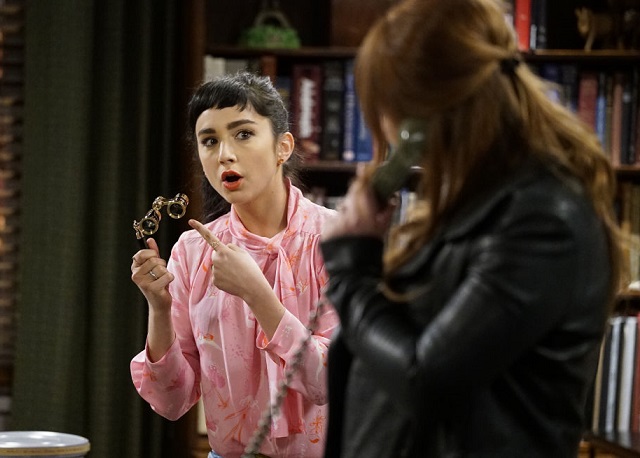 Finding Fame on Last Man Standing and Subsequent Departure 
Molly Ephraim made her TV debut in the year 2003, appearing in an ABC pilot titled Hench at Home. The series unfortunately never sold and as such, the project did not see the light of day. Molly, however, did not let this temporary setback deter her. She persevered in Tinsel Town and subsequently landed roles in hit TV series such as Law & Order (in 2008) and Royal Pains (2009). Molly's TV roles remained majorly guest characters until she scored a main role in the ABC family comedy, Last Man Standing, in 2011. Last Man Standing chronicles the hilarious family life of Mike Baxter, a business exec, his wife as well as three children. The series was headlined by Tim Allen as Mike, while Molly Ephraim portrayed his middle daughter Mandy.
Molly's portrayal of the fashion conscious-but-totally-clueless Mandy proved to be a big hit with the fans and as such, she remained a major attraction during the show's initial six-year run (2011-2017). Last Man Standing was unfortunately canceled by ABC in May 2017 and the show went into hiatus. It was then revived by Fox Network in 2018 for an eighth season with most of the major characters returning. Ephraim, however, made a voluntary decision not to come back to the show as she had committed to several other projects and as such, couldn't juggle the two. Her character was thus re-casted and the role was handed to yet another Molly, Molly McCook.
Meanwhile, Molly Ephraim has not been doing too shabbily since her days on Last Man Standing. The Philadelphia native has featured in other TV series such as the Hulu comedy-drama, Casual, a web-based crime drama, The Act, IFC comedy series, Brockmire, as well as the long-running ABC comedy, Modern Family.
Ephraim can also be seen in the 2018 political drama, The Front Runner. Based on true events, The Front Runner chronicles the rise of Democratic presidential hopeful, Gary Hart, and the extramarital affair which killed his candidature. The Front Runner featured the likes of Hugh Jackman and J.K. Simmons while Molly portrayed a Hart campaign volunteer named Irene Kelly. The movie received mixed reviews and made a decent $3.2 million at the cinemas.
The Dividends of Her Career 
Molly Ephraim has a net worth estimated at $1 million. The main source of her wealth remains the fees she commands for her acting appearances on the small screens as well as the numerous stage productions she has featured in. Another major source of her income is also the movies that she has starred in. Ephraim played the role of Wendy Greenhut in the 2008 film titled College Road Trip. She also portrayed Ali Rey in the 2010 supernatural horror film Paranormal Activity 2 and Paranormal Activity: The Marked Ones. Alongside Paul Rodriguez and Lily Cole, Molly also starred in the 2015 comedy horror film titled Gavy, and in 2018, she played the role of Irene Kelly in the Post-production of The Front Runner.
 All Work and No Romance
Taking a glimpse of her personal life, the gorgeous actress has won the heart of her many fans and she is the type of lady any man would give anything so they could be together. Nevertheless, her personal life appears to be a mirage to everyone. Many of her fans have been itching to know if the amazing actress is married or not, and who the lucky man is, however, she has left them to wander in their speculations.
If you must know, Molly Ephraim is one of those who enjoy keeping their personal life away from attracting media attention. She has succeeded in striking a balance between professional and personal life. She might have been in a few relationships in the past; however, it can't be ascertained at the moment. Apparently, Molly Ephraim is single and doesn't have a husband yet. She is perhaps solely focused on reaching the peak of her career and is content to hang out with family and friends.
See Also:  What Are Lori Loughlin's TV Shows And Is She Coming Back To TV?
Molly Ephraim's Enviable Physique
The amazing actress is a smart and attractive lady. You're free to call her beauty with brains. In addition to her charming personality, Molly also has a wonderful physique with body measurements of 36-24-35 (breast-waist-hips) inches. While she wears a bra size of 34 B. Her body weight is 50 kg (110 lbs) and her shoe/feet size is 7 (US). Molly stands at 5 feet 1 inch (1.55 m) which is 4 inches less than the average height for American women. She has black hair, brown eyes, and wears a dress of size 2.