An entertainer in all ramifications, Missi Pyle has been on the acting scene for more than two decades and has successfully established herself as a household name. The thespian has had major roles and has continued to dominate in a plethora of theatre, television, and film productions. If her acting credits are anything to go by, then it is safe to say the Texan actress is absolutely beautiful, totally hilarious, and incredibly accomplished. Here are all you need to know about the actress and singer who's been in like every movie ever.
Who is Missi Pyle?
Born in Texas and raised in Tennessee, Andrea Kay "Missi' Pyle's date of birth is November 16, 1972. She is the last of five children born to Frank and Linda Pyle. The actress's older siblings are two brothers – Paul and Sam, and two sisters Julie and Debbie. She also has two half-siblings, Meredith and Gordon. Pyle's acting inclinations were evident right from her junior school days at Germantown High School. In order to better hone her skills in the arts, Missi later enrolled at North Carolina School of the Arts in Winston-Salem. After her graduation in 1995, Pyle relocated to New York to fully pursue a career in acting.
Her Movies and TV Shows
Missi Pyle kicked off her acting career on stage, working in Off-Broadway productions such as The Libertine by Steppenwolf Theater Company. She also starred in the 2008 Broadway production Boeing-Boeing and in 2012's Bare. Pyle made her screen debut in the 1997 hit rom-com As Good As It Gets. Her outstanding performance in the movie quickly paved the way for other subsequent roles. The talented actress has gone on to land major roles both in feature films and television.
On the small screen, Pyle has had both guest and recurring roles in popular TV series such as Mad About You, Drew Carey Show and Friends all in 1999. Others are Boston Legal (2006 – 2008), Heroes (2007), The Sarah Silverman Program (2007 – 2010), and Two and a Half Men (2004 – 2015). In 2011, she appeared in The Life & Times of Tim, $h*! My Dad Says, and The Mentalist.
Pyle also had a busy television career in 2014 as she starred in series such as Partners, The Exes, Jennifer Falls, Inside Amy Schumer, and The Crazy Ones. In the year 2016, she had a voice role in Bordertown and some guest appearances in Sing It, The Soul Man, Notorious, Lady Dynamite, Mary + Jane and Major Crimes. More recently, Pyle features as Chloe Jackson in the TV series The Catch. She also has credits on two web series such as her role as Sue in Greetings from Home (2012) and as Eileen in Cleaners (2013).
After her breakout movie role as Laliari in the 1999 sci-fi Galaxy Quest, Missi Pyle has continued to dominate in films and television. Her other notable big-screen credits include Josie and the Pussycats (2001), as well as Home Alone 4 (2002). In the year 2003, Missi played supporting roles in notable films such as Big Fish, Bringing Down the House and a lead role in BachelorMan.
Fans would remember Missi Pyle for her outstanding roles in hit and award-winning movies including Along Came Polly (2004), 50 First Dates (2004), Dodgeball: A True Underdog Story (2004), Soul Plane (2004), Charlie and the Chocolate Factory (2005), Just My Luck (2006), Stormbreaker (2006) and Soccer Mom (2008).
In 2011, Pyle starred in the Oscar-winning movie The Artist, as well as My Uncle Rafael (2012) and Percy Jackson: Sea of Monsters (2013). Her other notable hit features in 2014 include Gone Girl, Just Before I Go, Kiss Me, and A Haunted House 2. She also had notable film features in the year 2016 such as Pandemic, Director's Cut, Slash and Captain Fantastic. More recently, Missi Pyle appeared as Coach Webb in the 2017 hit Jumanji: Welcome to the Jungle and as Tina in the 2019 Netflix original Walk. Ride. Rodeo.
Missi Pyle is also musically talented. She is recognized as a rock star and the other half of the country-rock band Smith & Pyle which she formed with actress Shawnee Smith. The band which was active between 2007 and 2011 had a few hits to their credit. Under the Urban Prairie Records label, Smith and Pyle released an album It's OK to Be Happy in 2008, as well as two singles Rafael and One Night Stand both released in 2010.
See Also: Abbie Cornish – Biography, TV Shows, And Affairs
Missi Pyle's Family Facts
Missi Pyle has made two marital attempts. Her first marriage was to Antonio Sacre, an author. The couple tied the knot in May 2000 and remained together for five years until their split in 2005. Next, Pyle moved on to Casey Anderson, a naturalist. Missi and Casey exchanged nuptial vows in September 2008, but like the first, their marriage was also shortlived. They remained together for four years until their official split in 2012.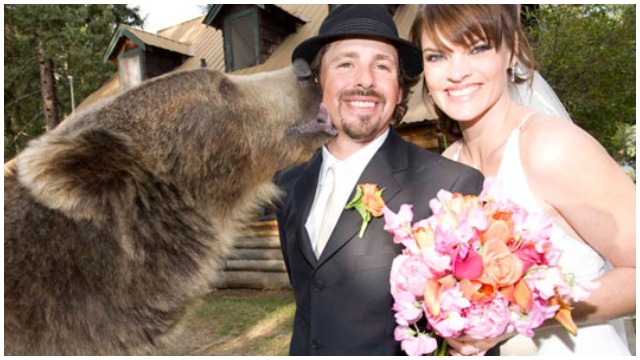 After Anderson, Missi Pyle was romantically linked to Josh Ross. Besides the strong chemistry which the pair share, there is little or nothing known about their romance and it remains uncertain if they are still together or planning to take their relationship to the next level.
Interestingly, Missi Pyle's previous relationships did not produce any kids. However, the talented actress is a doting mom to Zooey Rose, an adorable daughter whom she adopted as a newborn in September 2015.
Other Interesting Facts
1. Pyle has impressive and peculiar physical features. The blonde-haired, blue-eyed Texan actress stands at a height of 5 feet 11 inches, complemented by her weight of about 57 kg. Her other body measurements are bust – 36 inches, waist – 28 inches, and hips – 35 inches.
2. Missi Pyle's ex-husband Casey Anderson is a naturalist who reared a bear, Brutus. Interestingly, the guest of honor at the couple's country-western themed wedding ceremony in Montana was the 800-pound grizzly bear.
3. Missi Pyle is active on social media. She is present and has amassed a strong fanbase on Twitter, Facebook, and Instagram.