As an American actress, Mila Kunis has been active in Hollywood since 1994. She has starred in a significant number of popular movies which have seen named almost always on the world's highest-paid actress list.
Mila Kunis Bio  
Milena Markovna Kunis was born on August 14, 1983, in Chernivtsi, Ukraine. Mila owes much gratitude to her parent (Mark Kunis and Elvira Kunis) for her Hollywood fame and fortune. In an effort to provide a better future for Mila and her brother Michael, Kunis' parents abandoned their professional careers in the then Soviet Union and moved the family to Los Angeles with just $250. Mila was just 7 years old at the time. However, in LA, Mila's parents soon found new jobs – talk about the American dream. Her dad worked as a cab driver while her mom who was a physics teacher back in Ukraine, began to run a pharmacy.
While attending elementary school, Mila also enrolled in a children's acting program at the Beverly Hills Studio where she was discovered by agent Susan Curtis who soon became her manager. Thanks to Curtis, Kunis began landing several commercial gigs for brands like Barbie and Lisa Frank. Subsequently, she landed minor roles in TV sitcoms like "Days of Our Lives", "Baywatch", "7th Heaven", "Honey", "We Shrunk Ourselves" and many others.
Breakthrough with "That 70's Show"
After about 7 years since immigrating to the US, Kunis proved to her parents that their sacrifices were not in vain. She successfully auditioned for the role of Jackie Burkhart on the Fox sitcom "That '70s Show" which became her first breakthrough role. The show ran for 8 successful seasons from 1998 to 2006. As ratings surged, Mila began earning a cool paycheck of $100,000 per episode. Her immaculate portrayal of the role earned her 2 back-to-back Young Star Awards as Best Young Actress in a Comedy TV Series (1999 and 2000).
Her impressive success opened the doors to more gigs including Seth MacFarlane's Fox animated series "Family Guy" where she voices the character of Meg Griffin. For the first year of the show in 1999, Mila received $10,000 per episode. However, that paycheck has since grown upwards of $200,000 per episode. Regarded as one of the greatest cartoons of all time, Family Guy has run for 15 seasons and counting.
While she starred in her hit TV shows, Mila concurrently took up roles in films like "Krippendorf's Tribe", "Get Over It", "American Psycho 2" and "Tony n' Tina's Wedding".
More Commercial Success
After her breakthrough TV sitcom – That 70's Show – ended in 2006, Mila took up other sitcom roles but focused more on the big screen. She landed yet another breakthrough with 2008 comedy film "Forgetting Sarah Marshall". Mila's role as well as the movie received much acclaim and was a commercial hit, grossing over $105 million from a $30 million budget.
The massive success of "Book of Eli" (2010) where she starred alongside Denzel Washington, established Mila as one of the most sought-after actresses in Hollywood. Also in 2010, she starred in "Black Swan" which was a much bigger hit, grossing $329.4 million from a $15 million budget. The role earned her numerous award nominations including a Golden Globe Award nomination for Best Supporting Actress.
Her other noteworthy movies include "Friends with Benefits" opposite Justin Timberlake, "Ted" and "Oz the Great and Powerful" (2013). The successes of these movies saw her debut on Forbes ranking of the world's highest-paid actresses with a paycheck of $11 million earned between June 2012 and June 2013. She earned $6.5 million in 2015 and $11 million in 2016. Her 2016 comedy movie "Bad Moms" grossed almost $180 million on a $20 million budget.
See Also: World's Highest Paid Actresses 2015
Mila Kunis Income and Earnings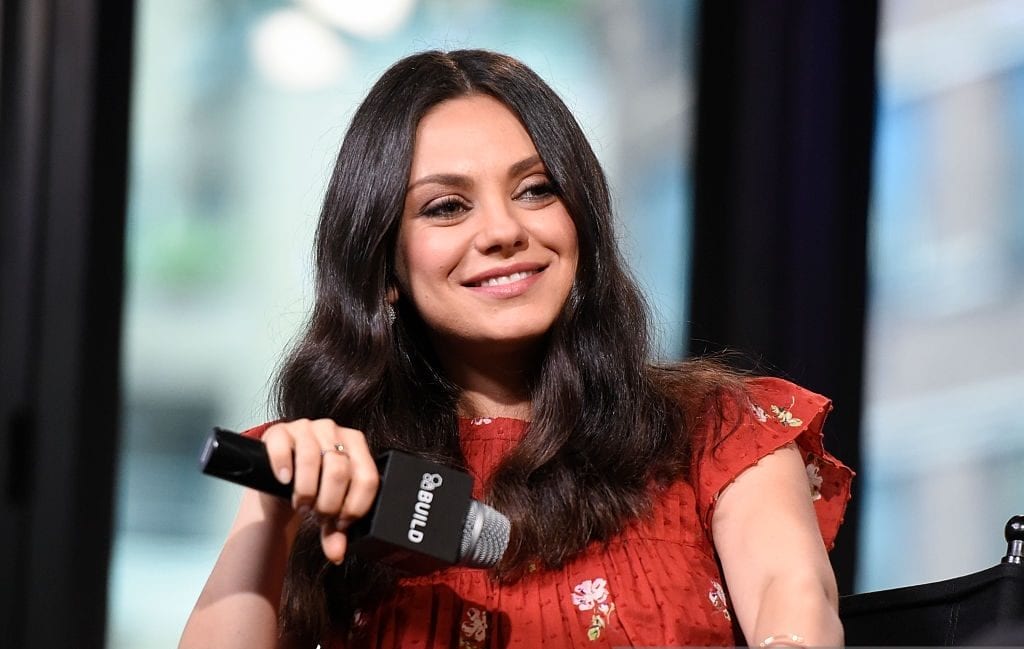 Apart from movies and tv, Mila bolsters her earnings with numerous non-acting gigs. Her endorsement partners include Jim Beam Whiskey and Gemfields jewellery.
Following the footsteps of her fellow entertainer husband, Ashton Kutcher, Mila began investing in stocks starting from 2013. However, while she has chosen to keep mum about her stock holdings, her husband Kutcher has worn his on his sleeves. His investment portfolio boasts Skype, Spotify, Airbnb, and Warby Parker. His $500,000 investment in Uber in 2011 is now worth over a hundred times more.
Nevertheless, with the information available, it is estimated that the beautiful and prolific actress is worth over $45 million.
Who Is Mila Kunis' Husband?
Kunis and Kutcher happened to be co-stars in That '70s Show. They developed a unique fondness while acting together resulting in a relationship which officially started in 2012. Their relationship grew and they decided to get married in 2015. Together, they share two kids a girl named Wyatt Isabelle Kutcher and a boy named Dimitri Portwood Kutcher.
What To Know About Her Kids
In an interview with Shaquille O'Neal on Jimmy Kimmel Live on Monday, October 30, 2017,  Mila Kunis told the host that her 3-year-old daughter Isabella had no clue as to what she does for a living. This is due to the fact that Mila hasn't really done any recent kids appropriate movie and she admits that she wouldn't like her daughter to see her movies just yet at least not until she is mature enough.
She also wants to raise her daughter and son to be the kindest people when they grow up as well as have a good knowledge of the family tradition. For this reason, she lets her daughter Wyatt drink a sip of wine every Friday for Shabbat and has done this ever since she was born.