Some children flounder under the weight of their family's legacy while some others go on to not only live up to the family name but even surpass expectations. One person who is a good example of the latter category is Mike Golic. The scion of a notable football dynasty, Golic spent nearly a decade in the NFL during which he played for a few teams. He subsequently hung up his shoulder pads and helmets and has since found a second calling as a sports analyst for ESPN radio.
Golic has remained a relevant face in the media through the hosting of programs like Mike & Mike and Golic and Wingo, and alongside his work as a sportscaster and analyst, he has also made fascinating appearances in some movies and TV shows.
He Had A Short Spell in the NFL
Mike Golic was born in Willowick, Ohio, on the 12th of December, 1962. His father was an NFL pro and as such, the young lad easily fell in love with the sports as well. Golic, who was born Michael Louis Golic, began his education at St. Joseph High School in Cleveland before heading over to the University of Notre Dame where he played college football and was also a wrestler.
His time at college ended with a degree in Finance and Management along with a subsequent draft into the NFL by the Houston Oilers, through which he began an eight-year career in the league. He then went on to play for other teams like the Miami Dolphins and Philadelphia Eagles.
A defensive linesman, Golic featured in a total of 115 games in the NFL and recorded 11.5 sacks and 3 interceptions. Given such average stats, it was quite obvious that the Ohio native's playing career was not as brilliant as he hoped that it would be. This fact, coupled with some injury issues, caused him to think long and hard about his future options and as such, he decided to take a bow in 1993.
Becoming a Star Host on ESPN
One of the career options that retiring pro athletes often consider is sportscasting and Mike Golic was no different. The unique thing about his story is that he started trying his hands at sportscasting even while he was still playing. During his stint at the Philadelphia Eagles, the defensive linesman hosted a weekly segment on the Randall Cunningham Show, titled Golic's Got It – it earned him a regional Emmy Award. This convinced him that he had a future in the broadcast industry and so, upon retirement, he focused on that area.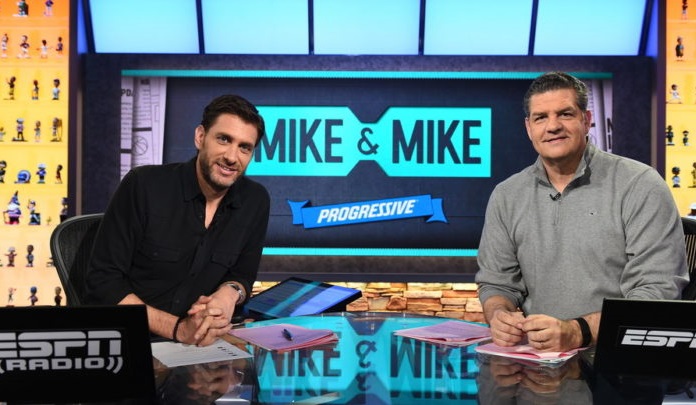 Golic joined ESPN in 1995 as an analyst for their program, NFL 2Night. He subsequently moved on to other shows, such as NFL Live, before landing on the Mike & Mike show in January 2000. Co-hosting alongside Mike Greenberg, the show involved Golic and his partner dishing on the top news, games, and drama happening in the world of sports. The former NFL player was cast in the role of a typical jock while Greenberg was the timid sports fan with an amazing knowledge of trivia.
Such contrasting personalities balanced out each other and served to make the show one of the most popular on the ESPN network. Mike & Mike show ran for 17 years during which the hosts received a slew of awards including a sports Emmy in the new media category as well as induction into the Broadcasting Hall of Fame and National Radio Hall of Fame. The show sadly came to an end in 2017 and Golic is now co-hosting another show with Trey Wingo dubbed, Golic and Wingo.
Mike Golic's Net Worth and Salary
The former NFL star spent a total of eight years in the NFL during which he played for three teams and earned himself millions of dollars in the process. He is now worth as much as $15 million, which apart from his income during his playing days, also comes from his salary at ESPN, which is believed to be $5 million per year. Another lucrative source of income for Mike Golic is movie and TV appearances.
Due to the popularity of the Mike & Mike show, Golic has been tapped to appear in several productions including Valentine's Day, Guiding Light, Just Wright, The Brak Show, Tilt, and a couple more others. He has also appeared on Good Morning America, NFL Monday Night Football, Jeopardy!, Off-Mikes, SportsCenter, Pardon the Interruption, The Chew and a few more others.
Additionally, Mike has featured in commercials for different companies such as Applebee's, Lee Jeans, and Bass Pro shop (a sporting goods company) for which he was adequately rewarded for his time. The Ohio native is also a published author and has released a book titled Mike and Mike's Rules for Sports and Life which he co-wrote with Mike Greenberg. The book made it to the NYT bestsellers list indicating significant revenue for the authors.
A 2nd Generation Football Player
Mike Golic is not the only former footballer, or broadcaster, in his family. He shares those profiles with his father, Louis Golic, and his elder brother, Bob Golic. Louis Golic was a guard and tackle who played college football for Indiana University. He later made it to the Canadian football league and played for teams such as the Montreal Alouettes, Saskatchewan Roughriders, and Hamilton Tiger-Cats, with whom he won the Grey Cup Championship. The most successful football player in the Golic family, however, remains Mike's elder brother, Bob Golic.
Bob was a defensive tackle who won the NCAA championship with Notre Dame in the year 1977. He went pro and spent 13 years in the NFL, playing for teams such as the New England Patriots, Cleveland Browns, and the Los Angeles Raiders. Bob was named to the Pro Bowl on three occasions. He also received two All-Pro honors before calling time on his illustrious career in 1992. Since then, he has delved into the world of broadcasting, hosting several shows including The Bob Golic Show, and has also made some appearances on movies and TV shows like Saved by the Bell: The College Years and Home and Family.
See Also:  A Breakdown of Danielle Trotta's Family Life, Journalism Career and Salary
Like Father, Like Son
Mike Golic grew up in a family of sportsmen and that is something he appears to have fashioned in his own nuclear family. He has three children from his marriage to his wife, Christine Golic, which began in 1987, and they are two sons, Mike Golic Jr. and Jake Golic and a daughter, Sydney Golic. Mike's sons have attempted to replicate their father's footsteps as a professional NFL player but with varying degrees of success. Mike Jr. was an offensive guard who played college football at Notre Dame. He went undrafted in the 2013 NFL draft and was then picked up by the Pittsburgh Steelers.
He was however cut from the rooster and spent about three years bouncing from team to team without much success. Mike Jr. retired in August 2016 and has now delved into broadcasting much like his dad. He hosts a show, First and Last, on ESPN and also makes frequent guest appearances on his father's show. On the other hand, Jake Golic is a tight end who played in the NCAA for Notre Dame and the University of Cincinnati while only daughter, Sydney, is a professional swimmer for the University of Notre Dame.