Previously, many American business leaders shied away from active politics, preferring to wield their influence from the side-lines with their fat donor checks. There has however been a change in attitude in recent years with the result that several billionaires have made their way into public service in the country. Most popular amongst them remains the duo of Mike Bloomberg and Donald Trump.
Both men initially built a net worth of billions from their private endeavors in diverse sectors of the economy before entering into active politics with appreciable degrees of success. While Bloomberg reigned supreme as the mayor of New York City for three terms, Trump was able to reach the highest office in the land and became the 45th President of the United States. Both men have since tasted electoral defeat but this is definitely not the last that will be heard of them in American politics.
Who Has a Higher Net Worth Between Mike Bloomberg and Donald Trump?
Mike Bloomberg has garnered a net worth of $54.9 billion which makes him one of the 25 richest individuals in the world. Trump, on the other hand, is sorely lagging behind. His Trump Organisation has had to deal with several bankruptcy filings and mountainous debts. There have also been many failed projects along the way, such as the airline – Trump Shuttle, as well as thousands of litigations.
All this means that his fortune has witnessed a downward trend and he is now worth only $2.5 billion. Bloomberg is therefore about 25 times richer than Trump but they both still rank amongst some of the richest men to ever hold public office in American history. Others that make it to their ranks include Jim Justice (Governor of West Virginia – $1.2 billion), Bill Haslam (Governor of Tennessee – $1.9 billion), and J.B. Pritzker (Governor of Illinois – $3.5 billion).
Bloomberg is a Few Years Older Than His Billionaire Rival
Ace businessman and philanthropist Blomberg was born on the 14th day of February 1942 in Boston, Massachusetts. He came from a relatively humble background of Polish immigrants but did not let this deter him from pursuing his ambitions. The young man obtained a degree in engineering from John Hopkins University in 1964. He then obtained an MBA from Harvard University in 1966 before nabbing an entry position with an investment bank.
On his own path, Queens native Donald J. Trump was born on the 14th of June 1946. He came from a relatively well-to-do background as his father Fred had already made a mark as a real estate developer. This privileged background saw the young boy attend various private institutions of learning, including the New York Military Academy. He then obtained a B.SC in economics from the Wharton School of the University of Pennsylvania in the year 1968 before going to work for his father's company.
Bloomberg Made His Name and Fortune From His Financial News and Data Services Firms
From his entry-level position with the investment bank Salomon Brothers, Mike Bloomberg worked his way up to partner within 15 years. He subsequently received a $10 million payout after the investment bank was sold in 1981. With these funds, Bloomberg set up a financial data services and media firm known as Innovative Market Systems in 1982. The company provided financial data services as well as a comprehensive financial news and information source.
All these helped it to become a global leader in the industry in no time and it retains that status to date. Now known as Bloomberg LP, the company has expanded its holdings to Bloomberg television, WWBR News Radio Station in New York City, and Bloomberg business news wire service. It generates $10 billion in revenue each year and the majority of the profit goes to Bloomberg who retains an 88% stake in the corporation.
Donald Trump Owes His Wealth to Real Estate, TV, and Licensing Deals
As earlier stated, Donald Trump followed his father's footsteps into the real estate world and worked at his company, Trump Management. Within three years of joining the company, he was named president and he reorganized the brand to be known as the Trump Organisation. Under his leadership, the Trump Organisation developed several notable buildings in midtown Manhattan, including the Grand Hyatt Hotel, Trump Tower, and The Trump Building. They have since spread their influence to other cities with developments such as the Mar a Lago estate in Palm Beach, Florida, and The Trump Castle in Atlantic City, New Jersey. The Trump Organisation additionally owns/operates around 16 golf courses and resorts around the world.
Beyond real estate, Donald Trump has also made a fortune from floating The Apprentice TV show as well as the Miss Universe Beauty Pageant. The Queens native also licensed his name to as many as 50 products at the height of his popularity. It is estimated that these licensing deals generate about $59 million for his company each year.
Mike Bloomberg Served Three Terms as the Mayor of New York City
Bloomberg made his first forays into public service by holding positions on the board of several leading cultural institutions in New York, including the Metropolitan Museum of Art. He also endeared himself to people with various philanthropic initiatives and by the year 2001, he declared his intention to run for the office of mayor. He was initially an unpopular candidate in the polls but the support of the outgoing mayor, Rudy Giuliani, helped him to clinch the seat.
Bloomberg would spend a total of 12 years as New York mayor, a time during which he earned praise for redevelopment efforts, revitalizing the city's tourism, and erasing the city's budget deficit. He however received knocks for some controversial policies, including the police frisk and search which disproportionately affected communities of color. He would later apologize for the same several years down the line.
Donald Trump was the 45th President of the United States of America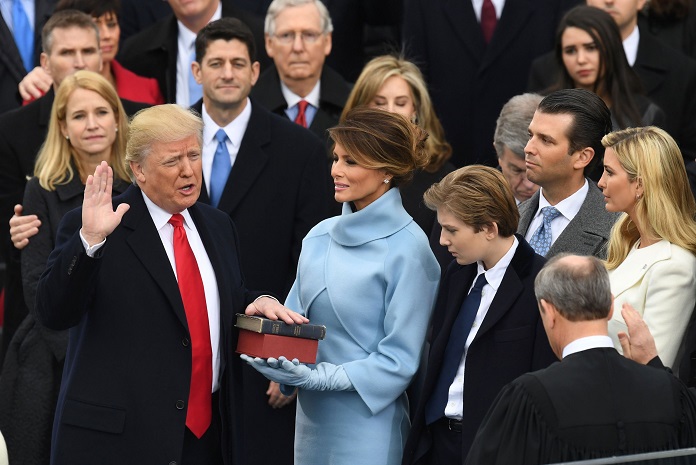 While Bloomberg's ascent into public office came without much fanfare, Donald Trump's was like a hurricane that took everyone by storm. The real estate magnate had first muted the idea of running for president as far back as 2000 and 2011 but did nothing serious about it. When he again announced that he was running in June 2015, many dismissed it as a joke. The Manhattan billionaire however went on to shock people by emerging the Republican Party candidate. He then defeated the favorite, Hillary Clinton, in the November 2016 elections to become the 45th president of the United States.
What would follow would be four years filled with much controversy. Trump was criticized for his attempts to stifle immigration as well as his travel ban on some Muslim-majority countries. He also drew the ire of people with his decision to roll back the country's efforts on combating climate change. They were several controversial utterances and tweets along the way and by the end of his presidency, he made history as the first American president to be impeached twice.
A Quick Comparison of the two Billionaire Politicians
| | | |
| --- | --- | --- |
| | Mike Bloomberg | Donald Trump |
| Age | 81 | 77 |
| Height | 5 feet 8 inches (1.76m) | 6 feet 3 inches (1.90m) |
| Salary | $200,000 | $400,000 |
| Net Worth | $54.9 billion | $2.5 billion |
| Source of Wealth | Bloomberg LP | Real Estate, TV, and Licensing Deals |
| Political Party | Democrat | Republican |
| Office held | Mayor of New York City (2002 – 2013) | President of the United States of America (2017-2021) |
| Relationship Status | Domestic Partner (Diana Taylor) | Married (Melania Trump) |
| No. of Children | Two | Five |