Ever since the song "Versace" stormed the airwaves in July 2013, the hip-hop group Migos has become a household name in the American rap scene. They have been the leading name in the new generation of rap music and trap music since they broke onto the scene. As a result, with each new viral track, video or album, the combined net worth of Migos' members has grown exponentially making them one of the most valuable groups in music today.
Migos, as a group, is made up of Takeoff, Quavo and Offset, all of whom are successful rappers in their own right. All of them are also from the Atlanta area. Aside from their connections as rappers, their bond transcends music as two of the groups' members, Offset and Quavo are cousins. Takeoff also happens to be Quavo's nephew and all were raised in the same household by Takeoff's mother (Quavo's older sister). This goes a long way to explaining the great camaraderie between the three.
How Much is The Migos Worth?
Migos, as a group, is estimated to be worth an impressive $80 million. The staggering net worth has been hinged on their recent rise in hip hop as one of its most-followed acts. The group, which was formed in 2008, has released four albums with two of them debuting at the top of the US Billboard 200.
Their singles like Walk It Talk It, Look at My Dab, Stir Fry, and Fight Night are some of the most popular songs in modern hip hop, with a number of them debuting on the Billboard Hot 100 and some peaking at number one, like Bad and Boujee.
The individual net worth of the members of Migos also contributes to its collective net worth – each member of the group is estimated to be worth $16 million.
How Did They Make Their Fortune?
As far as the Migos is concerned, music is gold to each member. Their wealth comes down to the undisputed fact that their sound has gone global – a fact that comes with a lot of money. Migos' first commercial success was the single, Versace, which was released in 2013 and peaked at number 99 on the US Billboard Hot 100. Their career has been on a steady climb ever since.
They released their first album, Yung Rich Nation in 2015, selling 18,000 units in its first week and debuting at number 17 on the Billboard 200. The album's commercial success and the increased exposure it gave the group expanded their revenue stream and by 2015, they were making an estimated $40,000 per show, which increased to $60,000 when they left the label, 300 Entertainment.
Since 2015, Migos has only grown in music popularity and so has their net worth as they continued to release more popular music, both albums, and singles.
The group has released three albums, all of which have been commercially successful. Through a combination of earnings from shows, single and album sales, they have seen a rise in their yearly revenue. From $267,000 in 2011 to $4.3 million in 2016; and between 2017 and 2018, the group made a total of $25 million in revenue.
Migos' combined net worth has been fueled by their revenue per show which is $150,000 and it is estimated that they perform at over 90 shows per year. According to Forbes the Migos rank #40 on the 2020 Highest-Paid Musicians list with earnings in the region of $36 million.
Aside from the money the group makes from music, its members also make money through endorsement deals and appearance fees at clubs and events. One of the endorsement deals through which members of the group earn money is with Finish Line, an athletic apparel line.
How Does The Group Spend Their Money?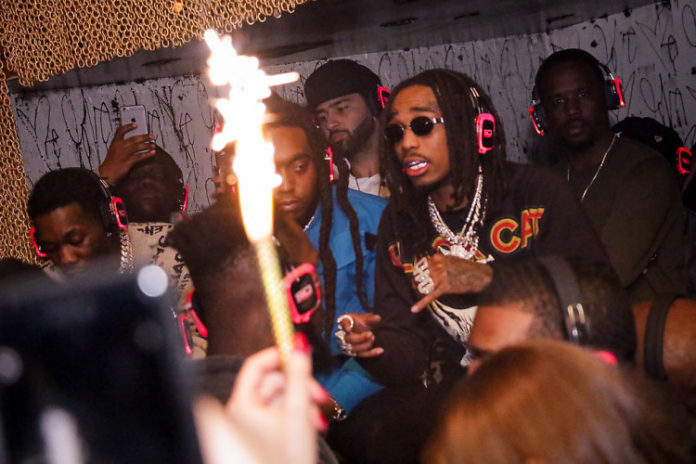 It's no secret that a lot of modern-day celebrities spend a lot of their money on the finer things of life. These luxurious items range from cars to mansions to jewelry.
Members of the group own mansions in Atlanta, their city, while they rent million-dollar properties in Beverly Hills. They also own a fleet of luxurious cars from McLaren 650s to Bentley, Rolls Royce, Mercedes, Ferraris, and Lamborghinis.
They have a vast number of expensive pieces of jewelry, some of which have become a part of their identity, including the signature Migos chains.
Another significant way Migos has spent a part of their combined net worth is buying a house for Takeoff's mother and gifting her a car of her own.