But for her romance with the King of Trash TV, Micki Velton's life may not have been of interest to the public. Fans of her ex-husband's outrageous 90s talk show may be well aware of all his career pursuits. But there still remains much to be told about the famous telly star's life including his love story with Velton. This is mostly because the lawyer/former mayor turned TV star and his ex-wife preferred to maintain a low profile as regards their personal lives. Eager to find out more about Jerry Springer's success pillar back in the days? Here's everything you need to know about Micki Velton.
Who Is Micki Velton?
Micki Velton is an intensely private woman. Despite her long term relationship with a public figure, the former celebrity spouse has managed to shield her personal details away from public glare. Thus, it is almost impossible to snoop out any information regarding her birth date, birthplace, parents, early life, and family background. Same is the case for her academic endeavors as Velton's field of specialization and the schools she attended are also unknown.
Besides the fact that Micki Velton was a former employee of Proctor & Gamble, her career history remains a public mystery. It was while working at the popular consumer brand that Melton met her ex-husband Jerry Springer. Other than these, it is unknown how long and in what capacity Micki served at the company. Her other professional efforts before and after her marriage to Springer have also not been disclosed.
Did Micki Velton Remarry after Jerry Springer?
Micki Velton is publicly known to have been married only once. It was her marriage to Jerry Springer that catapulted her to the limelight. Though it is not officially known when exactly the ex-couple kicked off their romance, their love journey dates back to the early 1970s while Velton was still actively a Proctor and Gamble employee.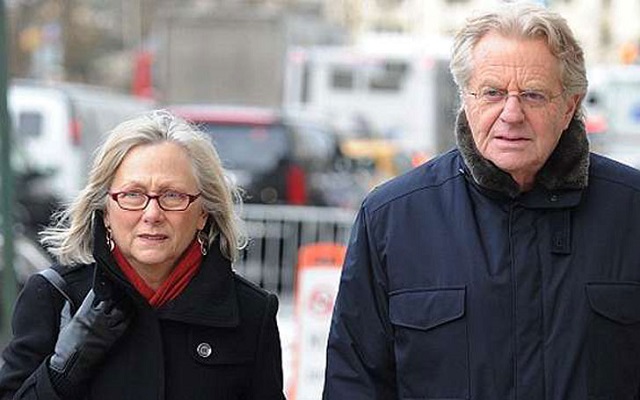 They are presumed to have courted for a while before taking their relationship to the next level. The former lovers eventually tied the knot in a low-key ceremony sometime in 1973. Despite the highs and lows they faced in their marriage, Velton and Springer managed to remain together as man and wife for a little over two decades. They eventually called it quits in 1994.
Since the exes mostly kept their relationship under wraps, the circumstances surrounding their split has never really been clarified by either party. Although it is believed in some quarters that their separation is connected to infidelity on Springer's part which irked Velton, this speculation has not been confirmed.
Micki Velton's relationship status after Jerry Springer is uncertain, which is unsurprising given her private lifestyle. The former celebrity spouse has continued to lead a reclusive life after her divorce and it is not officially known if she gave love a second chance.
Micki Velton Has A Special Needs Child
Micki Velton and Jerry Springer had just one child together. Their daughter Katie was welcomed in 1976. Though born as a special needs child without nasal passages (the condition was successfully fixed through surgery right after her birth), deafness in one ear and certified blindness, Micki and her ex-husband never treated their daughter differently.
Although the couple mostly shielded their daughter away from the limelight while growing up, Velton's ex-husband eventually opened up about the couple's relationship with Katie in 2006 shortly after his performance on the reality TV show Dancing With The Stars. Based on the King of Trash TV's emotional interview, it is apparent that Katie shares an incredible bond with both of her parents.
See Also: Kimberly Woollen – Everything To Know About Glen Campbell's Wife
Micki and Jerry's unconditional support to their daughter eventually made her live an independent life, have a great career, and fly on their wings. A graduate of Barat College, Katie now dedicates her life to children with special needs. She once worked as a teaching assistant at Chicago's Park School. Katie has also made Micki Velton and Jerry Springer proud grandparents. Though her husband's identity has not been disclosed, Katie Springer welcomed her son Richard in the year 2008.
What Is Her Net Worth?
Micki Velton was catapulted to the limelight following her marriage to Jerry Springer. Besides her stint at Proctor & Gamble, the former celebrity spouse's means of livelihood during and after her marriage has not been disclosed. Consequently, it would be impractical to deduce a financial value for her. However, her famous ex-husband has a huge fortune that is pegged at $60 million, an amount largely amassed from The Jerry Springer Show.
How Tall Is Micki Velton?
Given her private lifestyle, it is unsurprising that Micki Velton's basic body measurements including her weight and height have not been disclosed. Regardless, one can't help but admit she is aging quite well.