Time and time again, the stereotype that women are not funny continues to persist despite the overwhelming evidence of successful female comedians and comedic actors. In recent years, one woman whose talent as a comedian is another nail in the coffin of the stereotype is Michelle Buteau, a New Jersey-born comedian who has appeared in both movies and TV shows and has performed several stand-up shows.
Buteau's rising career began just a few short days after the tragic events of September 11, 2001, and she has remained a relevant name in the industry, climbing to new heights with each new project.
With plenty of heights still left to reach as she continues her journey in the world of comedy, here is everything you need to know about Michelle Buteau and her career as a comedian.
Michelle Buteau – Biography
For many comedians, the profession was appealing due to its capacity to make them wealthy and famous and while it is okay to pursue a career in a profession for material reasons, it was not the overriding motivation of Michelle Buteau. The comedian, who began her career after the unfortunate events of September 11, 2001, took on the career as part of her desire to work in an emotionally relaxing profession.
Born in New Jersey on the 24th of July, 1977 to a Haitian father and a Jamaican mother, Michelle Buteau started life with no interest of becoming a comedian. After she completed her high school education and earned her Bachelor's degree, Michelle turned towards the pursuit of her dream to become a journalist and although she was unable to make her dreams come true as a reporter, she remained in the industry and worked behind the camera as an editor and a producer.
During her time as a journalist, Michelle worked for Fox and NBC and it was during her time working as an editor that the emotional toll of watching footages of the events of September 11 became too overwhelming for her and she sought out a career in comedy.
Having always been a funny woman, Michelle decided to put what was essentially a hobby into use as a career option and began to appear in comedy clubs, performing some of her routines. After years of working on stage as an aspiring comedian, Michelle Buteau got her first onscreen appearance when she appeared as a host for the Golden Trailer Awards. In the same year, she was also cast in her first film, as Natalie the co-worker in The Story of Juan Bago.
Thus, she began a series of appearances as an actress and as a comic. As an actress, she has appeared in shows like China, IL and in the comedy sketch, Key and Peele. She has also appeared in The Tick, Dream Team, Criminal Crimes, Enlisted, Always Be My Maybe, Tales of the City and a few more others.
As a comic, Michelle Buteau has starred in various comedy shows like Comedy Knockout, The Comedy Lineup, Gotham Comedy Live and several others.
Outside of her onscreen appearances, Michelle Buteau is also a podcaster, hosting the podcast, Late Night Whenever!
Family Life of The American Comedian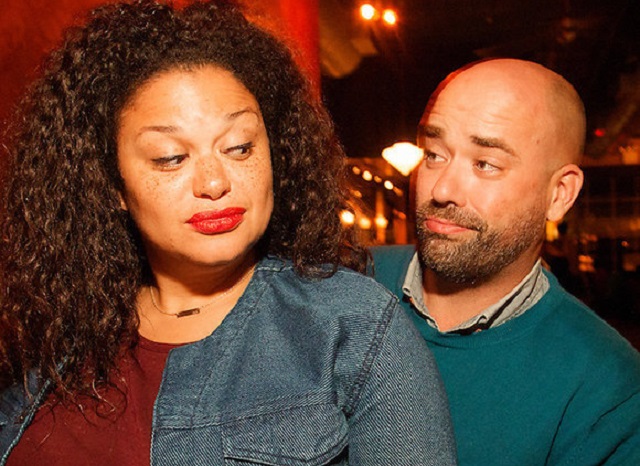 When it comes to her extended family, not much is known about them but as for her nuclear family, Michelle, who has expressed her love for inter-racial relationships is in a marriage with Gijs van der Most, who is a Dutch photographer.
We cannot determine, at this moment, when exactly they began dating but the couple got married on the 31st of July, 2010 at the Hyatt Pier 66 Hotel.
So far, it has just been the couple in their family as they haven't had any children yet. If the couple plan on having children, it remains a mystery but at the moment, Michelle Buteau is living in a happy home. Buteau and her husband, Gijs van der Most currently reside in Brooklyn, New York.
See Also: Is Louie Anderson Gay? His Net Worth, Wife, and Family

Other Facts About Michelle Buteau
Michelle Buteau has a height of 5 feet 7 inches, along with dark brown curly hair and brown colored eyes.
Her podcast, Late Night Whenever! was named one of the Best Podcasts in 2018 by Time Magazine and in 2017, she was listed among one of two comedians to watch by Esquire Magazine.
She has a significant presence on social media across all three major platforms – Facebook, Twitter, and Instagram, via the profile – Michelle Buteau Comedy on Facebook, @MichelleButeau for the last two respectively.