The name Michael Vick would forever be remembered by football lovers who saw him play 13 seasons in the National Football League, NFL. He was primarily with the Atlanta Falcons and the Philadelphia Eagles.
Early Life/Career
Michael Vick was born on June 26, 1980, in Newport News, Virginia as Michael Dwayne Vick to Brenda Vick and Michael Boddie.
While his father worked long hours in the shipyards as a sandblaster and spray-painter, his mother worked two jobs, obtained public financial assistance and received help from her parents to support the family.
Vick, the second of his parent's four children along with his siblings were raised in a public housing project plagued with gangsterism. Owing to that, Vick found football as a means of getting off the streets. From his days at Homer L. Ferguson High School, he quickly established himself as a talent to watch.
With a football scholarship, Vick made his way to Virginia Tech, where he played college football and was selected by the Falcons as the first overall pick in the 2001 NFL Draft.
During his time at the Falcons, he transformed the quarterback position with his rushing abilities and was named to three Pro Bowls. He holds the record for the most career rushing yards by a quarterback (6,109) and the most rushing yards by a quarterback in a season (1,039).
Vick is one of only 3 athletes (others are Derek Jeter and Shaq O'Neal) to sign more than one $100 million+ contract in pro sports history but his career began to crumble in 2007 when he was found guilty of a dogfighting charge which took its toll on his earnings forcing him to file for bankruptcy.
After almost 2 years behind bars, Vick made a comeback, signing up with the Eagles in 2009 and was with them for five years.
He enjoyed the greatest statistical season of his career with the Eagles and was named a fourth Pro Bowl in 2010. But, he had to leave the team as he wasn't able to match his prior success. Before retiring in 2017, Vick played for the New York Jets and Pittsburgh Steelers for one year each, basically as a backup. Although he never won a Super Bowl, he sure left indelible memories in the hearts of football lovers.
You Should Also See This: 20 World's Richest Sports Team Owners Ranked By How Much They are Worth
Who Are Michael Vick's Wife, Son, and Brother?
The former NFL player is currently married to his longtime girlfriend, Kijafa Frink. The couple met for the first time in 2002 and have been together ever since.
They eventually walked down the aisle in an extravagant ceremony at the Fontainebleau Miami Beach in 2012 – ten years after they first met but before then, they already had two daughters together (London and Jada).
Vick also has a son named  Mitez from a previous relationship and the latest addition to the family last November (2017), makes the number of his children now four.
Vick has three siblings – an older sister (Christina) and two younger siblings (Marcus and Courtney). His younger brother Marcus Vick was also a former NFL player who played for the Miami Dolphins.
Earnings / Salary
Michael Vick's is currently estimated to be worth $15 Million.
Vick's professional career started off with a stronger foot as he became the first African-American in history to be selected with the top pick. The Atlanta Falcons selected him first in the first round of the 2001 NFL Draft. Vick inked a 6-year contract with the Falcons worth $62 million.
Three years into his initial contract, in 2004, his outstanding performance was rewarded with a 10-year $130 million contract extension. It still remains the biggest contract in NFL history. At the peak of his career in 2006, Sports Illustrated estimated his annual earnings at $25.4 million from salary and endorsements.
In the wake of his dogfighting conviction, his top endorsement partners which included Coca-Cola, Electronic Arts, Kraft, and Nike all cut ties with him. As though that wasn't enough, he was asked to refund a portion of his earnings to Atlanta Falcons. Multiple creditors also took turns to file lawsuits against him, forcing Vick to file for Chapter 11 bankruptcy. According to the filing, Vick declared less than $50 million in assets with debts between $10 million and $50 million.
After serving his 21-month sentence, the Philadelphia Eagles took a chance on him, signing him to a 1-year, $1.6 million contracts with no money guaranteed. This was followed by a 6-year $100 million contract in 2011 with $40 million guaranteed.
His endorsement portfolio was also revived as Nike re-signed him in 2011, making it the first time the sports company re-signed an athlete they had initially dropped on a moral clause. Football pad makers, Unequal Technologies, and MusclePharm also sponsored the resurrected quarterback.
See Also: Kroy Biermann Children, Wife, Parents, Family, Salary, House
With the $49 million he earned between 2010 and 2014, Vick was able to settle the bulk of his debts which had amounted to almost $18 million at that time and according to the reorganization plan, Vick was to pay his creditors in 6 years.
With over 50% of his earnings paid to Uncle Sam and legal fees, Vick was placed on an annual budget of $300,000. One of the biggest debt he had to pay was to his agent, Joel Segal whom he owed $800,000.
By the end of 2014, Vick had paid off almost 90% of his total debts.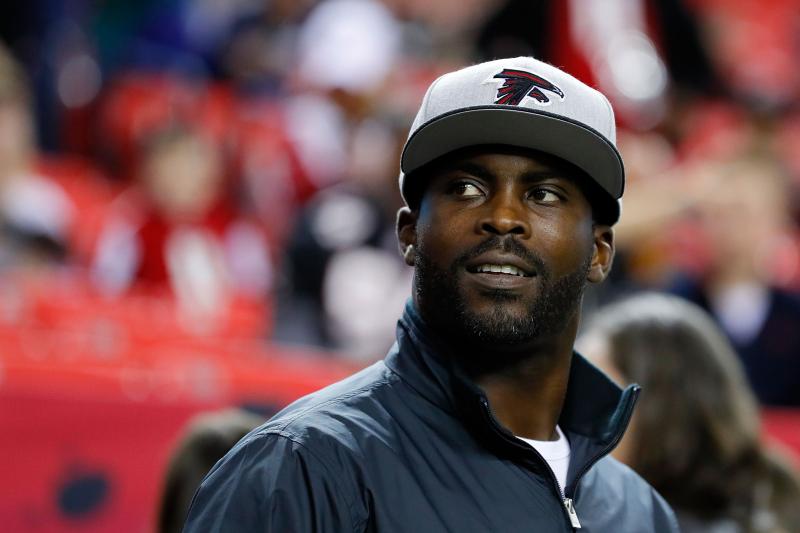 Vick started a sports clothing line, V7 with Nike in 2012 and has continued to benefit from his deal with Nike even as an NFL retiree.
Michael Vick House
After being sent to jail for operating a vicious dogfighting ring in his Virginia estate in 2007, Vick's 15-acre Virginia property was sold and bought by a non-profit organization for $590,000.
The property was then transformed into a rehab centre named the Good Newz Rehabilitation Center for dogs. The property which once saw many animals beaten, abused and even killed has now become a haven where dogs once maltreated are rehabilitated.
What is Michael Vick's Height?
Sometime in June 2017, Vick was honoured with a special retirement ceremony hosted by the Atlanta Falcons. In August the same year, Fox Sports announced that he will be joining its team as an NFL Studio analyst for the 2017 season. Vick is 1.83 m in height and weighs 98 kg.