For some people, cooking is not just a necessary skill or a means to an end, it is a form of expression, an art that unlocks something magical and beautiful deep inside them, which they then convert into making sumptuous dishes. Michael Symon and Michael Psilakis belong to this group of people; give them an apron and a kitchen, and the delicacies they will create will both astound and satisfy you. Michael Symon and Michael Psilakis are two amazing chefs at the top of their fields and have won some of the biggest honors in their profession for their magical cooking abilities and the culinary experiences they create.
The Relationship Between Michael Symon and Michael Psilakis
People are accustomed to asking if Michael Symon and Michael Psilakis are twins or at least related somehow. This confusion is understandable because both men are high-profile Greek-American chefs, who share the same first names. They opened their Greek restaurant around the same time. To top it off, they both happen to be bald and are practically the same age, although Psilakis was born a year earlier.
The only clear difference between Michael Symon and Michael Psilakis is that the former has a soul patch, and the latter a chin beard. Looking at the two, it's easy to see why they're often accused of being doppelgangers or blood relations. However, Michael Symon and Michael Psilakis are not twins or related in any way beyond the happy coincidence of their professions and ancestral origins.
How Michael Symon Rose To Fame
This Cleveland native was born on September 19, 1969, and was raised in North Olmsted, Ohio. Michael Symon is of Greek, Italian, and Eastern European descent. He graduated from St. Edward High School in 1987 and went on to the Culinary Institute of America, in New York, where he earned his degree in 1990.
Symon began his career working in Midwestern restaurants in his hometown and he helped them all become critically acclaimed establishments. He opened his first restaurant, Lola, in 1997 and today, it is recognized as the cornerstone of the dining scene in Cleveland. Symon cooks with his log of soul and his style of cooking usually centers on meat.
His other dining establishments include Lolita, a Mediterranean-style bistro; B Spot, where he displays his passion for bratwurst, burgers and beer, Roast, a restaurant at the Westin Book Cadillac Hotel in Detroit; Bar Symon, a tavern food joint; Mabel's BBQ, a meat-centric restaurant; and Angeline, a restaurant operating out of Borgata Hotel Casino & Spa in Atlantic City.
When he's not running his many businesses, Symon devotes his time to television, appearing on culinary shows like Melting Pot, Sara's Secrets, FoodNation with Bobby Flay, Ready, Set, Cook, Iron Chef America, Dear Food Network: Thanksgiving Disasters, and The Best Thing I Ever Ate. Symon has also hosted his fair share of food shows such as Dinner: Impossible, Food Feuds, Cook Like an Iron Chef, The Chew, and Burgers, Brew and 'Que.
The esteemed chef has found time to write a couple of cookbooks. His first piece titled Michael Symon's Live to Cook: Recipes and Techniques to Rock Your Kitchen was published in 2009, followed by The Chew: Food. Life. Fun in 2012 — coauthored with his fellow hosts on The Chew. Symon also coauthored The Chew: What's for Dinner and Michael Symon's Playing With Fire.
See Also: Eric Ripert Net Worth: How Much Money Does The French Chef Have?
Michael Psilakis' Career Attainments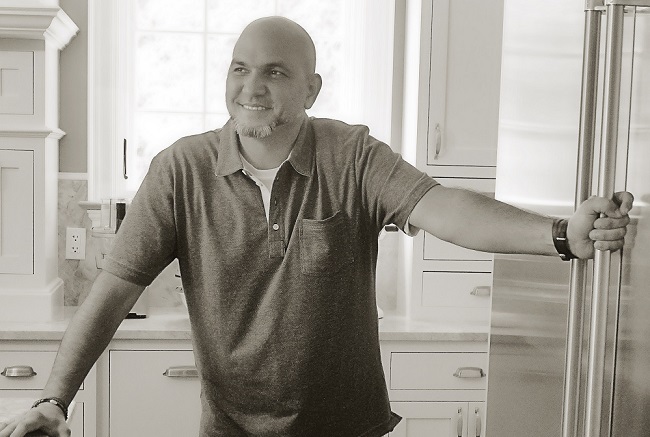 Born in 1968, Michael Psilakis is often referred to as a pioneer in modern Greek cuisine because his reinterpreted and traditional Greek menus helped put Greek cuisine on the culinary radar. The New York City-based chef has earned all sorts of recognition for his craft, including a James Beard Award nomination for Best New Restaurant, and the distinguished honor of cooking at the White House for President Barack Obama.
Psilakis opened his first restaurant, Onera, in Manhattan, in 2004. Followed by the establishments Anthos, Kefi, Mia Donna, Gus & Gabriel Gastropub, MP Taverna, and Allora Italian Kitchen and Bar, all in various parts of New York City. He is one of only two Greek chefs in the entire world to earn a Michelin Star for their cooking.
On television, the restaurateur is best known for his appearances on Ultimate Recipe Showdown, where he served as a judge, The Best Thing I Ever Ate, and No Kitchen Required. Psilakis has also featured as a contestant on Iron Chef America and Cutthroat Kitchen's Superstar Sabotage Tournament. He has two published cookbooks to his name: How to Roast a Lamb: New Greek Classic Cooking, released in 2009, and LIVE TO EAT, which hit the stands in 2015.
From their age to their looks, their careers and the attainments thereof, it's easy to see why a good number of people are eager to believe that Michael Symon and Michael Psilakis are twins.