Michael Strahan is a retired NFL player, and a current football analyst, talk show host, and entrepreneur.
Michael Strahan's Bio And NFL Career
Strahan was born in Houston, Texas on November 21, 1971. He attended Westbury High School where he played college football in his senior year. Despite playing just one season, he was offered a scholarship to Texas Southern University. He racked up collegiate sack records during his 4 years on campus. He was drafted by the New York Giants during the second-round pick in the NFL Draft of 1993.
Strahan struggled a bit in his first season due to injuries, however, his breakthrough came in 1997 when the defensive end recorded 14 sacks, he was also voted into his first Pro Bowl the same year. In 2001 he set an NFL record for the most single-season sacks- 22.5, he was also named the NFL defensive player of 2001. He has been named the NFC Defensive Player of the Year twice and has been selected 7 times for the Pro-Bowl.
Also See: Michael Vick's Wife, Brothers, And Son
In 2007, his last season as a professional football player, Strahan won the Super Bowl with the New York Giants. On June 2008, he retired at the age of 36. His 14-year career brought him $60 million in salary alone, his biggest year was in the 2002/2003 season when the Giants paid him $20.6 million. Strahan was inducted into the Pro Football Hall of Fame in August 2014.
Michael Strahan Net Worth
His wealth of $65 million isn't just a product of his NFL career alone, after retirement, Strahan became a media personality. David Hill, who was the then CEO of Fox Sports Media Group signed Strahan to a contract as an analyst on Fox NFL Sunday pregame show.
In 2010, Michael hosted American syndicated morning talk show "Live! with Regis And Kelly" with Kelly Rippa due to Regis Philbin's absence, after Regis left in 2011, Strahan was selected as a replacement. Due to the replacement, the show was rechristened to "Live with Mike and Kelly" Michael's presence on the show saw its ratings surge instantly and he was accordingly rewarded with an annual salary of $10 million.
His other TV host gigs include home improvement show, "Backyard Stadiums" on the DIY Network, "Pros vs. Joes" on Spike TV. From 2014 he became one of the contributors and co-anchors on Good Morning America. After the ABC flagship news program began to plunge in ratings, Strahan was promoted to the show to help improve its ratings among the younger demographic audience. The deal came with a rumored salary of $20 million, double of what he received as the host of Live!
Michael was involved in the production of the sitcom "Brothers" (September 2009 –  December 2009) which he also starred. He has also starred in movies including "Magic Mike XXL" (2015).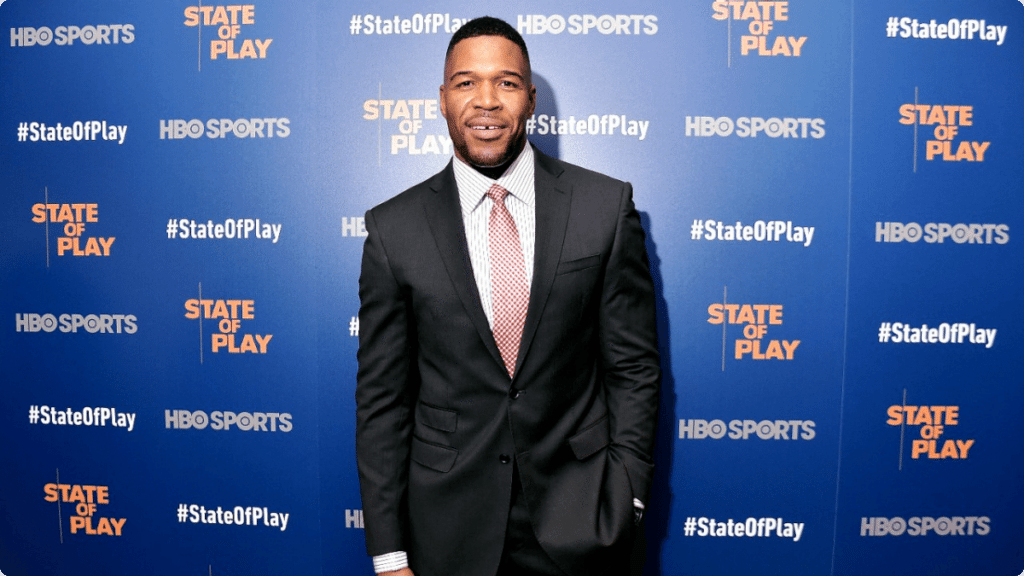 Also See: Tom Brady Bio: NFL Career Salary And Endorsements
Businesses and Endorsements
He has had endorsement deals with Vaseline Men for which he did a commercial, others include Meta and a line of wellness products by Procter & Gamble.
Michael launched a new men's clothing line, "Collection by Michael Strahan" through J.C Penney, in 2015. The collection includes men's suits, sharply tailored pants, fitted belts, colorful ties, blazers, dress shirts, suspenders, and coats.
His book "Wake Up Happy" was released in 2015.
Michael bought a house in 1997 worth $163,000, and another worth $1,300,000 in 2000. He sold his Bel-Air mansion in 2013 for $11 million. He had sold another mansion as part of his divorce settlement with Jean Muggli. His share was $1.8 million.
Per Forbes calculations, Michael Strahan earned $17 million between June 2015 and June 2016 which put him at #11 on the list of highest-paid retired athletes.
Is He Married With Kids or Does He Have A Girlfriend?
Well, Strahan is not currently married but has walked down the aisle twice. First, it was to Wanda Hutchins with whom he has two children – Tanita Strahan (born 1992), and Michael Anthony Strahan, Jr. (born 1995). The couple called it quit in 1996.

Again he was married to Jean Muggli from 1999 to 2006 and they have twins daughters (Sophia and Isabella) together.

In 2009, Michael became engaged to Eddie Murphy's ex-wife Nicole Mitchell, but things didn't work out between them as the couple called it quit in August 2014.

Also See: Inside The Incredible Mansions Of Your Favorite NFL Quarterbacks

Strahan may just want to keep his private life away from the media from now on – once, in an interview with Andy Cohen, Michael suggested so, saying the whole public relationship thing doesn't work, so he now prefers to do his thing, and live his life away from public eyes.

He has recently been linked with Kayla Quick. They were once spotted on Caribbean beach, having the time of their lives together. Strahan has, however, neither confirmed nor denied his relationship with her.

Fact Check: We strive for accuracy and fairness. If you see something that needs updating,