When your father is a famed college basketball coach and your mother a championship-winning basketballer during her college days, then you have no choice but to succeed in the NBA. This is the enviable, or unenviable position, depending on your perspective, that Denver Nuggets small forward, Michael Porter Jr. finds himself.
The scion of two basketball gurus, Porter has followed his parents' footsteps into the slam and dunk game. Even though his career is still in relative infancy, he has already shown signs that he will surpass all of his folks' combined achievements. The player has therefore been tipped to go on to become an NBA great, provided that he can maintain a clean bill of health.
His Exceptional High School Basketball Record
Born on June 29, 1998, in Columbia, Missouri, Michael Lamar Porter Jr was initially home-schooled before obtaining his high school education at two schools; namely Father Tolton Regional Catholic High School and Nathan Hale High School in Seattle, Washington.
Porter excelled as a basketball player at both institutions. During his junior year at Father Tolton, he led the school to their very first 2A state championships. During his senior season at Nathan Hale, Porter averaged an outstanding 13.6 rebounds and 36.2 points as his team won all 29 of their matches on their way to emerging the Washington Class 3A State Champions.
This remarkable feat earned him several individual accolades, including Mr. Basketball USA, USA Today Player of the Year, Gatorade National Player of the Year and Naismith Prep Player of the Year, and confirmed his status as the best high school basketballer in the entire nation. He was also ranked as one of the best overall recruits in his class by ESPN and Rivals.com.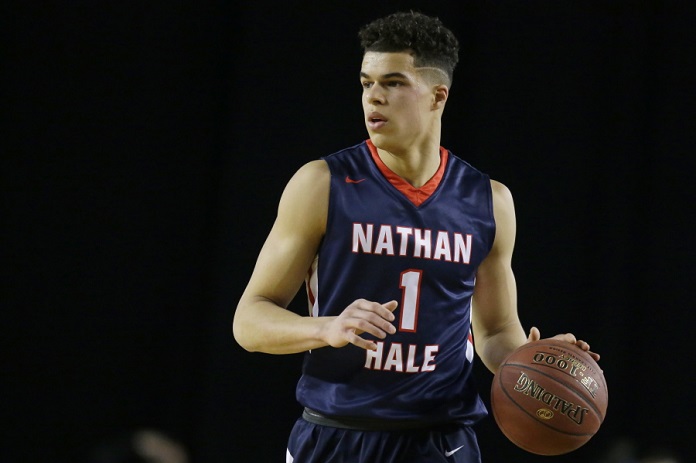 Michael Porter Jr Had A College Run Blighted by Injuries
Michael Porter Jr. initially committed to play for the University of Washington's men basketball team, the Washington Huskies, in July 2016. He, however, decamped to the University of Missouri in 2017 following the sack of Huskies coach, Lorenzo Romar. Porter was in for a successful college career but it suffered a setback as he sustained a back injury that kept him off the court for the most part of the 2017 season.
The small forward underwent a microdiscectomy of his L3-L4 spinal discs on November 22, 2017, and was cleared to return to the team on February 22, 2018. Porter officially resumed on March 8, 2018, in the quarterfinals of the year's SEC Tournament. He was also part of the Tigers team which lost to Florida State in the round one of the 2018 NCAA Division I Men's Basketball Tournament. It was after this game that he openly declared his intention to forgo the remaining three college seasons to join the NBA.
His Surprising Debut in the NBA Amid Injury Woes
Given his brilliant high school career, Michael Porter Jr should have naturally been the number one pick of any NBA draft that he declared for. Sadly, this was not to be as his injury-riddled college career, which saw him play just 3 games, cast doubt on his durability. Before the 2018 draft, many teams had gotten a health report on the player which was not quite ideal. They, therefore, turned away from him and the small forward fell from potential number one pick to number 14. He was selected by the Denver Nuggets and joined the team on the 21st of June, 2018.
Coming into the Nuggets' team, Michael Porter Jr was still struggling with a niggling back injury. He underwent a second surgery, this time on his lumbar spine, and many predicted that he would miss the entire debut season. He, however, surprised the naysayers by featuring in about three games during which he averaged 10 points and 6.7 rebounds. This has given Porter hope that he can still conquer an injury that goes way back to his high school days. According to the player, he first felt the pangs of back pains during his sophomore year in high school.
It got worse when he fell on his back in his junior year but he played through the pain for that season and the next. During this period, the young man consulted several therapists and chiropractors but the situation did not improve. He, therefore, had to undergo the microdiscectomy to get some relief. This whole period tested Porter's faith as his pals abandoned him. He even thought of quitting basketball entirely but clung to his faith in God and got through. Porter Jr. now hopes to deploy all he learned during his recuperation once a new NBA season resumes.
The Next Basketball Dynasty
In America, the title of NBA royalty firmly belongs to the Currys. However, there is another family who is making a firm push for that status and it is none other than Michael Porter Jr's family. The 6 feet 10 inches tall small forward hails from a family of ten and the majority of them are involved in different levels of basketball. For instance, Porter's dad, Michael Porter Sr., played four years of collegiate basketball at the University of New Orleans from 1986 to 1989. He subsequently played in a pro league, known as Athletes in Action, before heading the coaching route. Porter Sr. now serves as an assistant coach at the University of Missouri.
Michael's mom, Lisa Becker, is also not slacking in the athletics department. She played basketball during her college years at the University of Iowa and led her team to a Big Ten division title. She also played professionally in France and was a member of the 1983 U.S Olympic Festival North Team and the 1985 USA William Jones Cup Team. Asides his parents, Michael has a total of seven siblings, including four brothers, Jontay, Cobin, Izaak, Jevon, and three sisters, Bri, Jayda, and Cierra. Jontay also played college basketball for the Missouri Tigers while elder sisters, Cierra and Bri, played basketball for Missouri's Women's team which is coached by, wait for it, their maternal aunt, Robin Pingeton.
22 years married to a woman I don't deserve. I'm almost embarrassed sometimes by God's goodness to me! pic.twitter.com/AEdJOkjpdE

— Michael Porter, Sr. (@coachporter8) August 30, 2015
Earnings and Endorsements
Porter Jr's career is still relatively young and one would not, therefore, expect him to have accumulated much in terms of earnings and income. It is however expected that there would be a tremendous improvement in this regard once he can maintain good health and deliver the goods on the courts.
For now, the small forward is the beneficiary of a rookie contract worth $9.8 million. The deal, which he penned in 2018, was supposed to have paid him about $2.8 million in its first year of operation but the player lost the majority of this sum because he missed nearly the entire season.
He is however back and will be looking to earn his 2019 salary, estimated at $3.3 million, in full. Asides his salary, Michael also has a juicy shoe deal with Puma to look forward to. The value of the multiyear deal is not exactly known but rookie shoe deals in the NBA can fetch the beneficiary from $1 million to $1.5 million per annum.
See Also:  Kareem Hunt's Career Stats and Details of His Assault Investigation and Possible Suspension
Michael Porter Jr's Balling Records Off the Courts
Outside the basketball court, Michael is fun to be with. Even though he is still single, the handsome player has been involved in a couple of relationships. As of late 2018, he was rumoured to be dating Isabella (Izzy) Morris, the former girlfriend of a player for the Los Angeles Ballers of the Junior Basketball Association, LiAngelo Ball. Porter, however, denied these rumours and went ahead to unfollow Izzy on Instagram. He also deleted all of her pictures on Instagram but many took this as a sign that something is indeed going on between them.
As we await further news on the true status of this relationship, one confirmed romance that Porter Jr has been in was with actress, Madison Pettis. Madison is an American voice actress, actress, and model best known for her role in a popular Disney film, Cory in the House. She and porter first met each other via Instagram and subsequently exchanged DMs. They later made their relationship public in February 2017. They remained together throughout 2017 but subsequently broke up and went their separate ways.