While these two athletes both have a claim to not just being the greatest players in their respective sports in recent time, but the greatest ever in sporting history, many people are divided as regards to who ranks higher than the other which was the chief catalyst of the Michael Jordan vs Tiger Woods debate where fans are often divided as regards who is the greater sports icon. Opinions are still very much divided.
As many people would agree, both Jordan and Woods are worthy of the title, and if they was ever a Mount Rushmore of sportsmen, they would be the first names on the list. This is thanks to what they were able to achieve both in and outside sports. However, knowing how competitive both players are, none would be satisfied with the other coming out on top them. With that, we would be looking to see which player comes up better than the other in regards to specific achievements that define them as icons, thus leaving you to decide on which player is indeed the greater sports icon.
Michael Jordan vs Tiger Woods: Head To Head Look At Their Achievements
1. Willingness To Win
Any basketball fan with good knowledge of the game would recall Game 5 of the 1997 NBA Finals between the Chicago Bulls and Utah Jazz since known as the "Flu Game". On that day, Jordan, who was suffering from flu-like symptoms and was visibly sick, was able to summon something from within him that no one had never seen before in the league to help his team to victory.
Woods, on the other hand, has had several injuries that required surgery which he still managed to play with and win. At the 2008 U.S. Open, he played and won the competition despite having stress fractures in his leg and a torn ACL. His multiple back problems further prompted many to speculate that the legendary golfer would call time on his career. Between 2014 and 2017, he underwent four back surgeries that only allowed him to compete in one tournament between 2015 and 2018. Despite this, he was able to recover to win the 2019 Masters Tournament, which was his first major in 11 years.
2. Titles
Tiger Woods has so far won 81 PGA Tour events, including 15 professional major golf championships, placing him second on both the all-time list behind Sam Snead who won 82 PGA Tour events and Jack Nicklaus who won 18 majors. He further has 18 World Golf Championships to his name.
Michael Jordan, on the other hand, won six NBA Championships with the Chicago Bulls. While he is far off from being the player with the most NBA rings, his winnings happened at a stretch, in two sets of three-peats, with either one coming on each side of him going and returning from retirement as he went to try his hand at baseball.
3. Earnings
In 2009, Forbes reported that Tiger Woods had earned over a billion dollars in his career, making him the world's first professional athlete to do so. The publication further estimated his net worth to be in the region of $600 million, ranking him as the second richest non-white person in the United States at the time. While his career has since gone through a few ups and downs, Woods has still managed to remain relevant in regards to his earnings, as Forbes noted that he is the highest-paid golfer in the world and second highest-paid athlete of all time. His total earnings as of 2017 are said to be $1.7 billion while his net worth is pegged at $800 million.
Micheal Jordan, on the other hand, ranks above Woods as the highest-paid athlete of all time, with total earnings as of 2017 being $1.85 billion. His net worth is further estimated to be $1.9 billion, making him the third-richest African-American.
Read Also: These are The Most Luxurious Watch Brands for Men in 2019
4. Impact and Records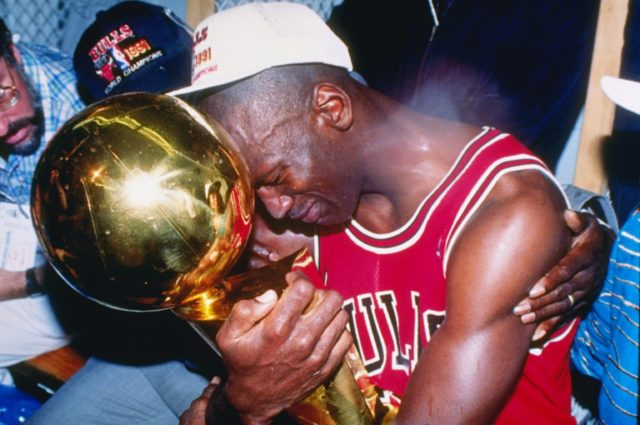 It is impossible to go through the Michael Jordan vs Tiger Woods debate with talking about the impact both players were able to have on their sports of choice.
In a game that was at the time of his entry into the league dominated by big men, Jordan was able to change the narrative with his athleticism, impeccable footwork, and aggression driving to the basket to score the basketball. This style of play excited fans a lot more than when a big man simply overpowered a smaller defender, thus earning him several MVP titles after several big man center position players had won it since 1956 with the exception of Bob Cousy, Oscar Robertson, and Larry Bird.
When it was all said and done, Jordan finished his career with the following individual accolades; six NBA Finals MVP Awards (all-time record), five MVP Awards, fourteen NBA All-Star Game selections, ten All-NBA First Team honors, nine All-Defensive First Team honors, and ten scoring titles (all-time record), among others.
On the other hand, Tiger Woods' impact on golf can not be overstated as he changed the overall perception of golfers not being athletes. Many people outside the sport regarded golfers to be a bunch of "wealthy middle-aged men" who did not have to offer anything in regards to athletism to dominate the sport. While this was somewhat true, Tiger sent his competitors to the gym because his weightlifting and conditioning helped him develop a monster drive that allowed him to win tournaments with a significant margin with ease in the 90s.
Thanks to this, Woods was able to set numerous records in his career, including being the number one player in the world for the most consecutive and total number of weeks of any golfer in history. He has eleven PGA Player of the Year awards to his name (all-time record), led the money list in ten different seasons, the youngest player to achieve the career Grand Slam, and the second to achieve it three times.