Michael Consuelos is a young up and coming American TV actor who has been described as a man with lots of promise in the make-believe world. Over the years, he has made appearances in television series, garnering quite a number of fans around America. Born to celebrity parents, Consuelos is widely expected to find it a lot easier to properly break into Hollywood and leave an incredible impact for generations to come than others.
Background Details
Michael Consuelos was born on the 2nd of June, 1997 in the USA to celebrity parents. His father Mark Andrew Consuelos is a popular Spanish-born American actor who had made his own mark in the industry and his mother, Kelly Maria Ripa is an American television producer, talk show host, actress and dancer.
Being a celebrity child, Consuelos was well talked about and often made headlines whenever he was spotted out and about with his parents in public. Many people expected him to follow the footsteps of his parents and build a career in the entertainment industry and he did not disappoint. The young man has two siblings; a sister, Lola Grace Consuelos and a brother, Joaquin Consuelos. The family is known to be close-knit and often travels together for holidays and vacations.
It is noteworthy that the young lad is often featured on the famous show 'Live with Kelly' alongside his mother, Kelly and won the heart of the audience with his cuteness.
Apparently, growing up and being so close to his celebrity parents, Consuelos had dreams of making it big himself in the entertainment industry himself. It is not surprising that when he gained admission to the New York University (NYU) in 2016, Consuelos chose to major in film and television production, having obviously decided to make a mark in Hollywood just like his parents did.
Consuelos' interest in film is very profound. This is apparent in the fact that after beginning his studies in film and television production at NYU, he also decided to intern in the business by spending some time at Blumhouse Productions in Los Angeles to take practical lessons in film development and production.
Consuelos dabbled into acting in 2012 when he appeared alongside his parents in a Funny or Die sketch before proceeding to voice characters on Duck Dodgers and Go, Diego, Go!, two popular American animated series. In the same year, the actor was cast in the short film, The Bensonhurst Spelling Bee. The next year, in 2013, Consuelos appeared in The Goldbergs, an American sitcom which gave him some more exposure as an actor.
The young actor made his big break in 2018 when he got cast to play a younger version of his dad in Riverdale, an American teen drama television series. The big announcement was made by his proud mum on Instagram.
Meet Michael Consuelos' Parents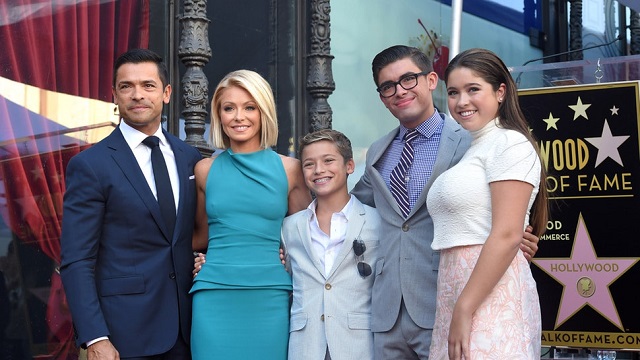 Michael Consuelos' parents are superstars in their own rights and he banked on their fame and success to get to where he currently is. His father Mark Consuelos is an American actor who also has a Spanish origin. Born on March 30, 1971, the actor is very popular in Hollywood, having played the role of Mateo Santos in the very popular soap opera, All My Children which aired on ABC for 41 years. He is also very popular for his role as Hiram Lodge in Riverdale, a teen drama TV series.
His mother Kelly Ripa on the other hand is a very popular American actress who is also a talk show host and television producer. Just like her husband, the actress featured in All My Children in which she played the role of Hayley Vaughan. She is widely known around America as the co-host of the syndicated morning talk show, Live! with Kelly and Ryan. Together with her husband, she formed Milojo, a New York-based production company.
As their son, Consuelos has enjoyed some fame and exposure in Hollywood. The young man used to feature on his mother's show, Live! With Kelly where he won some fans for himself. Also, he was able to secure his role in Riverdale largely because of his parents' participation in the series in addition to his own hard work.
Read Also: Owen Teague Biography, Age, Height, and Other Interesting Facts
Is He Gay?
Michael Consuelos' mother has been a longtime advocate for the lesbian, gay, bisexual and transgender (LGBT) community, having lent her voice in campaigning for them. In fact, in 2015, the actress was honored by GLAAD, a non-governmental organization, for her untiring efforts in advocating for gay people.
For this reason, many fans have often asked if her son, Michael Consuelos is gay. Michael has kept his private life the way it is – very private! Hence, not much is known about his sexuality. At the moment, there is no proof that he is gay or bisexual neither has his girlfriend been revealed.