From his role as Wallace in The Wire to Adonis Creed in the Creed films, Michael B Jordan has made himself one of the most recognizable actors in Hollywood. Not only is his face one of the most recognized, but it is also one of the most admired. The actor has featured in several hot and sexy men lists, enough to make him one of the most desired men in America. This means he has had to deal with his share of dating rumors and paparazzi craze every time he is spotted with a woman. Since making his debut in 1999, he has been linked to a few women, but how many of them turned out to be real? We did the research, and here is what we found.
Michael B Jordan Has Never Been in an Official Relationship
You would expect a man with his looks, body, and wealth to be moving from one woman to another. At least, that is the stereotype. But that is not the story of Michael B Jordan's love life. He doesn't just upend the stereotype by sticking with one woman. He has simply never been in a relationship.
Jordan started his career when he was a child. He got his critical breakthrough via the film, Fruitvale Station, and has gone on to appear in blockbusters like Black Panther, Creed, and Fantastic Four. Jordan's career by most metrics has matured, but according to him, he hasn't matured as a person enough to date.
That was the actor's explanation to GQ during an interview in 2018. One woman that is in his life though, is his mother. The actor has never shied away from showing his affection for his mother. She has appeared in major photoshoots with him, as well as on red carpet events.
But while the actor feels unprepared to become a boyfriend, that hasn't stopped the rumor mill from linking him to a host of beautiful women.
Some of Michael B Jordan's Rumored Girlfriends
There are a myriad of women that have been rumored to be dating Michael B Jordan. From models to socialites and actresses, there is no shortage of women who have once been the actor's rumored love interest.
Cindy Bruna
First on the list is Cindy Bruna, a Victoria Secret model who is the first person of color to walk for Calvin Klein. According to the rumor, she and Michael met at a Met Gala afterparty and had a few dates afterward. Paparazzi once spotted both of them at a famous New York restaurant in May 2019. Unfortunately, nothing subsequently became of the pair.
Kiki Layne
In January 2019, actress Kiki Layne and Michael B Jordan were seen at a nightclub in Park City, Utah. The two of them were there along with a few other A-list celebrities. What was more interesting is they left the party together, sparking rumors of a potential relationship. However, it turned out to be nothing more than a fling.
Snoh Aalegra
The desperation to see Michael in a formal relationship is so high that in December 2019, he and the Swedish singer, Snoh Aalegra, were linked together. Why? Because the actor appeared in an intimate music video with the singer. In it, there was a lot of kissing and body caressing. As expected, none of it turned out to be anything real.
Esha Vantha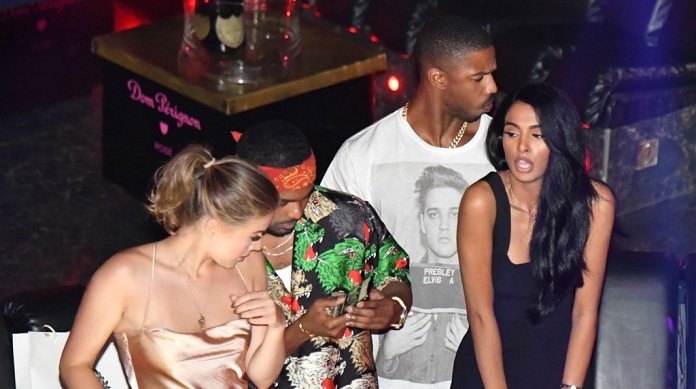 South African model and stylist Esha Vantha drew attention in July 2018 when she and Jordan were seen cutting it up on the dance floor. Jordan's fans went into overdrive looking to find if the club appearance meant anything, but as always, it became a none story. It was the same story with Ashlyn Castro, who, also in 2018, was spotted in the club with Jordan.
Catherine Paiz
Catherine Paiz is the earliest woman rumored to be in a relationship with Michael B Jordan. In fact, the rumor was so strong that at the time, the assumption was that the two of them were in a relationship. The 2014 rumor died a natural death because neither of them confirmed it, but it is the closest thing to an official relationship in the Black Panther actor's Hollywood history.
Michael B Jordan Has a Flush of Cash With No Girlfriend To Spend On
Michael B Jordan may not have a girlfriend to call his own, but he has a lot of money to distract himself from the fact. In the early days of his career, he made money modeling for companies like Toys R Us and Modell's. Since becoming a star, he has earned a few bucks doing commercials, most notably for Apple TV, where he starred alongside the late Kobe Bryant.
Jordan has also appeared in several blockbuster films and TV series. Some of these are 2018's Black Panther, Fahrenheit 451, and Creed II. For his role in the former, the actor earned $2 million. The latter made him between $3 million to $4 million richer.
These roles, along with the 45+ roles in his filmography, has earned him an $18 million net worth, according to Celebrity Net Worth.
Michael expectedly earns the majority of his money from acting. But it is not his only revenue source. He is also a producer with a production company, Outlier Society Productions, established in 2016. Through it, he has produced projects like David Makes Man, Raising Dion, Gen: Lock, and Just Mercy among several others.
With many roles lined up, and his expanding production company, you can expect the actor's wealth to grow exponentially in the foreseeable future.
See Also: Michael Pitt – Bio, Movies And TV Shows, Is He Related To Brad Pitt?
How He Spends His Money
One of the defining traits of Michael B Jordan's celebrity personality is his minimalism. Despite his fame, he continues to live a lowkey life. Not only does this extend to his personal life, but his display of wealth too.
The multimillionaire actor still lives with his parents, albeit in his only known significant purchase – a $1.7 million home he bought in 2015.
Otherwise, the actor continues to live a modest life. Other than occasionally spending $1,785 on courtside seats for the Los Angeles Lakers, and a growing shoe collection, the majority of the actor's earnings stay in his account.