As a glamor model of note, Melissa Soria has appeared in some of the most popular men's lifestyle magazines such as Playboy. As that's the dream of most female models around the world, it is safe to assert that the Hispanic American lady has attained a significant level of success, thus she has been rewarded with corresponding fame and fortune. Without a doubt, there are many things that are worth knowing about this Melissa, below are the details of her life and career.
Melissa Soria's Biography
It has been confirmed that the model was born on the 6th day of November 1987 in the Californian city of Stockton on the banks of San Joaquin River. She also grew up there, surrounded by loving friends and relatives, such as her younger sister Selena whom she is very fond of.
Melissa Soria enjoyed an eventful childhood that included visiting parks (such as Pixie Woods) and having the opportunity to watch some of the country's best talents at Stockton Arena; she was even a regular at KUDOS Children's Theater. But, the details of her basic education amid it all has been beclouded. While we'll keep trying to get these details, let us get busy with what we already know.
It is known that Mellissa went to college but we are yet to ascertain where. However, right after college, she made her modeling debut in 2009 by posing for the suntan lotion brand, Hawaiian Tropic. Subsequently, she landed other contracts such as with Bridal Couture, Gear And Grooves, Estetica, DuJour, Redbook, Hello!, and a number of other magazines. Nonetheless, her fame as a model certainly received its first major boost when she covered one of the 'Sexy Girls Next Door' issues of Playboy in 2010.
6 Things You Didn't Know About Melissa Soria
1. She Is Also Known As Melissa Marie
Yes, she is known in the media as Melissa Soria but equally as Melissa Marie. Indeed, that is what her social media accounts bear. The model has Instagram and Twitter accounts named Melissa Marie (@melissamarie) although her main Twitter account is @meet-melissa. Sometimes, the model's name may be rendered as 'Melissa Marie Soria' or its variant. So, do not be confused by any of these renderings when you see them.
2. Melissa Soria Once Worked As A Bartender
Prior to her rise to fame and especially during her college days, Melissa Soria survived by working as a bartender. Her stunning beauty was first noticed as a bartender and it eventually led to her landing her first modeling contract. Today, the rest is history.
3. She Is A Sports Nutrition Expert
We uncovered that Melissa went to college but as we've already mentioned, we do not know which college she attended. What we know however is that the gorgeous lady has a college degree in Sports Nutrition. Of course, that sets her apart as an expert in that field. This background must have contributed a lot to Melissa Soria's success as a model – modeling success has a lot to do with eating right which must have formed a major aspect of her college curriculum.
4. Melissa Soria's Music Videos?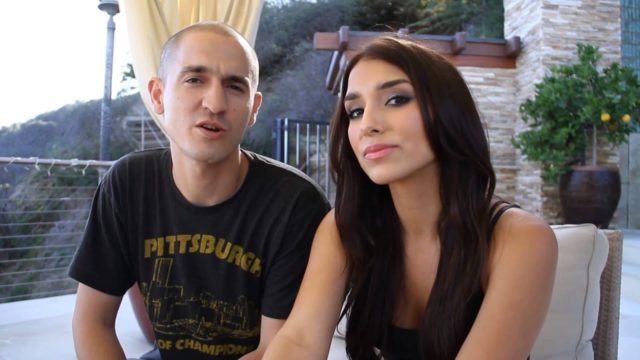 It is either you do not know that Melissa Soria has appeared in music videos or you do not know some of the music videos she has appeared in. Anyway, she appeared in 'Rosana', a 2012 single by the American rapper Wax; 'Ex-boyfriend' and 'White Dude' by Lil Dicky (2013), and 'Toothbrush' by DNCE (2016).
SEE ALSO: Vanessa Angel Biography – 5 Interesting Facts You Need To Know
5. Melissa Soria Is A Single Mother
Given her sixteenish body, have you ever suspected that Melissa Soria has given birth? Yes, she has. She is a proud mother of a handsome boy named Rayyan. But who is Rayyan's father? Well, that is still a mystery to us.
6. Her Body Measurements
Many ladies may be obsessed with the perfect hour-glass body measurement as though a lady can't be beautiful without it. Well, Melissa Soria has proved that wrong. With all her attainments as a glamor model, her body measurement is 32-23-33. As close as this is to the perfect figure-8, yet it misses the mark. Meanwhile, it has been circulated that the model is 5 feet 2 inches tall.

Fact Check: We strive for accuracy and fairness. If you see something that needs updating,