Melissa Rivers is an American TV host, producer, and actress. Her showbiz career received a massive boost from her late mother, the legendary comedian, Joan Rivers.
Joan and Melissa collaborated in numerous endeavours. Notably, E!'s "Fashion Police" and "Live from the Red Carpet" interviews with celebrities.
Melissa Rivers Bio
Melissa Rivers was born Melissa Rosenberg on January 20, 1968, in Manhattan, New York. She became the first and only child of comedian Joan Rivers and producer Edgar Rosenberg. Her passion for entertainment was already evident at the age of 8 when she began taking dancing classes. At 10 years old, she made her feature-film debut in "Rabbit Test" (1978) – a comedy film about the world's first pregnant man written and directed by her mother, Joan.
Melissa went on to hone her acting skills under the tutelage of legendary teacher Sanford Meisner. While she was still quite young, she became an accomplished equestrienne. In 1987 Melissa, at the age of 18 lost her father, Edgar Rosenberg who took his own life by overdosing on prescription drugs.
Despite the tragedy, Melissa Rivers went on to earn a BA in European History from University of Pennsylvania, Philadelphia, in 1989. In 1990, three years after her father's death, Melissa adopted her mother's surname "Rivers."
After working as a correspondent for CBS' "This Morning", Melissa began taking up roles in TV shows such as "Beverly Hills", "90210", and "Hangin' With MTV". In 1994, Melissa and her mother played themselves in celebrity docudrama entitled "Tears and Laughter: The Joan and Melissa Rivers Story". The TV movie was about how they both coped after Edgar Rosenberg's death.
In 1995, Melissa and her mom landed a deal with E! television to co-host pre-show red-carpet programmes where they interviewed celebrities. By the late 90s, the duo began writing an advice column for McCall's magazine.
In between her duties, Melissa remained active in acting, starring in shows and movies like "Men in White" (1998), "Silk Stalkings" (1999), and "The Big Tease" (1999). 2003 saw Melissa and Joan leave E! for TV GUIDE – thanks to a more lucrative deal valued at about $8 million. However, E! later won them back in 2010 the same year Fashion Police premiered.
Other Melissa-Joan collaborations include "Joan & Melissa: Joan Knows Best?" – a reality TV series that chronicled their daily lives which aired on WE tv for 4 seasons from 2011 – 2012. Next up was "In Bed with Joan" a weekly internet and television talk show filmed from Joan's bed as they get personal with numerous celebrities from Kathy Griffin to Carmen Electra. The show aired 72 episodes for a year between 2013 and 2014.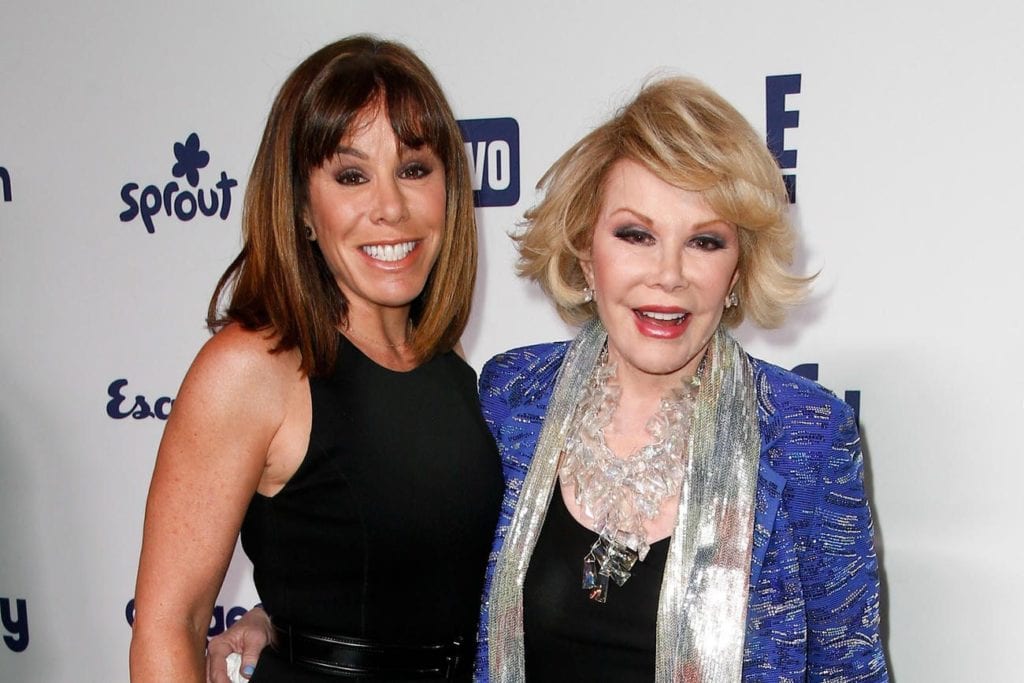 Melissa Rivers Net Worth
Joan Rivers died in September 2014 and Melissa inherited approximately $100 million of her estate. As executor of Joan's estate worth $150 million, Melissa reportedly received $75 million in cash as well as her mom's opulent Manhattan apartment valued at $35 million, bringing her total inheritance to over $100 million. Joan also left a piece of her estate to her grandson, Edgar Cooper Endicott (b. 2000) whom Melissa had from her previous marriage to horse trainer John Endicott.
Minus the inheritance, Melissa later filed a malpractice lawsuit against the hospital and doctors who operated on her mom. She blamed her mom's death on "medical mismanagement, incompetency, disrespect, and outrageous behaviour". Both parties reached an undisclosed settlement sometime in 2016.
As the sole executor of her mother's estate, Melissa had access to all of her tangible properties. In June 2016, she put up over 200 lots of her mom's treasured possessions for auction at Christie's. About 80 other lots mostly handbags and costumes were auctioned online and included designers such as Fabergé, Oscar de la Renta, Cartier, and Harry Winston. A bulk of the proceeds from the auction were donated to two charities; "God's Love We Deliver"  and "Guide Dogs for the Blind."
However, it wasn't the first time Melissa donated huge sums to charity. In the past, she gave proceeds from her reality TV show appearances to charity. For example, the $100,000 she won for coming 2nd place in "I'm a Celebrity…Get Me Out of Here" was donated to Make-A-Wish Foundation. Another $50,000 earned from Celebrity Family Feud was given to Guide Dogs for the Blind while $22,250 earned from the celebrity edition of Who Wants to Be a Millionaire was donated to the of research of Alzheimer's disease.
Like her mother, Melissa also owns a jewellery line that has been featured on QVC. Taking after her mother, she is now the executive producer and host of E!'s Fashion Police. She also continues to earn as an actress. Though not  as prolific as her mom, Melissa has managed to pen a couple of books including; "Red Carpet Ready: Secrets for Making the Most of Any Moment You're in the Spotlight." and "The Book of Joan."
See Also: Perez Hilton Kids, Wife, Gay, Partner, Boyfriend, Wiki
Melissa Rivers House
In 2016, Melissa Rivers bought a six-bed, seven-bath home in Santa Monica, CA for $11 million. It measures 7,048 square feet and is located at the end of a cul-de-sac in Santa Monica Canyon. The rooms spread throughout the beautiful home include a formal dining room, formal living room, and a two-story library/office. She also still has her longtime home in Pacific Palisades where she has lived since 1998.
Dating and Boyfriend
Melissa Rivers has been dating the talent agent Mark Rousso for over two years now. Prior to that, she dated Steve Hirsch in December 2011 and Jason Zimmerman from 2006 to 2011.
Is Melissa Rivers Married? Does She Have a Son
Melissa Rivers got together with John Endicott in 1997. After a year of dating, the two got married on 12th Dec 1998. Their love story, however, ended four years later when they got divorced on 19th June 2003. Their marriage resulted in a son named Edgar Cooper who is currently aged 17-years.

Fact Check: We strive for accuracy and fairness. If you see something that needs updating,