| Net Worth: | $100 million |
| --- | --- |
| Age/Date of Birth: | 20 January 1968 |
| Height: | 121 lbs or 55 kg |
| Ethnicity/Race: | White |
| Nationality: | American |
| Husband or Boyfriend: | John Endicott (m. 1998-2003) |
| Parents: | Joan Rivers and producer Edgar Rosenberg |
Melissa Rivers is an American TV host, producer, and actress who has a net worth of $100 million as of 2021. Her showbiz career received a massive boost from her late mother, the legendary comedian Joan Rivers. Joan and Melissa collaborated in numerous endeavours; notably, E!'s "Fashion Police" and "Live from the Red Carpet" interviews with celebrities.
Melissa Rivers was born Melissa Rosenberg on January 20, 1968, in Manhattan, New York. She was only child of comedian Joan Rivers and producer Edgar Rosenberg. Her passion for entertainment was already evident at the age of 8 when she began taking dancing classes. At the age of 10, she made her feature-film debut in "Rabbit Test" (1978), a comedy film about the world's first pregnant man written and directed by her mother, Joan.
Did You Know: Joan Rivers left most of her estate to her only child, daughter Melissa Rivers according to
Us Weekly
. Melissa's 
inheritance included $75 million
in cash and her mother's $35 million New York City condo, Melissa also is a television host, producer and author, so her inheritance isn't the only factor in her $100 million net worth.
Melissa Rivers And Joan Became Inseparable After Edgar's Suicide
Melissa and her mother have always been good friends, but they became inseparable after the significant man in their lives took his life. The bond was so strong that she adopted her mother's surname.
It was in 1987 that Melissa, at the age of 18, lost her father Edgar Rosenberg who committed suicide by overdosing on prescription drugs. As one would expect, it was a huge pain for his daughter and wife to bear. Nonetheless, they found solace in having and comforting one another.
Despite the tragedy, Joan encouraged her daughter to continue her studies and earn a BA in European History from the University of Pennsylvania, Philadelphia; which she did in 1989. In 1990, three years after her father's death, Melissa adopted her mother's surname, "Rivers".
Joan kept pushing her daughter and this motivated the younger woman to hone her acting skills under the tutelage of legendary teacher Sanford Meisner. Ultimately, she became a notable media personality like her mother and served as a correspondent for CBS' "This Morning". Thereafter, she began taking up roles in TV shows such as "Beverly Hills", "90210", and "Hangin' With MTV".
Her Career Revolved Around Her Mother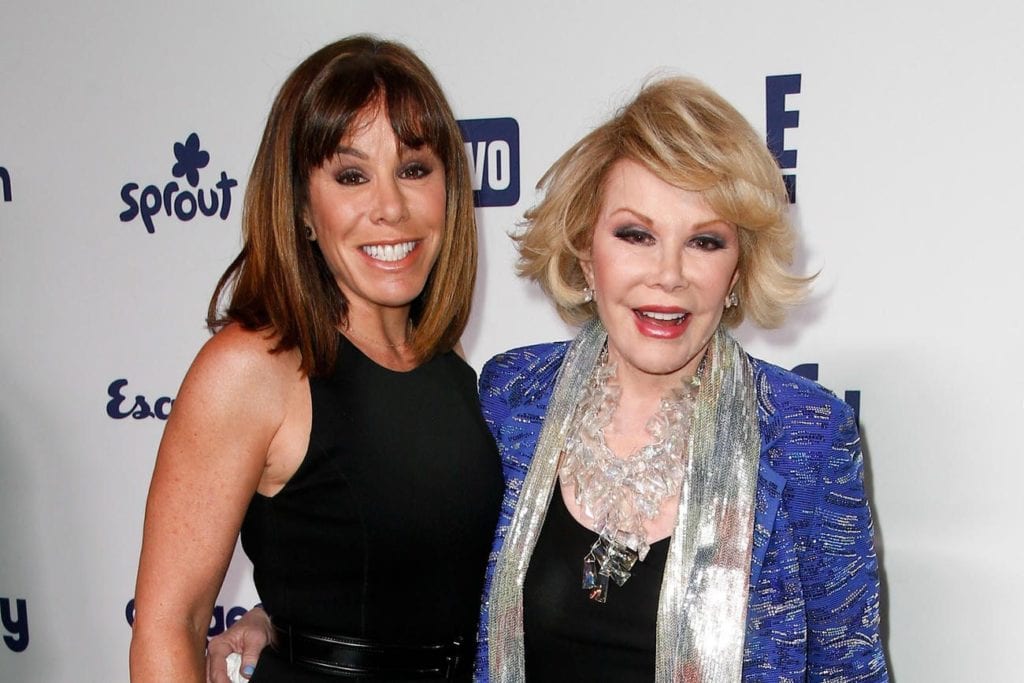 In 1994, Melissa and her mother played themselves in celebrity docudrama entitled "Tears and Laughter: The Joan and Melissa Rivers Story". The TV movie was about how they both coped after Edgar Rosenberg's death. The following year, the women landed a deal with E! television to co-host pre-show red-carpet programs where they interviewed celebrities. By the late 90s, the duo began writing an advice column for McCall's magazine.
In between her gigs with Joan, Melissa remained active in acting, starring in shows and movies like "Men in White" (1998), "Silk Stalkings" (1999), and "The Big Tease" (1999). 2003 saw Melissa and Joan leave E! for TV GUIDE, thanks to a more lucrative deal valued at about $8 million. However, E! later won them back in 2010, the same year "Fashion Police" premiered.
Other Melissa-Joan collaborations include "Joan & Melissa: Joan Knows Best?", a reality TV series that chronicled their daily lives which aired on WE tv for 4 seasons from 2011 to 2012. Next up was "In Bed with Joan", a weekly internet and television talk show filmed from Joan's bed as they get personal with numerous celebrities from Kathy Griffin to Carmen Electra. The show aired for a year with 72 episodes between 2013 and 2014.
Melissa Rivers Current Net Worth and Life After Joan's Death
Joan Rivers passed away on the 4th of September 2014 after being put in a medically induced coma after she stopped breathing during a minor throat procedure. After she had stopped breathing during the procedure, Joan was resuscitated and transferred to a hospital in New York where she was placed on life support. Sadly, she didn't make it and it was ruled that she died from brain damage caused by lack of oxygen.
Melissa was left in an overwhelming shock and grief following her mom's passing. She later filed a malpractice lawsuit against the hospital and doctors who operated on her mother. She blamed her mother's death on "medical mismanagement, incompetency, disrespect, and outrageous behavior". Both parties reached an undisclosed settlement sometime in 2016.
Beyond the settlement, Melissa Rivers also inherited approximately $100 million of her mother's estate. As sole executor of Joan's estate worth $150 million, Melissa reportedly received $75 million in cash as well as her mom's opulent Manhattan apartment valued at $35 million, bringing her total inheritance to over $100 million. Joan also left a piece of her estate to her grandson, Edgar Cooper Endicott (b. 2000) whom Melissa had from her previous marriage to horse trainer John Endicott.
As the sole executor of her mother's estate, Melissa had access to all of her tangible properties. In June 2016, she put up over 200 lots of her mom's treasured possessions for auction at Christie's. About 80 other lots, mostly handbags and costumes, were auctioned online; the included designers such as Fabergé, Oscar de la Renta, Cartier, and Harry Winston. A bulk of the proceeds from the auction were donated to two charities; "God's Love We Deliver"  and "Guide Dogs for the Blind."
Like her mother, Melissa owns a jewellery line that has been featured on QVC. Taking after her mother, she is now the executive producer and host of E!'s Fashion Police. She also continues to earn as an actress. Though not as prolific as her mom, Melissa has managed to pen a couple of books including; "Red Carpet Ready: Secrets for Making the Most of Any Moment You're in the Spotlight." and "The Book of Joan."
Exploring Her Personal Life And Relationship History
Melissa Rivers has been married once so far. She got together with John Endicott in 1997 and after a year of dating, the two got married on the 12th of Dec 1998. Their love story, however, ended four years later when they got divorced on 19th June 2003. Their marriage resulted in a son named Edgar Cooper who is now an adult.
Melissa Rivers has been dating the talent agent Mark Rousso for several years now. It is said that Mark has been a great support system for Melissa, especially when she lost her mother. For reasons one can only guess, they kept their relationship a secret at the beginning, but they have grown strong over the years and now make public appearances together.
Prior to that, she dated Steve Hirsch in December 2011 and Jason Zimmerman from 2006 to 2011. It is believed that her relationship with the latter ended because she discovered several indiscretions on his part. She began seeing the former after she parted ways with Zimmerman. Hirsch is a porn mogul, the founder of Vivid Entertainment. Melissa's mother supported the relationship but it wasn't meant to last.
Profile Summary
First Name:
Melissa
Last Name:
Rosenberg
Also Known As:

Melissa Rivers
Sex/Gender:

Female
Profession:

actress and television host
Famous For:
Being the only child of comedian Joan Rivers
Colleges/Universities Attended:

University of Pennsylvania
Educational Qualifications:

N/A
Religion:

Judaism
Birthday & Zodiac

Age/Date of Birth:

20 January 1968
Zodiac Sign:
Aquarius
Birth Place:

New York City, New York, USA
Nationality:
American
Ethnicity/Race:

White
Country of Residence:

USA
Physical Attributes

Height:

121 lbs or 55 kg
Weight:

5′ 5″ or 1.65 m
Eye Colour:

Light Brown
Hair Color:

Light Brown
Other Body Measurements:

N/A
Relationships

Marital Status:

Divorced
Spouse/Partner:

John Endicott (m. 1998-2003)
Family and Relatives

Father:

Edgar Rosenberg
Mother:
Joan Rivers
Children:

Edgar Cooper Endicott (Son)
Siblings:
None
Other Relatives:

Beatrice Molinsky (maternal grandmother), Meyer C. Molinsky (maternal grandfather), Max Berthold L Rosenberg (paternal grandfather) and Frieda Rosenberg (maternal grandmother)

Net Worth
Estimated Net Worth:

$100 million
Salary:
N/A
Source of Wealth:

Inheritance, acting, television hosting, and book sales