One can be forgiven for hearing the name Melissa O'Neil and thinking it is the name of an Irish person. While such an assumption would not be entirely wrong because Melissa O'Neil is a Canadian citizen, it would also not be so far fetched seeing as she happens to have an Irish father. The actress made her big splash in the entertainment industry when she became the first woman to win the Canadian Idol in 2005.
Ever since the feat, O'Neil has been on a steady rise, albeit in the acting industry. She made her name starring in projects like Dark Matter and currently as Lucy Chen on the show, The Rookie. The multi-talented actress and singer joined the long line of Canadian talents who are making names for themselves in the American entertainment industry.
Melissa O'Neil's Early Life And What We Know Her For
Canada is one of America's closest allies and it is a relationship that extends beyond politics. Through entertainment, several men and women from Canada have established themselves as globally recognized names through the entertainment structure in America. One of those people is Melissa. Having won the Canadian Idol in 2005 and becoming the first woman to achieve the impressive feat, she has gone on to release an album, which included a chart-topping single.
Her life began on the 12th of July, 1988 in a birth that was the evidence of the multi-racial love between an Irish man, Tim O'Neil, and a Chinese woman, Alison Yeung. She was born in Calgary, Alberta, and was given the Chinese name, Oh Seemun by her maternal grandfather, Ming Pao. Seemun doesn't seem to have any siblings.
Melissa O'Neil grew up in a modest environment and got her education from Terry Fox Junior High School and Lester B. Pearson High School. While she was in school, she developed an interest in acting as well as sports, playing basketball and Rugby.
Growing up in Calgary, Melissa's experience of performance arts came from acting in a number of local theater productions in her community. However, it was in music that her first big break would come.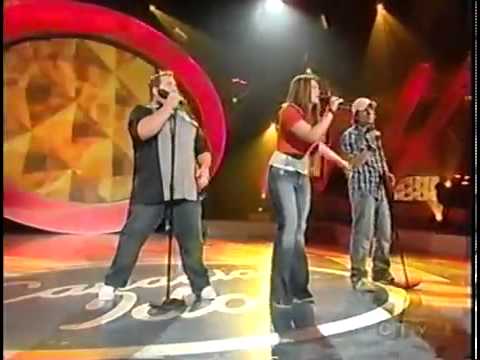 She started out working at a daycare center in 2005 before she decided to audition for a place in the third season of Canadian Idol and after impressing the judges with her vocals, she was selected in the top 100 contestants. While she would eventually go all the way to win the competition, it wasn't exactly a smooth ride for the talented singer. During the final day of the elimination round of the competition, she forgot the words to her song. It was a circumstance that had the potential of knocking her out of the competition but having fallen in love with her vocals, Melissa was spared by the judges and she made it to the last 32 of the competition.
Melissa eventually became one of the final 10 contestants who made it onto the show. With the competition now more intense, Melissa's talents and resolve were tested but through the difficulties, including finishing bottom 3 and bottom 2, she went all the way to win the competition, becoming the first female winner and the youngest contestant to win.
As is expected of winners of the singing competition, she signed a recording contract with a music label, Sony BMG Canada. Following the signing, she released her first single, Alive in October 2005 to a wonderful reception. The single debuted at the number one spot on the Canadian Billboard singles chart, holding the spot for four weeks. The single also went platinum four-times, a first of many other professional singing achievements for the singer.
Her professional singing career began in 2005 and since then, she has released an album, Melissa O'Neill, two music videos, and gone on tour. She has also been nominated for a Best New Artist at the Juno Awards.
Though she had a growing music career, Melissa's passion for acting never left her. She returned to the stage in Toronto, Ontario, appearing in the musical Dirty Dancing. She has since appeared in several other stage plays including notable ones like Camelot and Les Misérables. She made her first on-screen film debut in 2010, as Brandi in Broken Hearts and then in television as Two/Portia Lin in Dark Matter in 2015.
To date, the actress cum singer has a total of 11 onscreen credits to her name but the number is steadily climbing. She currently stars in The Rookie playing the main role of Officer Lucy Chen.
Thanks to her very successful career in the show biz, she has earned a net worth that has been estimated at over $2 million.
Who's The Man In Her Life?

https://www.instagram.com/p/BzV5mldhtXO/
There is detailed information about the career of Melissa O'Neill in music and acting but when it comes to her personal life, she has kept it a mystery. The only thing known with all certainty about this aspect of her life is that she is still not married.
She has not revealed if there is any man in her life at the moment, opening doors for speculations and wild guesses. However, we know she is quite close to her agent, Daniel Birnbaum, and she credits him for her success thus far in acting but there's nothing suggesting they are currently dating.
As for a romantic relationship, her posts suggest she was in a relationship with a mystery man between 2011 and 2013. While she has confirmed nothing through the posts, the intimacy on display in the pictures tells a story of their own.
She was once said to be in a relationship with a yoga instructor known as Matthew Rossoff. But then, no detail has been provided on how the two met, how long they dated, and what led to the end of the relationship.
See Also: Who is Chandra West? Here's Everything To Know About The Canadian Actress
Other Interesting Facts About Melissa O'Neil
Net worth – She's estimated to be worth about $8 million
Height and Weight – She stands at a height of 5 feet 4 inches (1.6m) and weighs about 53kg (116lbs)
Body measurement – Melissa's body measurements are given as 35-24-35 inches, being for her Bust, Waist, and Hips.