Donald Trump took power as the 45th president of the United States on Friday and his family displayed the glamour they are made of.
The stunning First Lady Melania wore different outfits by high-profile designers for the various events.
First was the powder blue suit she had on during the inauguration which was designed by Ralph Lauren and again Hervé Pierre which she wore to the ball.
Her first outfit for the swearing ceremony of her husband – baby blue Ralph Lauren outfit – drew comparisons to Jackie Kennedy.
Then the vanilla crepe off-shoulder gown with a red silk ribbon at the waist which she wore later was a brainchild of herself and Hervé Pierre, former creative director of Carolina Herrera," according to the first lady's office.
Yes! the First Lady helped co-styled the eye-catching outfit with Hervé Pierre, former creative director of Carolina Herrera, according to the first lady's office.
The vanilla off-shoulder ivory gown featured an organza sculptural ruffle detail that slinked down the front of her dress. The thin red silk ribbon at the waist added a pop of colour while drawing attention to Trump's shapely waist.
Beautiful Melania dazzled with her hair down as took to the stage at the Liberty Ball at the Washington Convention Center with her husband, President Donald Trump, on Friday night
No matter how Donald Trump might improve as President, it is evident that Melania Trump is already doing well in her new role. There has been a remarkable change in her wardrobe ever since her real estate tycoon husband started campaigning for the presidency, with modest gowns taking the place of risque ones.
While both Melania and Michelle have great fashion senses, their styles differ massively, as the outfits they each wore to their husband's inauguration show but their intentisons for their fashion choices seem alike.
The new First Lady of United States seems to be learning from the ex-FLOTUS Michelle Obama who was known for often making socio-political and cultural statements through her sartorial choices as she chose a lesser-known, non-American designer, Reem Acra.
In both 2009 and 2013, Obama wore Jason Wu, a Canadian designer, who is originally from Taiwan. The whole plan was to showcase an outfit from lesser known designer and make it sell.
Michelle also made a thrilling appearance at the Inaugural Ball after her husband was sworn in as the 44th US President. The then First Lady also chose a white one-shouldered chiffon gown from fashion designer Jason Wu.
On Friday,  Michelle Obama made a final ground-breaking fashion gesture to her fashion-loving fans, donning a printed red dress designed by Jason Wu
Similarly, the alluring new FLOTUS chose to wear a Reem Acra champagne-coloured glittery gown to a dinner at Washington's Union Station on the eve of Trump's inaugural concert probably with the intention of making the designer more popular.
What Did Ivanka Wear To The Ball?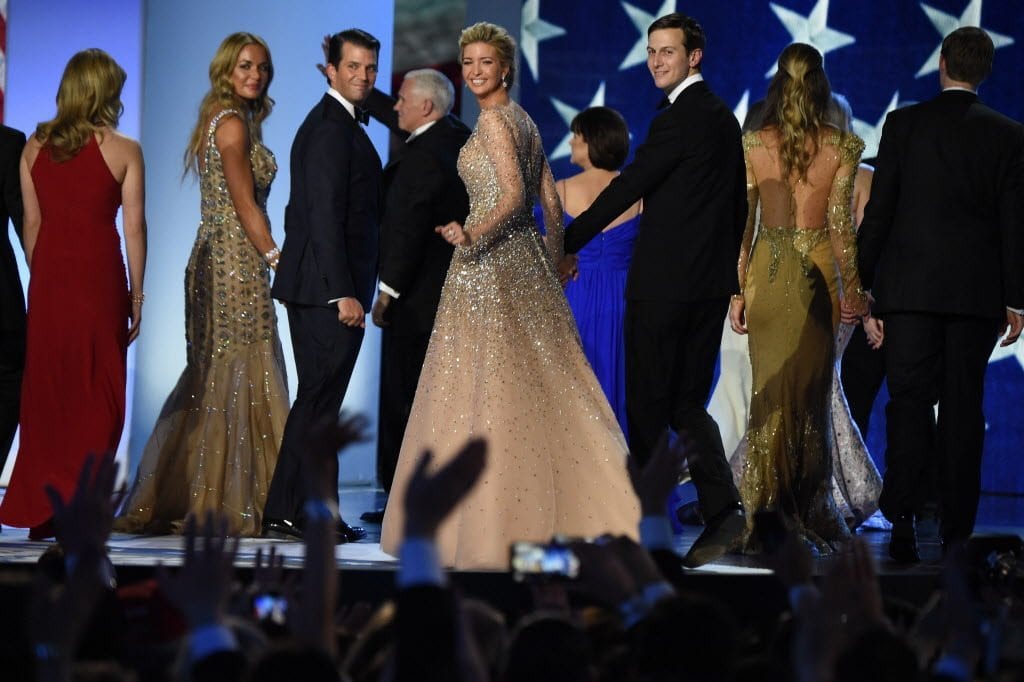 President Trump's oldest daughter, Ivanka Trump, wore a white Oscar de la Renta pantsuit earlier in the day and chose another classic American designer for the evening, wearing a gold Carolina Herrera ball gown with jewelled sleeves and bodice and a bell-shaped skirt.