Max Kellerman is a natural when it comes to doing his job, he is a television personality who is making waves in the sports sector. He has worked in various media houses and at the moment, he co-hosts ESPN'S talk show First Take together with Stephen A. Smith and Molly Qerim. Before now, he was the host of the network's panel talk show Around the Horn and a co-host of SportsNation. He also worked as a studio commentator on Friday Night Fights, as well as a colour commentator for the American television series HBO World Championship Boxing and the HBO boxing program Boxing After Dark. Aside from being a media personality, he is also a writer and an actor who has featured in many movies and TV series including Creed, God's Gift, and Playmakers.
Max Went From A Teenager on Community Access TV to ESPN
Max Kellerman had his first studio session at Manhattan Neighborhood Network studio, which was a smash as many people called in during the session. He actually had his breakthrough in sports broadcasting as a teenager when he was made the host of the boxing show, Max on Boxing at the public-access cable TV. He then went on to host the weekly show for nine years and during that time, he attracted the attention of the boxing world including Mike Tyson.
After his graduation from Columbia University where he studied History, Max Kellerman landed a gig as a sports analyst on ESPN's boxing series, Friday Nights Fights. His exploits on the show further enabled him to set up his own program titled, Around the Horn on ESPN in November 2002 as he became its pioneer host.
Even though he later had a fall out with ESPN in 2004, he is still recognized as the architect of the aforementioned show. Following his remarkable contributions in sports journalism, the renowned TV figure earned a nomination in the 2002 Sports Emmy Awards in the category of Outstanding Sports Personality.
Continued Success with MSNBC, SportsCenter, and HBO
Later in 2005, Max became a contributor on the MSNBC's Tucker and continued until the show was cancelled in March 2008. Subsequently, he became the host of the 10 AM to noon program on WEPN on October 23, 2006, taking the place of Colin Cowherd's program which was broadcast nationally on ESPN.
In addition to the show being extended to 1 PM, Brian Kenny of ESPNEWS and SportsCenter also became a co-host two months after, while the show was eventually added to XM Radio on ESPN Xtra on February 4, 2008.
However, Max Kellerman left the radio show later in 2008 to continue with his SportsCenter show which was renamed The Max Kellerman Show. On the 9th of March 2009, he ended his working relationship with ESPN on mutual grounds and joined the American premium cable and satellite television network, HBO (Home Box Office) where he continued his boxing broadcast work first on the program Boxing After Dark and later in 2007 on the HBO World Championship Boxing main team.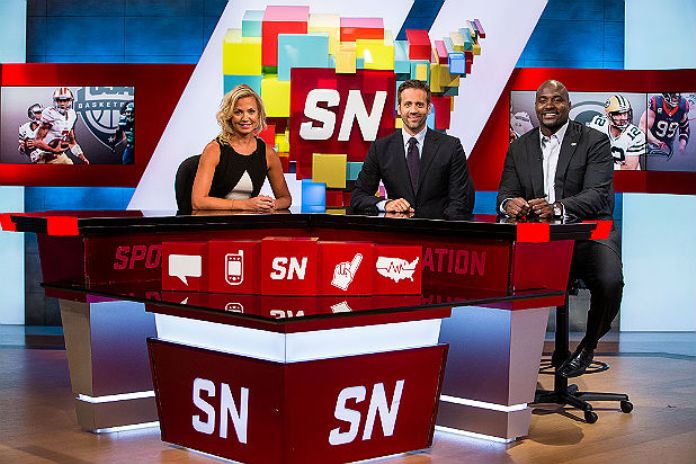 In May 2010, Max Kellerman joined CNN and in December 2010 he started working as the new midday co-host on ESPNLA 710, alongside Marcellus Wiley.
From July 25, 2016, Kellerman took over from Skip Bayless as co-analyst on ESPN's First Take. Following the exit of HBO from the boxing industry at the close of 2018, Max Kellerman penned a multi-year contract with ESPN. Nevertheless, as opposed to his colour-commentary role with HBO, he is in charge of ESPN network coverage from the broadcast desk instead of the ringside, serving as the co-host of First Take alongside Stephen A Smith and Molly Qerim.
What's His Salary & Net Worth?
Having worked at ESPN for many years, beginning from when he graduated from the university, Max Kellerman has been able to climb his way up the ranks, establishing himself as one of the network's popular anchors and highest earners.
A well-known sports network, ESPN has a reputation for paying its employees well. The renowned presenter was listed among the 10 Highest-paid Sportscaster Analyst Commentators in 2017 and according to reports, he earns an annual salary of $3 million from the network and has an estimated $8 million net worth.
Beyond his earnings from his thriving sports broadcasting career, Max Kellerman has also boosted his finances from mini endeavors. In 1994, he formed a hip-hop duo named 'Max and Sam' with his younger brother, Sam, and signed under Columbia Records. The duo went on to release a music video titled, 'Young Man Rumble'.
In like manner, the one-time rapper has equally dabbled in acting, he has featured in a handful of films and TV series. They include Creed (2005), Rocky Balboa (2006), The Wedding Bout (short film) Creed II (2018), Sharknado 3: Oh Hell No! (2015), and CollegeHumor Originals (2015). He also appeared as himself in the reality television parody, Real Husbands of Hollywood, Tucker, and The Dead Zone.
Max Is Doing Pretty Well On the Family Front
The media personality has been married to his college sweetheart, Erin Manning, since 1994. She is an attorney and also a football fanatic, who is an avid Yankees fan. The two met during their days at Hunter College High School and soon after, they began dating. Their marriage has lasted for more than two decades and has produced three children, all daughters named Esther Kellerman, Sam Kellerman (named after Max's late brother), and Mira Kellerman.
Their first daughter, Esther was born on November 6, 2008, which coincidentally, was the day Barack Obama became the first African-American president of the United States.
Meet the TV Personality's Parents and Siblings
Max Kellerman was born on August 6, 1973, in The Bronx, New York City to his parents, Henry and Linda Kellerman. His father is a psychologist, psychoanalyst, and an author who has occupied different faculty and clinical positions at several hospitals and universities for over five decades. He is also the former editor of the Columbia University Press series titled Personality, Psychopathology, and Psychotherapy: Theoretical and Clinical Perspectives. Max is the first of the four sons of his parents and the names of his siblings are Sam, Harry, and Jack Kellerman.
Max's Murdered Brother
His younger brother, Sam was born on November 24th, 1974, and was raised in Manhattan where he attended Stuyvesant High School. His quest to become an artist, however, came to an abrupt end on October 12, 2004, when he was murdered inside his Los Angeles apartment in the 1400 block of Vista Street.
After his body was found on October 17, 2004, the ensuing investigation pointed out former boxer James Butler as the person who perpetrated the dastardly act, leading to his arrest. James had ended Sam's life through repeated blows on his head with a hammer after which he set his apartment on fire. He later admitted that he committed the crime and was sentenced to 29 years imprisonment.
As a result of the sad incident, Max took some time off from the Fox Sports Net show, I, Max, to mourn the loss of his brother. According to him, Sam was a creative genius whose destiny was to write and be in front of the camera.