Nothing is more delightful than having a role model in your father just like Matteo Bocelli, the son of Andrea Bocelli who not only took after his father's physical structure but also inherited his uplifting vocals. He started gravitating towards his father's career path after falling in love with music while watching his father perform. Read more facts about him below.
Early Life and Career
The son of the famous Italian tenor, Andrea Bocelli and his ex-wife Enrica Cenzatti, Matteo was born in October 1997 in Forte Dei Marmi, Lucca, Tuscany, Italy. He has one elder brother named Amos and a younger half-sister Virginia born in 2012.
Growing up, Matteo wasn't all that interested in music but he eventually got charmed by the art and subsequently started a piano lesson at age 6. By his preteen, he started singing but only to his mom as he was shy to do that in front of his dad. One day, he summoned the courage to sing to his father who found him talented. From that moment, Matteo and Andrea Bocelli began to practice together at home. The duo also began to play piano together.
In 2017, he debuted his musical career as a tenor at an outdoor theatre in Tuscany named Teatro del Silenzio. Later that year, he took part in the David Foster and Friends competition in the United States.
His first taste of international fame as a singer came in 2018 when he teamed up with his father, Andrea, in his single Fall on Me from his album, SI (2018). The hit which mirrors the bond between parents and child was hugely acclaimed. Their inspiring ballad also appeared in the new Disney film The Nutcracker and Four Realms, starring Hollywood big wigs such as Morgan Freeman, Helen Mirren, Keira Knightly, among others. The hit also got the father and son to perform in a number of other shows such as Strictly Come Dancing and Dancing With The Stars. They equally performed at the Royal Variety Performance in 2018 for the Duke and Duchess of Sussex.
Currently, Matteo is training in vocal at the Conservatory of Lucca, Italy to further perfect his skills. Matteo could also be passionate about modelling. Back in 2017, he did a photoshoot for Guess, alongside Jennifer Lopez.
Is Matteo Bocelli Married? Who Is His Wife?
Matteo is still an upcoming artist and has barely been captured on any red carpet photo, so, there is really nothing known about his private life. While it could easily be guessed that he is single, going by the fact that he hasn't been linked to any woman, this conclusion is still not certain. The only female he seems to be close to is model Bella Hadid who is alleged to be a longtime family friend.
Meet Matteo's Father, Andrea Bocelli
Andrea, a super talented opera singer was born in 1958 with a birth defect that affected his eye. At age 12, his eye condition deteriorated following a soccer accident. He went completely blind after that and was diagnosed with congenital glaucoma. Despite this, he followed his passion which was singing. He began quite humbly, performing in bars until he got noticed by some big names in the music scene in the '80s, including Luciano Pavarotti, one of the greatest opera singers of all time. He has since cultivated a reputation as one of the most respected opera singers, selling over 80 million records worldwide. His music credits include 15 solo studio albums in the classical and pop genres, three greatest hits album and nine complete operas. He has performed for presidents, the pope and at special events such as the Olympics and the World Cup.
Height And Other Facts About Andrea Bocelli's Son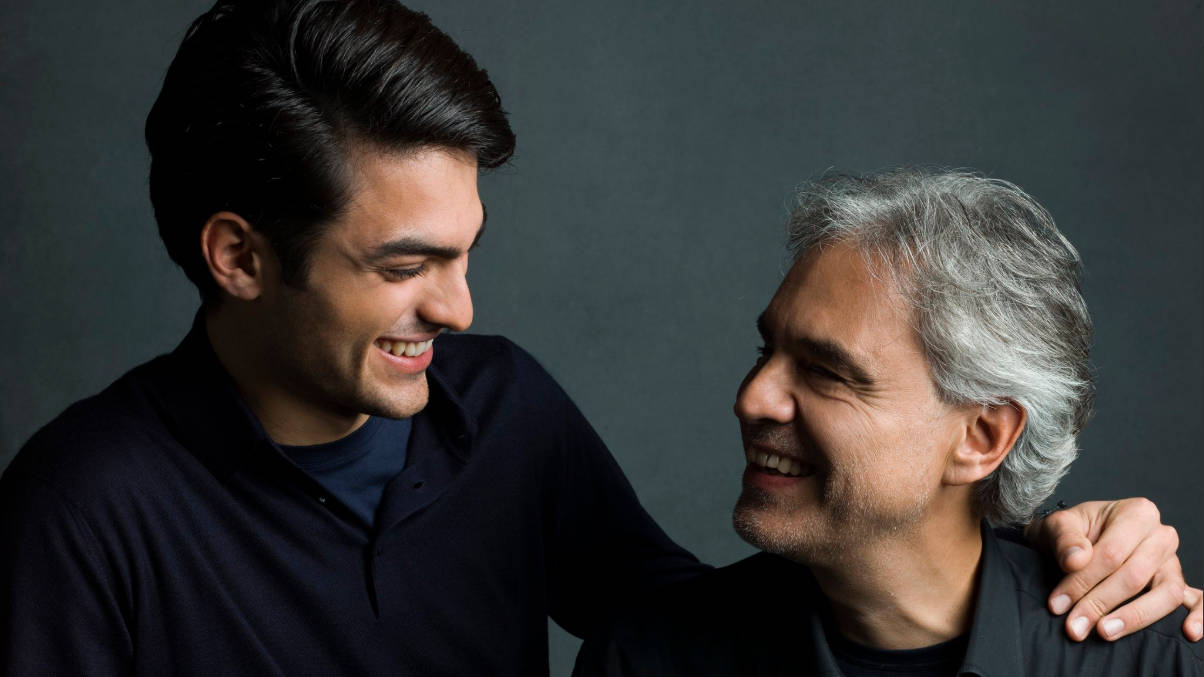 1. He hopes to be the next big tenor
Matteo hopes to be as successful as his father. The young star has a great interest in two music genres that have made his father the veteran he is today – opera and pop.
2. His father's influence on his music career
Taking part in his father's album Si was a massive opportunity to showcase Matteo's talent, given that the album is Andrea Bocelli's first album of original songs in 14 years. Even though the album featured several other duets with artists such as Ed Sheeran, Russian soprano Aida Garifullina, and Dua Lipa, fans were particularly impressed with the father-son duo, probably for the message of family bond it conveyed.
3. He was born into a family of musicians
Matteo and his father Andrea aren't the only musicians in their family. Amos, Matteo's older brother also plays piano and has accompanied his father numerous times. He was also featured on the album Si.
4. His parents' divorce and current relationship
Though his parents divorced 10 years after their marriage, with his father gaining another family for himself, the couple didn't get to fight over custody of the children. Their friendly arrangement allowed Matteo and his brother to live with their mother and visit Andrea on regular occasions. After the divorce, Andrea got married to Virginia Berti who is also his manager and they have a daughter together named Virginia Bocelli. On the other hand, Matteo's mother remained single.
5. Details of His Height
Matteo is quite tall. His height is not certain but he is apparently over 6 feet tall.

Fact Check: We strive for accuracy and fairness. If you see something that needs updating,