Matteo Bocelli is an Italian musician who has become even more famous as a result of him being the son of the legendary Andrea Bocelli. A closer look at Matteo would reveal that not only has the young man managed to inherit the uplifting vocals of his father but his overall talent and physique. Matteo began gravitating towards the older Bocelli's career path after falling in love with music while watching him perform. It would have been hard for him not to appreciate Andrea's voice which has been described by Celine Dion as being that of God if he had a voice.
How Matteo Bocelli Started Out
Matteo Bocelli is the son of the famous Italian tenor, Andrea Bocelli, and his ex-wife Enrica Cenzatti. The young man was born in October 1997 in Forte Dei Marmi, Italy, and was brought up alongside an older brother named Amos. He also has a younger half-sister named Virginia who was born in 2012.
Growing up, Matteo wasn't all that interested in music but he eventually got charmed by the art and subsequently started receiving piano lessons at age 6. In his pre-teen years, he started singing, however, only to his mom as he was shy to do so in front of his famous dad. One day, Matteo summoned the courage to sing to his father who pointed out to his young son that he was quite talented. From that moment, father and son began to practice together at home.
In 2017, Matteo Bocelli debuted his musical career as a tenor at an outdoor theatre in Tuscany named Teatro del Silenzio. Later that year, he took part in the David Foster and Friends competition in the United States. His first taste of international fame as a singer came in 2018 when he teamed up with his father on the song Fall on Me from the album SI in 2018. The song, which mirrors the bond between parent and child, was well received by the public. Their inspiring ballad also appeared in the new Disney film, The Nutcracker and Four Realms, starring Hollywood big wigs such as Morgan Freeman, Helen Mirren, and Keira Knightly among others. The hit also got the father and son to perform in a number of other shows such as Strictly Come Dancing and Dancing With The Stars. They equally performed at the Royal Variety Performance in 2018 for the Duke and Duchess of Sussex.
With his career now internationally launched thanks to his performance with his father, Matteo Bocelli started vocal training at the Conservatory of Lucca, Italy to further perfect his skills.
Before beginning to pay attention to music, Matteo had been quite passionate about modeling. Back in 2017, he made headlines after appearing alongside Jennifer Lopez in a photoshoot for Guess. That flame appears to have since died as he hopes to achieve half of what his father managed in his career.
View this post on Instagram
Andrea Bocelli is the Biggest-Selling Classical Music Singer
With over 80 million albums sold worldwide, Andrea Bocelli is the biggest-selling singer in the history of Classical music. His journey to the top of classic music is an inspiring one as he might not have been here today if his parents followed a doctor's advice to abort him.
Andrea was born in 1958 with a birth defect that affected his eye. He was diagnosed with congenital glaucoma. Prior to his birth, doctors advised his parents to abort him fearing that he would be born with a defect but they insisted on having him anyway. At age 12, Andrea's eye condition deteriorated following a soccer accident as he went completely blind after that.
In spite of this, Matteo Bocelli's father followed his passion to sing. He began quite humbly, performing in bars until he got noticed by some big names in the music scene in the '80s, one of whom was Luciano Pavarotti, one of the greatest opera singers of all time.
With help from Pavarotti and many others that appreciated his talent, Andrea has been able to cultivate a reputation as one of the most respected opera singers in the world. He has so far released 15 solo studio albums in the classical and pop genres, three greatest hits album, and nine complete operas. He has further performed for the pope, presidents of different countries in the world, and at special events such as the Olympics and the World Cup.
How Andrea Has Influenced Matteo's Music Career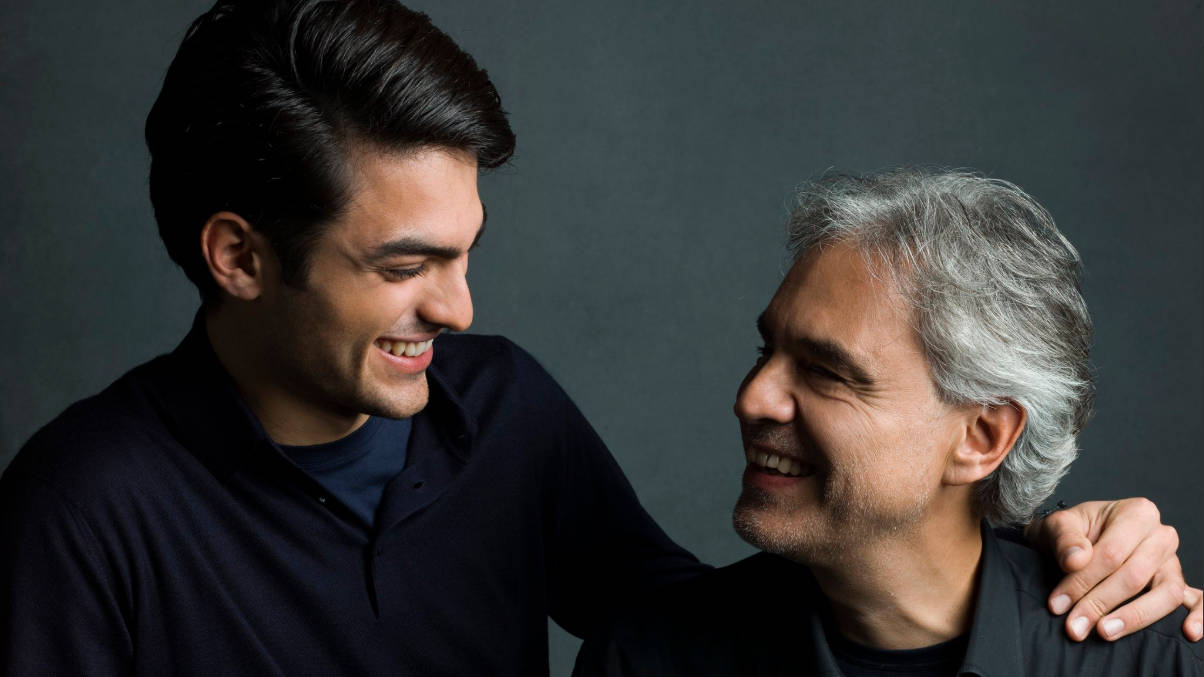 Matteo Bocelli taking part in his father's album Si was a massive opportunity for him to showcase his talent, given that the album is Andrea's first album of original songs in 14 years. Fans were particularly impressed with the song by the father and son duo, probably for the message of family bond it conveyed even though Si featured several other duets with artists such as Ed Sheeran, Russian soprano Aida Garifullina, and Dua Lipa.
Andrea's fear after paving the way for his son to be recognized internationally with their duet is that he doesn't get caught in the web of fame. The celebrated singer said he would never forgive himself for the debut song if his son joins many others in falling into the trap.
See Also: Here's What We Know About Gianni Giannulli (Mossimo Giannulli's Son) and His Family
Are There Any Women in Matteo Bocelli's Life?
Matteo Bocelli is still an upcoming artist and has barely been captured on any red carpet photo, so, there is really nothing known about his private life. While it could easily be guessed that he is single going by the fact that he hasn't been linked to any woman, this conclusion is still not certain.
One female he seems to be close to is model Bella Hadid, who has dated stars like Matthew Morton, The Weeknd, and Drake. Bella is alleged to be a longtime family friend and so nothing is going on between the pair. The only other woman in his life is his mother Enrica Cenzatti.