Just like Hollywood, the American news industry has been plagued by a cascade of reports relating to sexual harassment. While the media has focused on the misdeeds of prominent men in the media industry, the likes of Harvey Weinstein, who is rich and powerful has equally been flipped under the disgraceful menace. After Weinstein, there are many other well-known media personalities who have also been mixed up in sexual assault allegations and Matt Lauer has joined the bandwagon.
Matt Lauer is a former American TV host, famously known for being one of the anchors of the NBC's Today Show. Since the inception of his career in 1979, Lauer has worked for WNBC and HBO, before joining NBC Network in 1992. While his career soared through his appearance on the Today Show, the TV host also served as a contributor for other shows such as Dateline NBC, among many others.
Following a series of sexual assault allegations from his colleagues, Matt Lauer's contract with NBC was disgracefully terminated by the network in 2017. In the wake of the foregoing, the media personality also faced another strike from his wife, Annette Roque who filed for a divorce, thus ending their marriage of 20 years. Although the divorce was finalized in 2018, the couple had a series of court battles over divorce settlements. Here, we have gathered all you need to know about Matt Lauer, his net worth and how much he paid in divorce settlements.
Who is Matt Lauer?
Born Matthew Todd Lauer to Marilyn Lauer and Jay Robert Lauer, the former TV host first came into this world on the 30th day of December 1957. He is a native of New York City, New York in the United States. His father worked as a bicycle company executive while his mother is a boutique owner. Matt possesses an American nationality while he is of mixed ethnicity of Romanian Jewish and white.
Growing up, he completed his basic education in New York City and after graduation, he enrolled at Ohio University where he dropped out in 1979 in order to focus on his television career. He would later acquire his bachelor's degree from the same university in 1997. Lauer had flair for being a TV host and while he was in college he got an offer to work as a TV producer which led to him ditching school so he could follow his dreams.
What is Matt Lauer's Net Worth?
Throughout his career, Matt Lauer made giant strides as one of the most reputable TV hosts in the United States. Over the course of his career at NBC, Matt made over $100 million as the host of the Today Show. NBC reportedly paid him an annual salary of $25 million which has helped him to amass a whopping net worth estimated at $60 million.
Career Achievements
At the inception of his career in 1979, Matt Lauer worked as the producer of the noon newscast for the Huntington, West Virginia-based station, WOWK-TV. The following year, he was elevated to the post of an on-air reporter for the network's 6 and 11 pm news.
Later on, Matt decided to spread his tentacles, hence becoming a show host. Notably, he served as a co-host for PM Magazine in several cities. From there, he moved on WWOR-TV in 1989 where he hosted 9 broadcast plaza, a three-hour live interview program. By 1990, he started hosting Trial Watch on NBC network and Etc, Etc on Travel Channel, among many others.
Joining the NBC network in 1992, Matt Lauer worked as a co-host of the weekend news show Today in New York on WNBC, the network's New York-based affiliate. From there, he moved to Live at Five New show where he served as co-anchor until 1996. In 1994, he became one of the hosts of NBC's Today Show, which later became the turning point of his career.
His career at NBC spanned over two decades and Lauer interviewed prominent personalities including Prince William, Prince Harry, Vladimir Putin, Charlie Sheen, Hillary Clinton, and Donald Trump, among others. However, following a series of sexual assault allegations against Matt Lauer in 2017, his contract with the NBC network was terminated.
How Much Did He Pay In Divorce Settlement?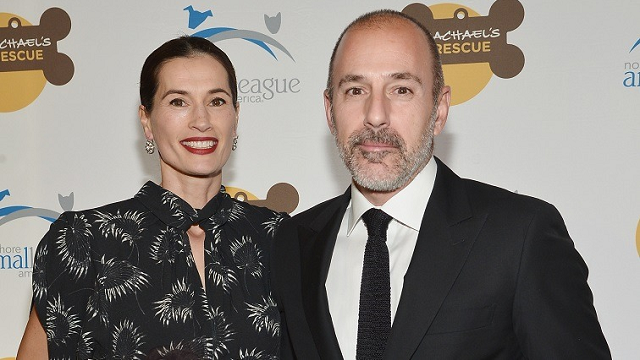 Matt Lauer has been married twice in his lifetime. His first marriage was with a woman named Nancy Alspaugh. The couple got hitched in 1982 and was together for seven years before going their separate ways in 1989. Soon after their divorce, Lauer went on and married Annette Roque, a Dutch model.
The duo was said to have met via a blind date in July 1997. In 1998, the couple exchanged marital vows and their wedding took place in Bridgehampton, New York. They have three children namely Jack (b. 2001), Romy (b. 2003), and Thijs Lauer (b. 2006).
Just like his first marriage, Lauer's second marriage came crumbling in 2017 following the news of his sexual assault allegations. As a result of this, Annette filed for a divorce, citing irreconcilable differences as the reason for their divorce. Their divorce process was finalized sometime in 2018 and the couple was granted equal custody of their three children.
Check Out: Alexandra Steele – Bio, Measurements, Where is the Meteorologist Now?
More so, Matt Lauer was said to have paid Annette a lump sum of $25 million in settlements. In addition to that, she also got their Hamptons estate. Meanwhile, the couple has other properties which include mansions in Connecticut, a horse farm, a home in New York Sag Harbor, and a lakeside ranch in New Zealand.