Age/Date of Birth:

October 8, 1970
Height:

5 feet, 10 inches (1.78 m)
Ethnicity/Race:

Mix of English, Swedish, Finnish, and Scottish
Nationality:
American
Wife or Girlfriend:
Luciana Bozán Barroso (m. 2005)
Parents:
Father: Kent Damon
Mother: Nancy Carlsson-Paige
Net Worth:
$160 million
Matt Damon is an American actor, screenwriter and film producer. He has worked his way up the ranks of Hollywood's best with numerous awards to his name from Oscars to Golden Globes and BAFTAs. Being a box office darling, his movies have grossed over $3 billion and $6 billion respectively at the domestic and global box office. Thus, it is only normal that Damon is one of the highest-paid acts in the business.
As of 2021, the American actor, producer, and screenwriter, Matt Damon has a net worth of $160 million
How It All Began For Matt Damon
Matthew Paige Damon was born on October 8, 1970, in Cambridge, Massachusetts. Unlike some Hollywood actors who came from nothing, Damon was born into affluence, his father was into the real estate business and finance while his mother was a professor. His parents divorced when he was just two years old and Matt and his older brother were raised by their mom for the rest of their childhood.
When Matt was 10 years old, he met a certain Ben Affleck who lived in the same neighbourhood as him. Both became best buddies and attended Cambridge Rindge and Latin School where they both developed a passion for theatre and performed in many high school productions.
Following high school graduation, Damon enrolled at the prestigious Harvard University where he studied English and continued to participate in school theatre productions. In his freshman year (1988) when he was just 18 years old, Damon landed his first movie role in "Mystic Pizza" and later, in "The Good Mother". He continued to land small roles and in 1992, dropped out of Harvard 12 credits shy of graduation to focus on his movie career.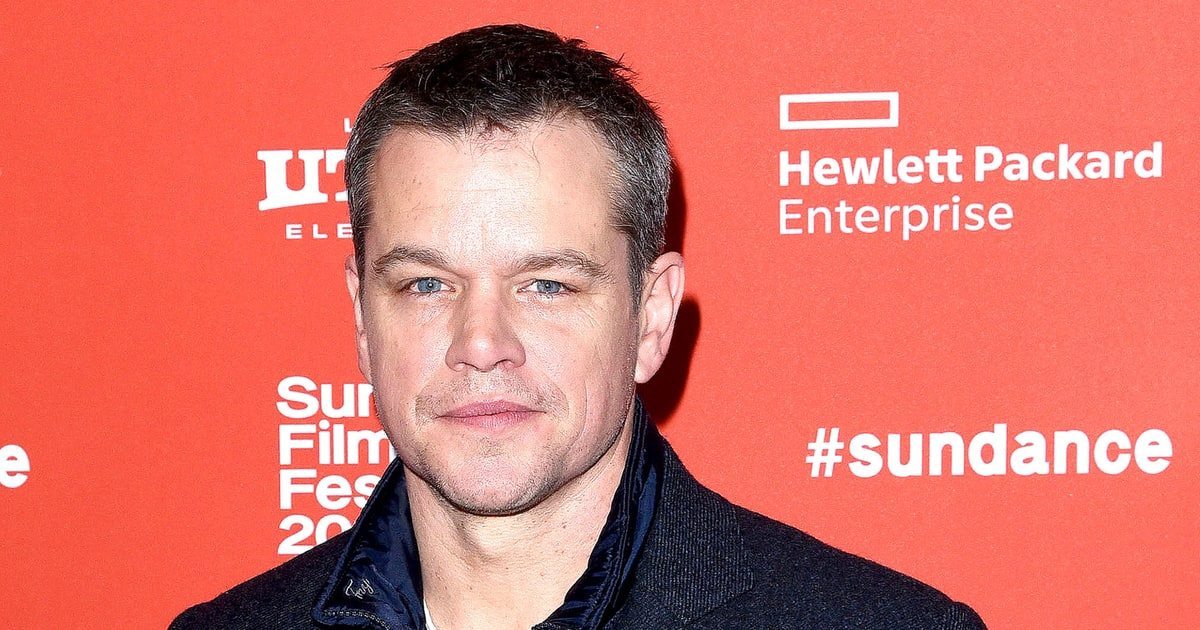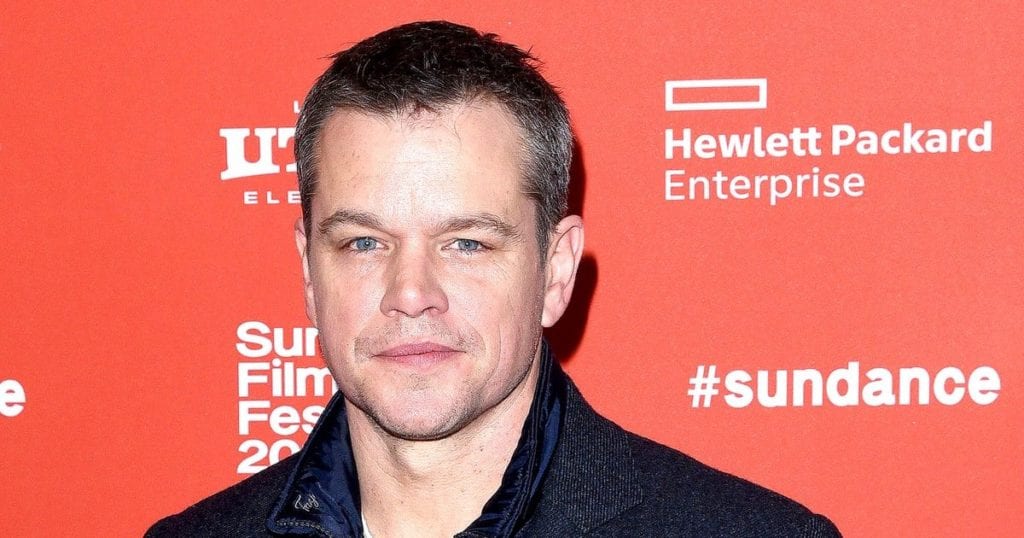 After 3 years of hard work, Damon finally grabbed the attention of Hollywood critics with his impressive performance in 1996's war film, "Courage Under Fire" which starred Denzel Washington. For his role, Damon had to drop 48 kg worth of weight within 100 days.
Analysis of Matt Damon's Net Worth and Career Earnings
Matt Damon's net worth is estimated at about $160 million. Read on to see how he came to acquire such an impressive amount of wealth.
Damon landed his big break in 1997; thanks to a screenplay he wrote together with Affleck while he was at Harvard. The piece originally meant for an exercise in his English class was adapted into a movie titled "Good Will Hunting" which propelled the duo to instant fame and success.
They sold the script in 1994 to Castle Rock Entertainment for $600,000. While the movie grossed over $225 million against a $10 million budget, it handed the duo their first Oscar Award for Original Screenplay. Meanwhile, the legendary Robin Williams who also starred in the movie got his first Oscar for Best Supporting Actor.
That was only the beginning of more success to come for Damon. He followed up with a critically acclaimed performance in "The Rainmaker" (1997) and "Saving Private Ryan" (1998). The later of which was an instant box office hit.
His success continued through to the new millennium when he began earning 7 figures per role. Also, he began attracting worldwide recognition thanks to films such as the star-studded "Ocean's Eleven" (2001)  and "The Bourne Identity" (2002). Damon continues to earn big starring in subsequent sequels of both movies. "Jason Bourne", the 5th instalment of the Jason Bourne film series grossed $415.5 million against a $120 million budget.
A Look At Some of Damon's Highest Paying Gigs in The 2000s
The Legend of Bagger Vance (2000) – $7 million
Ocean's Eleven (2001) – $5.5 million
The Bourne Identity (2002) – $10 million
The Brothers Grimm (2005) – $15 million
The Bourne Ultimatum (2007) – $20 million
In recent times, Damon has earned 8 figures for movies such as "Elysium" (2013), "Interstellar" (2014), and "The Martian" (2015). The later was a massive commercial and critical hit, grossing $630 million at the box office and contributing hugely to the $55 million Damon earned between June 2015 to June 2016 which made him the third highest-paid actor in the world behind Jackie Chan and Dwayne Johnson. The movie was rated by the American Film Institute among the Top 10 Best Movies of 2015. For his role, Damon earned a Golden Globe Award for Best Actor.
See Also: Top 20 World's Highest-Paid Actors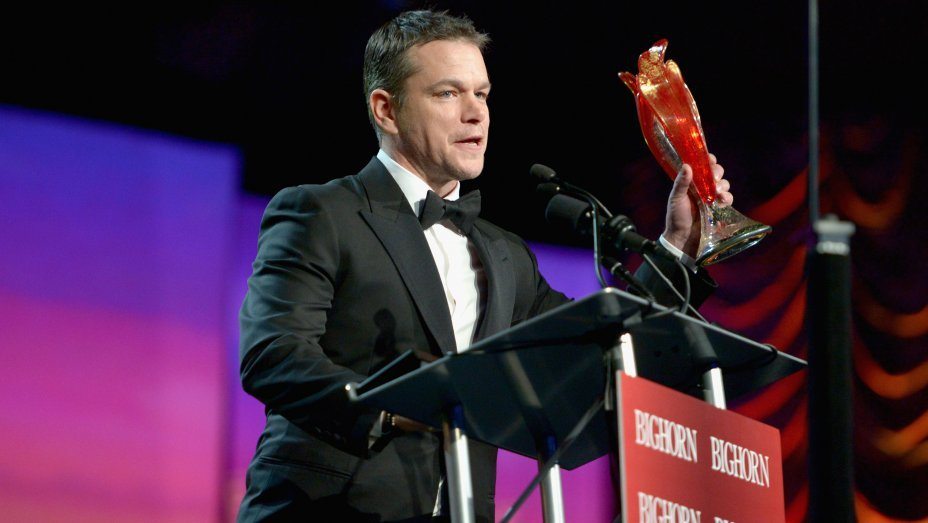 In addition to acting, Matt also earns big as a screenwriter and producer. He owns a production company called Live Planet alongside his buddy Ben Affleck and two other film producers. In 2012, he earned $9 million from behind-the-camera endeavours. His 2016 movie "Manchester By The Sea" which he produced grossed $34.9 million from $8.5 million production cost and was nominated for a handful of Golden Globe Awards.
Matt is one of the most charitable men in Hollywood. He donated all of his paychecks from his advertising gig for TD Ameritrade to charity. Meanwhile, he has endorsed other brands like Verizon and Nespresso.
Favorite Quotes from Matt Damon
"Bond is part of the system. He's an imperialist and a misogynist, and he laughs at killing people, and he sits there slugging martinis. It'll never be the same thing as this because Bourne is a guy who is against the establishment, who is paranoid and on the run. I just think fundamentally they're just very different things." 
Matt Damon
"I think what's important for kids to know is that your decisions here on earth matter, your behaviour matters and how you treat other people matters."
Matt Damon
"I've gotten much better at multi-tasking. It's hard, though. But, writing a script is not totally focused. You're taking little breaks, all the time. If a kid runs in, you give 'em a horsey ride. It's a pretty fluid process."
Matt Damon
"There are people who appear in the magazines and I don't know who they are. I've never seen anything they've done and their careers are over already. They're famous for maybe 10 minutes. Real careers, I think, take a long time to unfold."
Matt Damon
"If you work at something, you get better at it."
Matt Damon
Meet Matt Damon's Wife, and Kids
His Wife, Luciana Barroso is Former Air-hostess/Bar-tender
Full Name: Luciana Bozan Barroso
Date of Birth: 31st of July 1976
Occupation: former air hostess and bartender
Spouse: Matt Damon (married since 2005)
No of Children: Four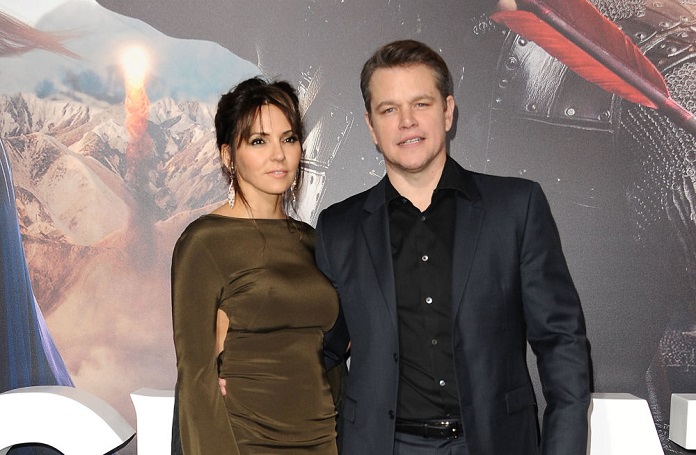 Matt Damon shares the sweetest love story with his wife, Luciana, but before we delve into that, let us get to know more about the lady herself. Luciana Bozan Barroso originally hails from Salta, Argentina, and was born in the year 1976. Her father was an insurance agent while her mother was a housekeeper. Luciana grew up to love both arts and literature and studied same at a local college. Upon graduating, she went to work as an air hostess and also got married. The marriage produced one daughter, named Alexia, but later crashed. Luciana subsequently relocated to the United States and found work as a bartender. It was in the course of her bar-tending work that she ran into her future husband.
The Couple met at a Miami Bar in 2002 and have been Together Ever Since Then
Matt Damon was in the city of Miami to film a movie when he and his pals ended up at the bar where Luciana worked. This was in 2002 and it was love at first sight for the actor. He did not hesitate to make his intentions known and fortunately for him, Luciana reciprocated his feelings. The two kick-started a relationship without further ado and have been together ever since then. They formally tied the knot on the 9th of December 2005 and have gone on to welcome three kids. Matt has also adopted Luciana's daughter, Alexia, as his own.
The couple's marriage has stood the test of time and this is due to the fact that they shield their private lives from the public. Another reason is their two-week-rule which means that they don't spend more than two weeks apart. As with all things human, there have been rumors over the years that Matt Damon and his wife have had rough patches and may be headed for the rocks. Thankfully, they have weathered these storms and held a vow-renewal ceremony in April 2013. The ceremony , which was held in the Caribbean island of St Lucia, was even more lavish than their original wedding and featured personalities such as Chelsea Clinton, Chris Hemsworth, Ben Affleck and Jimmy Fallon.
Matt Damon and Luciana are the Proud Parents of Four Daughters
Alexia Barroso
Date of birth – 1999
A very important member of the Damon family is Luciana's daughter from her first marriage, Alexia. Her mother made it known that she was her main priority and as such, her famous step-father grew to love her so much so that he formally adopted her down the line. He has also revealed that she is as important to him, if not more important, as any of his biological children. Such outpouring of love has enabled the young lady to soar and she attends a private college in New York. She is also said to be a soccer enthusiast. Alexia has also scored small parts in some of her adoptive father's movies including his 2011 film, We Bought a Zoo.
Isabella Damon
Date of birth – 11th of June 2006
Matt Damon's second daughter, and the first child that he and Luciana had together, is Isabella. She is now in her early teens and asides some random spottings with her dad, not much is known about the young lady. We however do know that her dad strives to give her and her siblings a good upbringing so that even if they make mistakes, they will make amends for it and try to behave differently in future.
Gia Zavala Damon
Date of birth – 20th of August 2008
Another important part of the Damon family is third daughter, Gia. Gia is currently enrolled in school and often keeps out of the spotlight. Her superstar father however does not fail to show her how important she is to him. For instance, on the occasion of her 11th birthday in 2020, he made a timeout from his busy schedule to take her and her friends to Disneyland in California. It was a wonderful celebration as the youngsters got to enjoy the incredible rides provided in the facility.
Stella Damon
Date of birth – 20th of October 2010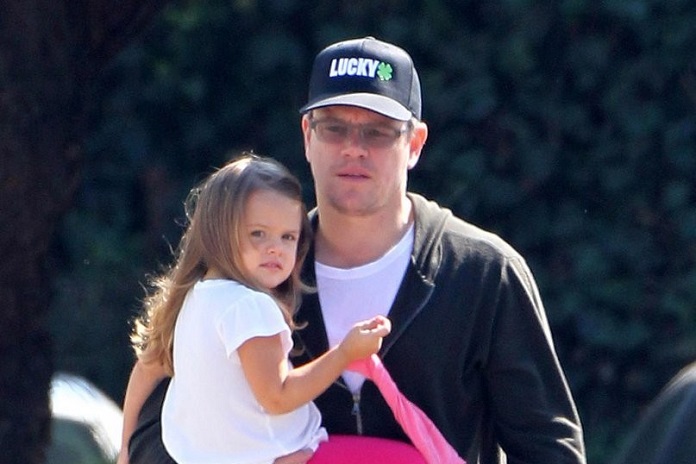 The last but definitely not the least in the Damon household is the youngest child, Stella. Stella was born in 2010 and a decade later, she still draws the heartstrings of her dad. In proof of this, the superstar actor got tattoos to not just honour her but also her siblings as well in 2019. The delicately-scripted tattoos on his arm reflect the name of all four kids meaning that they will never be too far from the actor no matter where his work commitments may take him to.
The Famous Feud With Jimmy Kimmel
Do you know about the fracas between Matt Damon and Jimmy Kimmel? It's been covered extensively by popular media.
It started in the third season of "Jimmy Kimmel Live!", Kimmel's comedy show which hosts comedians, athletes, famous actors, musicians and other celebrities. Kimmel ended one of the shows apologizing to Matt Damon for bumping him. One of his producers found it hilarious and Jimmy got addicted and started doing the apology thing to Matt Damon every night.
Because the joke kept getting laughs and people found it very funny, he kept it going night after night. After a year of that, Matt Damon decided to respond. He got his chance when he was invited to 2006 "Live!" episode.
Following that, both men have tried as much as they could to embarrass each other, including that time when Kimmel was hosting the Emmys and Matt Damon made a surprise appearance on stage to taunt Kimmel about his loss of the award for Outstanding Variety Talk Series category to John Oliver of Last Week Tonight Talk Show.
Of course, they continued their beef, and it has lasted over 13 years now. Even though there are rumours that the entire thing is fake and that they planned it together to gain popularity, no one really knows for real if the feud is real or fake. What we do know though, is that it has been funny and interesting – for the most parts.
Profile Summary
First Name:
Matthew
Last Name:
Damon
Also Known As:

'Red Alert
Sex/Gender:

Male
Profession:

Actor, film producer, screenwriter, enviormentalist
Famous For:
'Jason Bourne' films
Colleges/Universities Attended:

Harvard University
Educational Qualifications:

N/A
Religion:

Christianity
Birthday & Zodiac

Age/Date of Birth:

October 8, 1970
Zodiac Sign:
Libra
Birth Place:

Cambridge, Massachusetts, U.S.
Nationality:
American
Ethnicity/Race:

Mix of English, Swedish, Finnish, and Scottish
Country of Residence:

United States of America (USA)
Physical Attributes

Height:

5feet, 10inches(1.78 m)
Weight:

84kg(185 lbs)
Eye Colour:

Blue
Hair Color:

Light brown
Other Body Measurements:

Chest: 43 Inches
Waist: 32 Inches
Biceps: 15 Inches
Relationships

Marital Status:

Married
Spouse/Partner:

Luciana Bozán Barroso (m. 2005)
Family and Relatives

Father:

Kent Damon
Mother:
Nancy Carlsson-Paige
Children:

Isabella Damon(2006)
Gia Zavala Damon(2008)
Stella Damon(2010)
Siblings:
Kyle Damon(Broter)
Sarah Bradford(Sister)
Other Relatives:

Roberta Fay(Grandmother)
Albert Howe Damon(Grandfather)

Net Worth
Estimated Net Worth:

$160 million
Salary:
$25 million
Source of Wealth:

TV roles(Bourne Trilogy)