Mary Bruce's work as a journalist, one of the pillars that uphold the society, has brought her huge fame and popularity. The ABC News Senior Congressional Correspondent has been with the news network since 2006, working her way up to become one of the most recognized faces on the ABC roster. Bruce's career has been an inspiration to many, particularly women who desire to one day stand in front of a camera and accurately report to millions of viewers around the world.
Mary Bruce's Journey to Becoming a Senior Congressional Correspondent
Mary Bruce is one name that has been synonymous with the ABC News Network for a while. Thanks to her outstanding communication skills and work ethic, the journalist has diligently climbed her way up the ladder; from working as a Desk Assistant in October 2006 to becoming a Senior Congressional Correspondent in September 2017. She has spent over a decade with the news network, working in other positions that include General Assignment Producer and Multi-Platform Reporter.
To qualify for a job as a journalist, Mary attended Washington University at St. Louis where she graduated with a Bachelor's Degree in History and Spanish. She then went on to work as a reporter with FDC Reports, covering stories on health care legislation and the pharmaceutical industry. She held that job from September 2005 to October 2006 when she became a member of the staff of ABC News.
Although the comely journalist was eager to take up roles in broadcast journalism, she had to be content with beginning her career at the ABC News DC bureau as a desk assistant, where her duties included answering phones and running scripts. In the following year, Mary Bruce was promoted to the position of Researcher/Segment Producer for the show, This Week with George Stephanopoulos. Her role here included aiding the production of interviews of the 2008 US presidential candidates and the ABC presidential debate.
From May 2010 to May 2011, Bruce worked as a General Assignment Producer. She also concurrently served as White House producer, with this role lasting until May 2015. In the role, she worked on stories from the White House that included the re-election campaign of former United States President Barrack Obama. She also worked on stories that concerned the day-to-day agenda of his administration.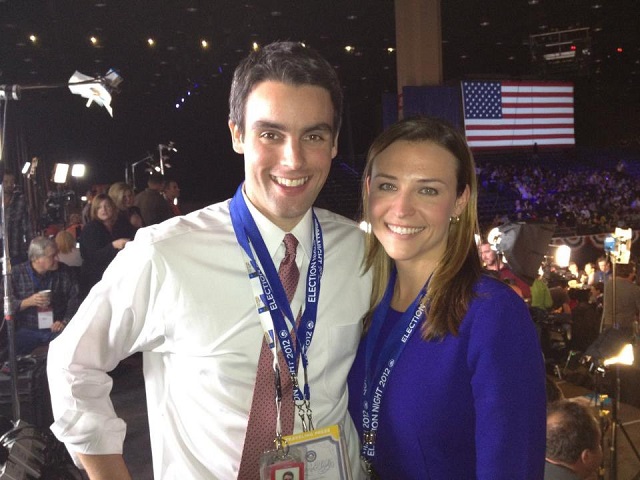 Having shown strong determination in her chosen career, Mary Bruce was made a Multi-Platform Reporter by the network in the year 2015. Some of the notable stories she covered at that time include Pope Francis' surprise visit to Washington DC, the outbreak of wildfires in California, and the refugee crisis that was happening across Europe. With this role, Bruce got the chance to travel to many countries in the world, reporting for the network from abroad.
In September 2015, the adept journalist assumed a new role of Congressional Correspondent in Washington DC. Here, she was able to contribute immensely to the ABC News Network coverage of the campaigns of the 2016 presidential candidates and the subsequent presidential election.
Working as a Capitol Hill reporter, Mary Bruce further covered trending political stories such as The Muller Investigation and the confirmation of Justice Gorsuch. She also conducted interviews with different lawmakers while waiting in the hallways of the Capitol.
By 2017, ABC executives had evidently been impressed with Mary's work as they promoted her to Senior Congressional Correspondent. In this role, she has been featured on many ABC News programs such as 20/20, World News Tonight, Good Morning America, and Nightline. More so, She has gained global recognition for her work on the news network's live digital program titled The Briefing Room. Therein, she provides a play-by-play analysis of top political stories from the White House.
As Congress deals with the latest economic fallout from COVID-19 there are reports that at least two Senators sold off stocks after official briefing. @marykbruce has the story.

MORE HERE: https://t.co/N0cnB1P1Ka pic.twitter.com/UqJItJuT7q

— Good Morning America (@GMA) March 20, 2020
How Much Does She Get Paid By ABC?
Reporters in the United States are among the better paid people in the journlaism profession around the world. With Mary Bruce having risen the ranks to become a Senior Congressional Correspondent of one of the highly rated news networks in the country, it does not come as a surprise to find out that the Washington University in St. Louis graduate is handsomely paid and has been able to enjoy the best things in life.
While we may not know how much she exactly earns, our research has shown us that the industry pays someone who has attained the status of a correspondent an annual salary that lies between $93,000 and $117,000.
See Also: Yasmin Vossoughian – Bio, Husband, Age, Height, Facts About The News Journalist
What We Know About Mary Bruce's Husband
Mary Bruce does not only have a thriving professional career but also a personal one. The journalist is enjoying a very happy marital life that she has built with her husband, Duane Moore, an Alaskan native who has nurtured a career in investment banking.
It is believed that Mary met her husband in 2010. After hitting it off with one another, the pair began seeing each other before later deciding to take things to the next level by getting engaged. They later took the big walk to the altar in September 2013 when they got married in front of their family and friends.
A few years after the wedding, the couple welcomed their first child; a boy christened Elvis born on the 24th of June 2018. The happily married couple celebrated their six years anniversary on September 7th, 2019. Mary Bruce, who often shares her personal life with her fans, took to her Instagram handle to express her joy, as their love gets stronger with each passing year.
Over the past few years, Mary and her husband who currently reside in Washington DC have been spotted on a series of date nights, as well as different adventure trips. They notably participated in the annual trek to the top of Alyeska mountain in August 2016.