Those who have had a deep romance with rock music albums of the 1970s and 80s would quickly point out that Martyn Ford is an accomplished English musician. Of course, that wouldn't be a false claim, but the only Martyn Ford known to fitness enthusiasts is the fellow regarded as one of the scariest men in the world, and he is the subject of this piece.
A famous bodybuilder who has been receiving massive attention online for being an incredible hulk of a man, Martyn has also thrived as a fitness model and as an actor. Of late, he has been busy earning more attention for himself as a mixed martial artist. Ford's life, in a nutshell, has been all about making lemonades out of lemons. Learn more about who he is and get the facts of his life and career below.
Who Is Martyn Ford?
Records have it that the British actor and bodybuilder was born in the 82nd year of the 20th century (1982), precisely on the 26th of May. His place of birth was in Minworth, a village in England, United Kingdom.
Since he was a kid, Martyn Ford has been athletically inclined, but his passion was for cricket. From what we gathered, he started playing the bat-and-ball game when he was 12, representing his country and the Warwickshire County Cricket Club. A very competitive individual, Ford gave his all to the sport, always striving to win each game with the hope of becoming a professional cricketer someday. But as you will learn in a moment, fate had other plans for him.
As it happened, Martyn Ford suffered glandular fever and an injury that made it impossible for him to keep chasing his dream of becoming a professional cricketer. He needed to fill the void so he got himself involved in a handful of other sports, from Rowing to Rugby, Football, Judo, and Mui Tai. It was in his early 20s that he discovered his passion for weight training, something he started only with the hope of nurturing muscles that will help improve his performance in sporting activities. Martyn got hooked and has not looked back since then.
He became a bodybuilder, and the kind of body he achieved through weight training paved way for him to get the attention of the movie industry, that's how he became an actor. Just as his body gained the attention of those that matter in the film industry, it piqued the interest of some big shots in mixed martial arts sports. Now, Martyn Ford is getting set to make his MMA debut.
His Acting Career
Martyn Ford's career as an actor has seen him appear in a good number of films and a few TV series. It all started in 2016 when he played Goliath in the series Of Kings and Prophets. That same year, he also portrayed Koshmar in Boyka: Undisputed. The next year (2017) saw him appear in the documentary Generation Iron 2 and in Lambo. He also played a Glastonbury Guard in Kingsman: The Golden Circle and Hercules in the TV series Benidorm.
That's not all, you will find Ford in 2018's Viking Destiny, Accident Man, and Redcon-1. In the same year, he played Brimstone in Robin Hood: The Rebellion, Vlad in Final Score, Bale in Kill Ben Lyk, and Oscar Hayes in The Marine 6: Close Quarters. As of this writing, it is said that he will appear as Buffalo in Made Ordinary which is still in production. In 2019, he was nominated for the Taurus Stunt Award under the Best Fight category. This was for his role in Final Score.
See Also: Bryce Dallas Howard's Biography
Is Martyn Ford Married or Does He Have A Girlfriend?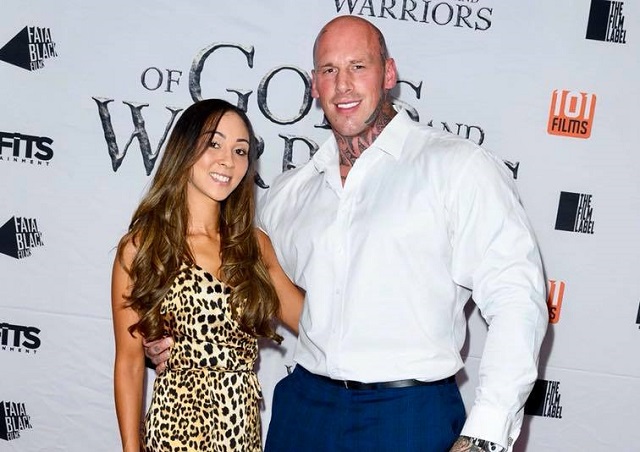 Yes, Ford is a family man; he is married to Sacha Stacey. According to various reports, it was in 2009 that he became Sacha's husband. Their union has thus far been blessed with two daughters.
Height and weight
Martyn is a very tall man and the muscles he has packed from his weight training routines are awe-inspiring, little wonder he's dubbed 'The Nightmare'. While we are yet to authenticate other details of his body measurement, we can tell he's 6 feet 8 inches tall and weighs as much as 320 lb.